Bassima Alansary came to virtual worlds in secret. Her family and culture forbid her from having an avatar, or from speaking to men even in virtual settings.
She lived in Saudia Arabia, in fear of being punished for the simple desire of wanting to learn to speak English.
"When I started my husband made it difficult for me to attend classes because of men," she said. "I was locked in my house, I didn't know how women were free to express their emotions and ideas."
Attending language classes in person was completely off limits. But Alansary — who asked not to be quoted under her real name — was able to escape her constraints, if not physically, then virtually.
Margaret Derrington, a lecturer at King's College, London, has been teaching English as a second language to groups of students located in different countries with the help of Second Life, Skype and Open Sim. She introduced Alansary to virtual reality technology.
Since then Alansary has been using Virtlantis and other places in Second Life, and ELIP Homewood — the virtual world created by Derrington — for studying English.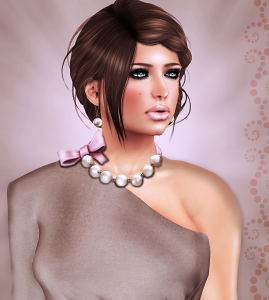 "I spent my first year in Second Life hanging out at Hyde park," Alansary said. "Second Life helped me a lot. I was so happy! I used to spend three to six hours there."
In order to make it possible for Alansary and a group of other women to learn English without having to bestride their cultural norms, Derrington started ELIP Ladies Only Lessons.
However, Derrington said, over three or four years the need for a separate ladies' classroom disappeared. The concept of contacting other men virtually became accepted in Alansary's family.
Having seen the benefits of using virtual reality for learning English, Alansary's husband encouraged her to attend classes online and even joined the ELIP Derrignton's lessons himself.
"Ever since I started learning English, I started challenging my own family and culture," said Alansary. "English changed both of us. My husband and I — we became more open minded."
Alansary writes a blog about how English changed her. She started a reading activity in Second Life three months ago. She has friends from all over the world with whom she keeps practicing her English. What is more, Alansary started designing photo profiles for avatars in Second Life.
The virtual environment gave Alansary a place to expand, said Derrington, but has also enabled her to change her actual life as well.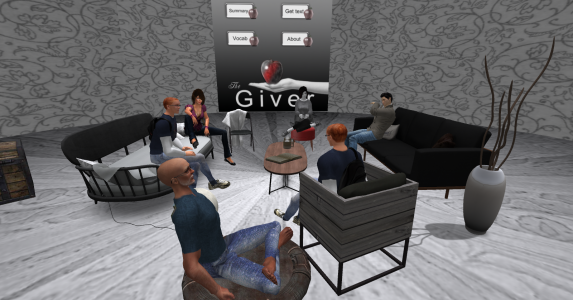 Immersive environments can promote distance education not only by allowing students like Alansary to get education they would not be able to access otherwise, but also by enabling students' collaboration, providing a variety of learning environments and overcoming the difficulties in student's understanding of the subject by instant interaction and 3D visualization.
Collaboration
"We have to recognize that most great learning happens in groups and the material of growth is collaboration," said Sir Ken Robinson, a speaker on education, in his lecture Changing Education Paradigms. "If we separate people and judge them separately, we form a kind of disjunction between them and the natural learning environment."
Virtual reality technology puts learners in sight and sound of each other in a dedicated workroom, which cannot be achieved in reality when learning is implemented distantly.

Derrington was one of the authors of a recent research paper devoted to investigating students' perceptions of learning in an immersive collaborative environment.
The project reported in the paper involved postgraduate trainee teachers who started their collaboration on campus and continued working on group portfolios of teaching resources in Open Wonderland, a Java-based open source virtual world platform.
With the help of Open Wonderland, Derrington said, students were able to work together despite being geographically separated after they began their teaching practice in different schools all over London.
"The virtual world enabled them to have a sense of being together in the same place, more so than just by using Skype and Google Docs, which they also tried," she said.
The research shows that the collaborative process of continual and repeated peer assessment gave effective results in facilitating learning.
Students reported that they learned from collaborating, reviewing, assessing, giving and receiving feedback.
According to the study Effects of technology on classrooms and students, learners more inclined to work cooperatively and to provide peer tutoring when technology facilitates their learning.
One more additional advantage to virtual enviorments is anonymity, which isn't always available in other types of collaboration platforms. According to Derrington, anonymity reduces the inhibition and shyness often felt by people trying to study a foreign language and gives them a lot of confidence.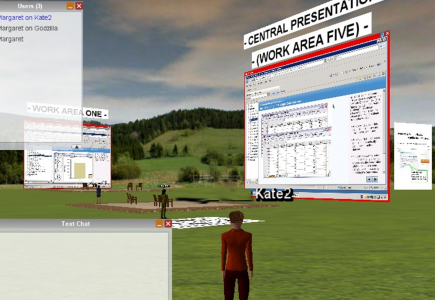 A variety of learning environments
Virtual worlds create endless possibilities for teaching English as a second language to learners located in different cities and even countries.
"The virtual world enables these people to meet and interact with each other in pursuit of their common aim of practising and improving their spoken and written English," said Derrington. "It provides a wide variety of environments, tasks and situations where it is necessary for them to use English to communicate with real people."
According to Derrington, one of the main advantages of a virtual world is the many different real activities students can do in the target language. They can buy clothes, she said, meet real people who are native speakers, visit interesting places, and learn new skills like building and scripting.
Karen Zastudil, a US-based virtual worlds consultant and instructor who specializes in adult education, used virtual environments for teaching English to international students as well.
In her projects she would set up different scenarios and role playing situations where students could participate. This way learners got the insight of how people learn and why, she said.

"One time it was a restaurant, other times it might be celebrating an Indian holiday," she said. "It wasn't only a language situation. There was a lot of learning and trading information about customs, religions, family structure."
One of Zastudil's favorite virtual activities is a play by Shakespeare. Being immersed in the period on the stage, she said, creates a different kind of understanding of the play.
"Students learn so much better visually than they do by hearing a lecture or reading something," she said. " They just learned by being there."
Ubiquity and stretchability of the virtual space enables students to easily find the area and the subject they would like to study by simply moving from one part of the virtual world to another one.
"When my class was over I offered other classes on the sim," said Zastudil. "I had psychology, math, English as a Second Language, basic building skills, and so on."
All the students needed to do, she said, was go to another part of the sim. The virtual environments were complemented with PowerPoint presentations, games, links to other universities that had the same course setup and many more useful materials.
Person-to-person, in real time
Virtual reality technology provides learners with an instant feedback and immediate interaction with the teacher.
Being able to see students' reactions at the moment, Zastudil said, and say almost immediately whether they are understanding or participating, is an important part of the virtual remote learning.
"Not only did we talk in voice but we instant messaged back and forth," she said. "If I would see that they made a grammatical error in English, then I would show them how to correct it."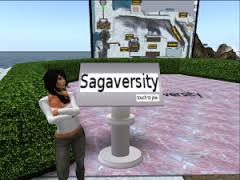 Improved communication between students and teachers is also one of the goals for Laurent Foucher, a math teacher and a trainer at ISFEC university in Rennes, France. He uses an educational game build in OpenSim on the Logicamp grid to empower teenagers to express themselves.
"The purpose of the game is to complete successive enigmas," said Foucher. "If a player needs to be helped, he goes to the math center where he will meet a teacher and get the answers to his questions. Teachers can link to tutorials or videos to allow the player to solve the puzzle."
Instant messaging and voicing on the OpenSim is also useful for the remote communication, he said.
The game lets learners study Math in different ways, he said. They are free to play the serious game called "The Secret of the Old Algebrus," build geometrics objects in 3D, and move using 3D objects. The game is even compatible with the Oculus Rift.
"Using a 3D headset would improve 3D geometric objects perception and increase motivation and creativity settling players in the fascinating process, without physical, material and budgetary constraints," said Foucher.
The math learning project was developed with the help of Didier Preud'homme, the owner of the French-language Logicamp grid. The game is offered to French schools and for teenagers who can't attend regular schooling due to medical or mental health issues.
Currently the math game is focusing on 3D vision to help the learners better understand volumes in space. In the future, other interesting uses could involve Kinect motion tracking and 3D printing.
Latest posts by Kate Abrosimova
(see all)