The craft of storytelling is experiencing a sea-change in its development. Putting a viewer in the event directly with the help of virtual reality technology is what journalists are likely to be doing in the next decade.
Nonny de la Peña, CEO of Emblematic Group, is considered a pioneer of immersive journalism. An award-winning documentary filmmaker with twenty years of journalism experience, she has found a new way to cover events exactly as they happened and make the viewer part of them.
"This is a very evocative manner in which the stories can be told," de la Peña told Hypergrid Business.
The idea of producing immersive stories which cover real events came along when the project Gone Gitmo, a virtual recreation of Guantanamo Bay prison designed for Second Life, turned out to be a success. The story was created together with Peggy Weil, a digital artist, says de la Peña, with a purpose to show what it's like to lose civil rights.
"We made this piece and I thought this could be applied to all kinds of storytelling," she said. "I started thinking about how to make these technologies accessible to journalism."
The following human rights virtual creations vying for the top spot in the history of storytelling included Hunger in Los Angeles and Project Syria. De la Peña's team also produces fun entertaining stories, like Formula 1 race portrayed at the track in Singapore.
Immersive journalism covers real events
Each piece created by de la Peña uses audio, video and photographic materials gathered from real events, thus immersing the viewer into a computer generated environment that is identical to the real location. Project Syria is one of such pieces and perhaps, was one of the most challenging ones she has ever produced.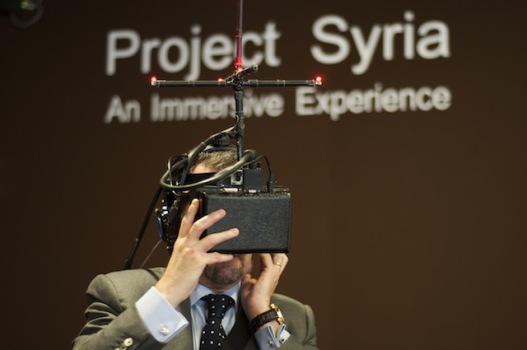 The plot of Project Syria is unfolding around bombing in the war struck modern day Aleppo. The first part of the narrative puts the viewer in the street in Aleppo where they see a girl singing when a mortar shell hits.
"We had to do all the actual modelling, animation and everything else," said de la Peña. "I had to find the right content to make people experience what it's like to be there."
To say the least, it wasn't easy. One of the photo journalists she contacted, who was traveling in that area, had been kidnapped just before she emailed him.
De la Peña also had to send a team to the border of Syria to collect the material needed for the second part of the story, which is still being developed. It is going to take place during food distribution in a refugee camp.
The value of immersive journalism
Stories like Project Syria can be rather intense and may not be appealing for everyone. However, they draw people's attention to world conflicts and crucial human right issues.
When Hunger in Los Angeles, the story about people going hungry at food banks, was released, it produced an unprecedented reaction. The project was created within the MxR lab at the University of Southern California. And with the help of Oculus Rift founder Palmer Luckey, who at that time was a member of the MxR lab, users were able to experience the project using his new virtual reality goggles, she said.
"We had an unbelievable response," said de la Peña. "People were crying and overwhelmed, they were extremely involved in the piece."
The goal of projects like this is to make people more empathetic, so that they become better global citizens and think about humanity in a different way, she said.
According to Eren Aksu, a member of Emblematic Group, obtaining real audio from the ground and then recreating the actual event evokes substantial emotion and presence. The sense of personal involvement, as if the viewer actually witnessed the event, urges the call to action.
"We had many viewers who cried and felt as though they had to help," he told Hypergrid Business. "This creates huge potential for social impact fund raising."
Mobile will help spread immersive stories
While some more evocative stories like Project Syria require high-end equipment and a great deal of time, others, like virtually reproducing the shooting of Trayvon Martin, can be built in a day and distributed on mobile viewers, said de la Peña.
Mobile platforms can become an effective tool for spreading immersive journalism. Aksu is currently working on the optimization of the Project Syria on the Unity cross-platform game creation system for mobile devices.
Mobile devices typically have less computing power than traditional desktops or consoles, but they can work well enough for passive virtual experiences, where the user is simply an observer of a recorded or simulated event and does not interact with the environment.
"By doing this we will allow many more viewers to experience the breathtaking virtual reality production and hopefully raise more awareness around the seriousness of the issue," he said.
The team is going to present Project Syria at the Sundance Film Festival later on this month in Utah. After the mobile version of the project is released, said de la Peña, they will try to raise money to help Syrian refugee children who have been displaced by the ongoing war.
"It's important that platforms for consuming cinematic virtual reality are widely available," Scott Broock, VP of content at Jaunt VR, another creator of immersive experiences, told Hypergrid Business. "At Jaunt, we firmly believe that this is the promise of mobile solutions, such as Google Cardboard and Samsung's Gear VR."
A smartphone and a relatively inexpensive cardboard holder lets the company reach tens of millions of cinematic virtual reality users right now, he said.
How immersive journalism will be used in future
With a rapid development of the virtual reality technology, traditional ways of portraying events might eventually be on the wane.
De la Peña suggests there will be three tiers of experiences out there. They are location based installations that will allow for high end experiences, Oculus Rift as a home entertainment system and a mobile viewer.
Short news films, documentary films, feature stories and quick daily stories are going to be delivered in a different way, she said.
"The use of cinematic virtual reality for news gathering opens up incredible opportunities for broadcasters, documentarians and audiences," said Jaunt's Broock.
Jaunt's cinematic virtual reality cameras can by simply dropped in the middle of a news making event, he said, allowing you to get a complete 360 degree stereoscopic view of everything at the scene, with a life-like capture of the surrounding audio and acoustics.
"When played back, you have the freedom to literally explore the full picture, on your own terms," he added. "You decide what to make of the facts for yourself, which is empowering and ultimately far more meaningful than a heavily edited piece. It returns a true sense of objectivity to newsgathering."
What is still missing
The idea of covering real facts happening in the world by using virtual reality technology still needs development to fit within the existing production and post production workflows of today's newsrooms.
"The time from capture to export of a stitched and color balanced solution needs to be fairly quick — hours rather than weeks," said Broock. "And the scene captured needs to be a complete 360-degree, stereoscopic sphere of video with an interactive sound field."
That's why Jaunt's team is completely focused on creating a full stack hardware and software solution based on computational photography.
"We currently calculate a 60 frame per second, near 6K image, for your left eye and your right eye," he said. "For every minute of captured reality, it takes about 15 to 20 minutes to calculate a minute of viewable cinematic virtual reality. This is exceedingly fast compared to other solutions."
Jaunt's team is aiming at reaching eight second delay with the same quality level and resolution that they exhibit today.
"We have that firmly mapped out as part of our development plan," said Broock.
Latest posts by Kate Abrosimova
(see all)