Zetamex, a Las Vegas-based OpenSim hosting company, has opened its doors to new customers yesterday, and published their new price schedule for region rentals.
The regions are available on ZetaWorlds, Atek, WestWorld, Metropolis or any other open grid.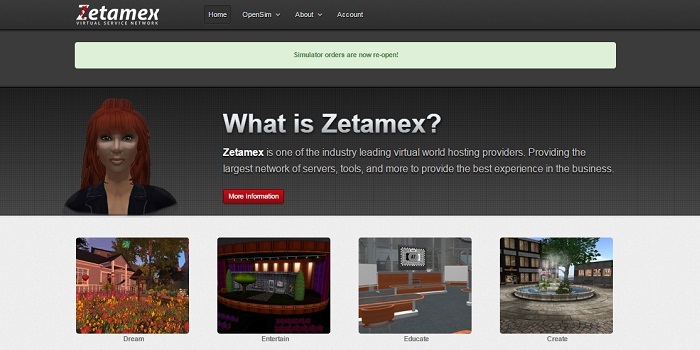 Prices start at $15 a month for a single region capable of holding up to 20,000 prims and 40 simultaneous avatars. The region can also be configured as a variable-sized region the size of 16 standard regions — or as four standard regions that all run within the same simulator, or instance of OpenSim.
Having multiple regions running within a single simulator is a little like having multiple documents open in Microsoft Word, or multiple tabs open in a browser — if one uses a lot of resources, the others all slow down, and if one crashes, the others crash as well.
In addition, the total prim and visitor counts do not increase — so if the 20,000 prims are on a four-region simulator, that means an average of 5,000 prims on each region.
On the plus side, is allows customers to get more land for no additional cost.
Variable-sized regions act as if they they are one super-sized regions — so no border crossing issues. That makes them appealing for schools and corporate campuses, role playing areas, and, of course, any activities that involve vehicles. The downside, however, is that they do not work well with older viewers.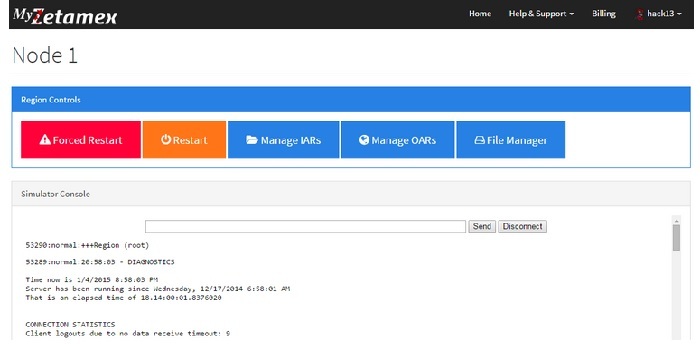 Zetamex is also offering a $35 plan for 60,000 prims and up to 80 avatars on a region that can be configured as a varregion the equivalent of 16 normal regions, or as nine regular regions all running in the same simulator.
Finally, the $70 plan includes 120,000 prims, up to 100 avatars, up to 16 standard regions, or a single varregion the size of 16 regular regions. At 16 regions, this works out to an average of 7,500 prims per region at less than $5 per region. Or, at eight regions, an average of 15,000 prims per region at $8.75 per region.
This is a low rate, but not as low as last summer, when Zetamex briefly offered full regions for just $3 each.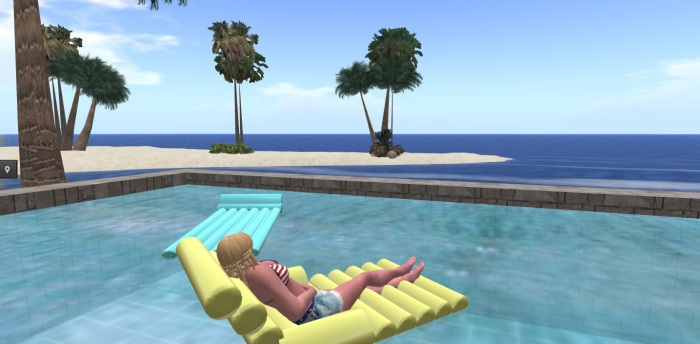 New features
In addition to upgrading its management panel, Zetamex also used the last few month to create its own versions of OpenSim.
It's not the first — there is already a Diva Distro version of OpenSim, Sim-on-a-Stick, and New World Studio.
In addition, some grids offer customized distributions for people who attach regions to those grids, preconfigured to work with the grids. The OSgrid version is here, the Metropolis version is here, the Craft version is here, the WestWorld version is here, the Atek files are in the member area, and FrancoGrid uses the standard distribution but has custom configuration files.
But while Zetamex offers regions on any of the open grids listed above, the configuration files are designed to work with home-based machines, and not with commercial servers.
"So we took initiative, we built our own custom distro of OpenSimulator," Zetamex CEO Timothy Rogers told Hypergrid Business.
This version includes several differences compared to the standard one, including Zetamex caching, bug fixes, and integration with the Zetamex control panel.
"We cache everything when its on the region, including users inventories," Rogers explained. "This way, our clients don't have issues loading their inventories when Metropolis or any other grid they are on is overloaded. It will load from our servers first."
In addition, individual grids often lag behind when it comes to updating their versions of OpenSim with the latest patches and bug fixes.
"So we maintain rolling our own distro so we can keep users on the latest bug fixes," he said. "And because this distro is built and managed by us, we are able to make our control panel interface with the regions better by adding our own code in."
Price comparison
Today, the lowest regions prices are from the Great Canadian Grid, where a 15,000-prim region can be had for CAD $5, or about US $4.50.
For other grids, the lowest prices are available from CloudServe, where a 45,000-prim region or varregion starts at $7.95 a month — and prices drop to as little as $6 a month if ten regions are ordered at once.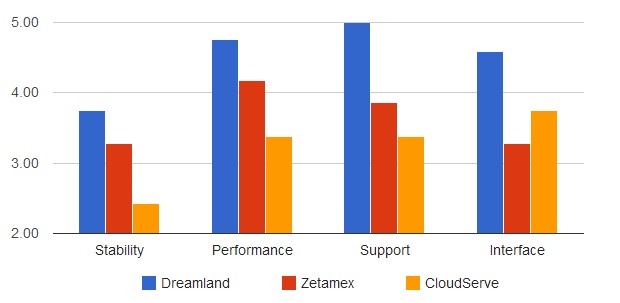 In a recent Hypergrid Business customer survey, Zetamex scored second after Dreamland Metaverse for stability, performance, and support. It scored third, after CloudServe, for its interface, but Zetamex has recently upgraded its management panel so that score may now be outdated.
Dreamland prices start at $30 per 24,000-prim region, which can be configured as a variable-size region.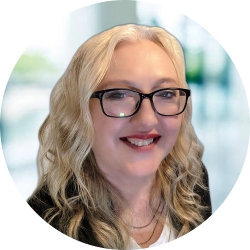 Latest posts by Maria Korolov
(see all)