Main Event: March 18-21
Virtual Tours: March 22 to April 11
The Virtual Worlds Best Practices in Education is a global grass-roots community event focusing on education in immersive virtual environments. This open conference is organized by educators, for educators, to provide an opportunity to showcase the learning that takes place in this community of practice.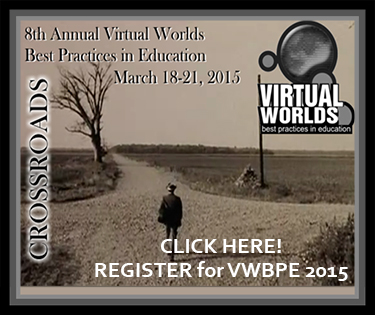 The conference takes place in two virtual 3D venues, Second Life and OpenSimulator.  The conference includes lectures, workshops, exhibits, tours, panels, film repertoire, and networking events.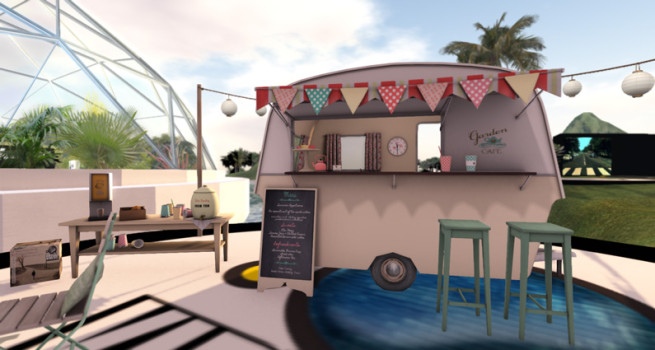 Our schedule of presentations, workshops and activities will allow for ample opportunities to network with other luminaries in the field of education in virtual worlds across the globe.
For those people who cannot attend in person there is an option to watch selected portions of the conference live via one of our three LiveStream channels.
To get to the conference in Second Life do a map search for VWBPE Gateway.
To get to the conference in Avacon Grid, on the OpenSimulator platform, you can hypergrid to http://grid.avacon.org:8002 from any hypergrid-enabled grid and then follow the teleport signs to the main venue.
VWBPE Line up
Ebbe Altberg the CEO of Linden Lab, opens the conference on Wednesday, March 18, and looks forward to speaking about the the relationship between Linden Lab and educators: a fitting start to a conference that features some of the greatest work in virtual worlds by educators.
On Thursday, Pamela Broviak shows us how virtual spaces can be leveraged to promote sustainable environments in the field of civil engineering.
Also on Thursday, our crossroads take us to AvaCon Grid, where Gord Holden will impart his bright optimism for K-12 education by helping to allay trepidations concerning virtual worlds and will share his ideas on how to meet exciting goals set forth by experiential learning.
Our journey returns to Second Life on Friday, when our day begins with Jeroen Frans' sharing of some impressive projects that both engage and motivate learners.
Continuing on Friday, the inimitable Sensuous Maximus will provide us with her keen observations on virtual teaching and essential skill-sets fundamental to being epic.
Saturday's lineup continues with speakers who bring with them the impact of years in virtual worlds. Our day begins with Susan Toth-Cohen, who will share her life-changing work of applying virtual worlds in her graduate program for occupational therapy.
Midday Saturday finds us with John Fillwalk who will engage the participant in an interdisciplinary view of simulation and virtualization that is the product of years of work across several platforms.
Our closing keynote is with Jay Jay Jegathesan, who will speak on the large span of influence over the arts, research, machinima, teaching, and architecture that UWA has become well-known for promoting, with a sensibility toward varied audiences and communities.
2015 Thinkerer Award
Wrapping up the main conference Saturday at 6pm will be the presentation of the 2015 Thinkerer Award. The Thinkerer Award is presented to an individual whose deeds and actions have shown consistent selfless service towards the promotion of learning, community, and educational practices, and who exemplifies the spirit of cooperative development within immersive environments. This will be the 2nd year this award has been presented and we are very excited about this year's recipient and what she has done for the community.
Virtual Tours
The virtual tour component of our conference is just going through last minute confirmations and will be published on our website by March 18th. These tours are an extended opportunity to visit other virtual environments and gaming platforms to showcase how they are being used to support collaboration and education.
Everyone is Invited
We are really looking forward to this year's conference and invite everyone including educators, game developers, designers, tool developers, artists, directors, and more to attend. For more information please visit our website at http://vwbpe.org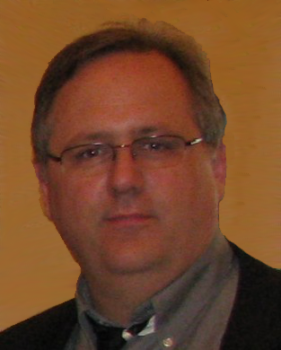 Latest posts by Kevin Feenan
(see all)