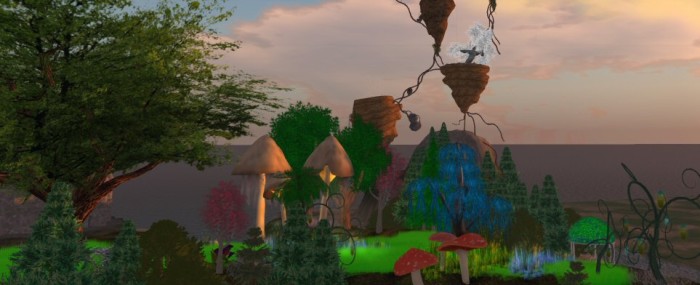 Always known for its vibrant music scene, and charitable efforts, 3rd Rock Grid announced a day of music and literature in an effort to raise funds for the charity Doctors Without Borders.
For the past eight years 3rd Rock Grid has held ROBstock in the spring, a three day charitable event for the charity which has always proved to be successful and well supported by musicians and visitors. This year, with the first totally hypergrid concert in March, the grid smashed through the $1,000 dollar target on the second day, and ended up increasing contributions to the doctors' charity by a further 50 percent.
To build on its success, Mini ROBstock has been scheduled for Sunday, September 27.
The expanded ROBstock is part of 3rd Rock Grid's renewed commitment to supporting non-profits.
The grid owners have given over the grid's daily operation to an international group of volunteers, who are now in a position to be able to use grid revenues and invest them back into the grid. This also gives 3rd Rock Grid the opportunity to increase charitable work. Planning and work are under way to formalise this legally in the near future.
"The community has always been 3rd Rock Grid's greatest asset, and there are plans to give them a bigger say in how the grid is run with an emphasis on how virtual worlds can make a real difference in real life, not only with charitable works, but in promoting music, literature and education," said 3rd Rock Grid board member Tara Dockery, who is also known as Thoria Millgrove in-world.
"Times are changing, and with them people's expectations of what the future holds," she said. "The people of 3rd Rock Grid want in their own small way to help make a difference in making the world a better place, using their virtual setting. The grid has an excellent relationship with many other grids, who have donated to events and have become firm friends and supporters. 3rd Rock Grid will be asking for their assistance again to make this event a success."
Mini ROBstock is open to any musicians, poets, storytellers who are able to contribute their time and tips to Doctors Without Borders. For more information about the event, contact the organiser, Zinnia Frenzy, in 3rd Rock Grid, via Skype as Zinnia.Frenzy, or by email at [email protected].
About 3rd Rock Grid
3rd Rock Grid is one of the oldest OpenSimulator grids and has been a part of virtual reality since December 2008. Since that time, it has led the way in experimenting with the social aspects of the three dimensional internet, focussing on education, culture, arts, entertainment, and charity.

Latest posts by Press Release
(see all)