Adult content has long been a driver for new media. Early cave paintings, sculptures, etchings, poetry, books and photographs typically featured either sex or violence. Adult content played a role in the video tape standards wars, and helped motivate early adopters to purchase video tape players when they were still expensive — helping drive down prices for the rest of us.
More recently, adult content has helped with the adoption of ebook readers, as illustrated in the video below.
We're now seeing the birth of a new medium, virtual reality, which promises to be more immersive. Scary scenes are scarier in virtual reality. Beautiful scenes are more awe-inspiring. Will sexy scenes be sexier?
CM Products, LLC is giving everyone a chance to find out by giving out 10,000 free Google Cardboard headsets (this link is safe for work).
These are simple first-generation cardboard headsets discretely branded as "FreeVRGoggles.com."
The safe-for-work video above demonstrates how they fold into place and shows some examples of games and 360-degree videos that can be experienced with the headset.
Google Cardboard is also available for sale from a variety of manufacturers at prices starting under $10, made in a variety of shapes and materials.
Once you have a headset, you can browse the entire library of virtual reality apps for the iPhone and, if you have an Android phone, you not only get a bigger library of apps, but can also watch 360-degree YouTube videos on the headset.
For adult content, however, special apps are usually required. For example, BaDoink's virtual reality videos are available on a subscription basis, starting at $30 for a one-month membership, and are available in formats compatible with the Oculus Rift, Samsung's Gear VR and the Google Cardboard headsets.
You can see some examples of CM Production's company's adult virtual reality content at BaDoinkVR, but this link is definitely not safe for work.
"Our mission is to stimulate the sector," said CM Productions CEO Todd Gilder in a statement. "We're among the first in this space, and we're shooting new scenes weekly with top producers to ensure the audience at-large is immersed in the richest virtual reality experiences possible."
One thing I'm not clear about, though, is why the guy in the picture below is wearing a headset.
Maybe he's gotten bored with the blonde and is watching a virtual reality video of someone else while having sex with her? In which case, the expression on her face makes total sense.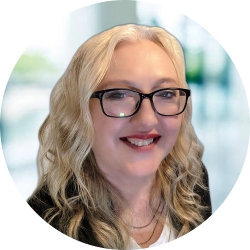 Latest posts by Maria Korolov
(see all)