Press release: Linden Lab Invites First Virtual Experience Creators to Project Sansar Testing
SAN FRANCISCO – Â Linden Lab, the creators of Second Life, today announced that a small number of creators have been exclusively invited to be the first to help test its new platform for virtual experiences, codenamed Project Sansar.
Slated for general availability in 2016, Project Sansar will democratize virtual reality as a creative medium. It will empower people to easily create, share, and monetize their own multi-user, interactive virtual experiences, without requiring engineering resources. The platform will enable professional-level quality and performance with exceptional visual fidelity, 3D audio, and physics simulation.
Experiences created with Project Sansar will be optimized for virtual headsets like the Oculus Rift, but also accessible via PCs and — at consumer launch — mobile devices.
Users can explore and socialize within Project Sansar experiences through advanced expressive avatars, using text and voice chat.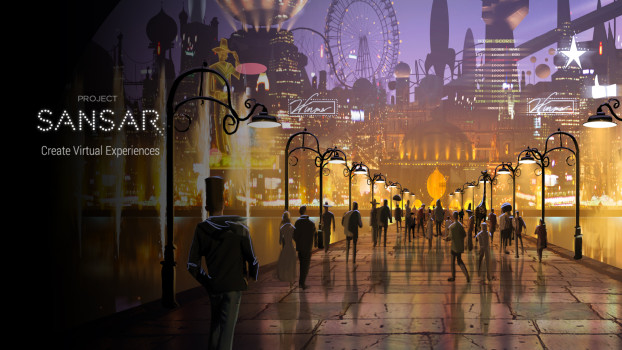 Drawing on more than 12 years of unique experience running Second Life, the largest-ever user-created virtual world, Linden Lab will make it fun and easy for Project Sansar users to create social virtual reality experiences, eliminating the complicated challenges that today limit the medium to professional developers with significant resources.
Project Sansar will allow creators at all levels to focus on realizing their creative visions, without having to worry about issues such as hosting and distribution, multi-user access and communication systems, virtual currency and regulatory compliance, and other challenges associated with creating, sharing, and monetizing virtual experiences today.
"We want to lower the barrier of entry for VR experience creation," said Ebbe Altberg, CEO of Linden Lab. "Project Sansar will do for virtual experiences what WordPress has done for the Web: empower a broad range of people to create with professional quality and reach global audiences. By greatly expanding who can create virtual experiences, Project Sansar will also extend the value of VR to a wide variety of use-cases — from gaming and entertainment to education, architecture, art, community-building, business meetings, healthcare, conferences, training, and more."
The small group of initial creators invited to help test Project Sansar will create 3D content using Autodesk's Maya® software and will export their creations to the new platform. At consumer launch, Project Sansar will support a variety of third-party creation tools as well as native building options, so that creators can work with their preferred software.
In the coming months, Linden Lab will welcome additional creators and content partners to Project Sansar as new features are added to the platform and testing expands.
Linden Lab is also currently recruiting talented engineers to join the team developing Project Sansar. More information about working for Linden Lab, current positions, and applications can be found at lindenlab.com/careers.
About Linden Lab
Founded in 1999, Linden Lab is best known as the creator of Second Life, the largest-ever 3D virtual world filled entirely by the creations of its users. In 2013, the company expanded its product portfolio with Blocksworld, a lighthearted build-and-play system on the iPad for kids and grownups alike. The company is currently developing a new platform for virtual experiences, code-named Project Sansar, which will democratize virtual reality as a creative medium.
For more about Linden Lab, its products, and career opportunities please visit LindenLab.com.

Latest posts by Press Release
(see all)