For many years, former IBMer Justin Clark-Casey has been the eternally-youthful face of OpenSimulator development and the president of the Overte Foundation which oversees OpenSim licensing issues.

Then, on Sunday, the Justin Era ended with a post on his blog, Everything that has a beginning has an end, in which he said that he will be significantly scaling back his work on OpenSim in order to focus on new projects.
"I'm not disappearing completely but very likely for the immediate future my involvement will be at a low ebb," he said.
He will still be answering mailing list questions, he said, and doing the occasional bug fix.
"My new field is quite a bit different — data warehousing for genetics and synthetic biology — but I will always have a soft spot for virtual worlds and the idea of the metaverse," he said.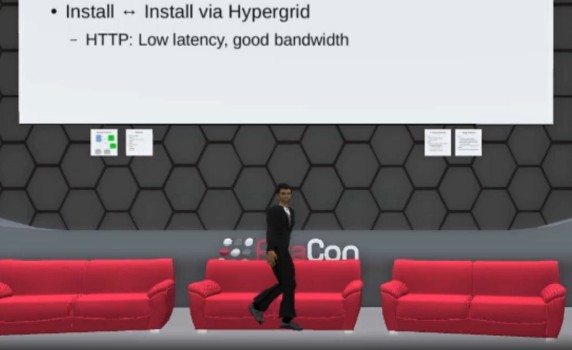 The position of president of the Overte Foundation is now vacant, and it's not clear who will now be heading up OpenSim development work.
"There genuinely isn't a head of OpenSim development," Clark-Casey told Hypergrid Business. "The only power a core developer has is to veto certain developments, and only then to make sure there is further discussion rather than as a permanent block. I can imagine this is frustrating for people external to the project when trying to get answers on certain issues."
In June, Clark-Casey started his new gig as the maintainer of the Synbiomine data warehouse for synthetic biology at the University of Cambridge, and a developer for InterMine, on which Synbiomine is based.
Sizeable contributions to OpenSim
According to Black Duck's Open Hub open source project tracker, Clark-Casey has made 11,631 code commits to OpenSim over the past eight years.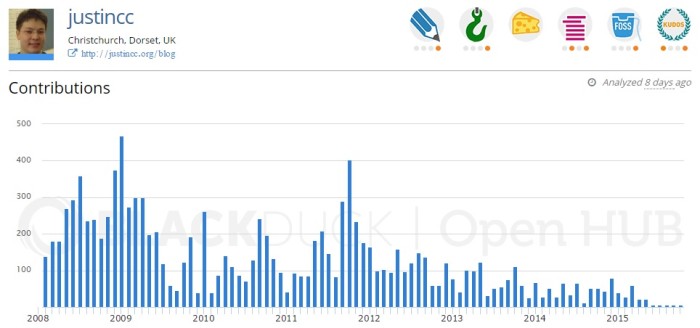 The majority of the contributions were early on, when the bulk of the work on OpenSim was being done, and then again around late 2011, when OpenSim was refactored. The refactoring — rewriting the code base to make it more organized and efficient — took the project from more than a million to around 700,000 lines of code.

"Since the very beginning, Justin has been one of the most prolific and systematic contributors to the project," core developer Crista Lopes told Hypergrid Business. Â Lopes, who is known as Dva Canto in-world, is also a professor at University of California at Irvine — and the inventor of the hypergrid. "The community owes him a lot, and I will miss working with him."
"Open source development has a high churn of people, for many reasons, and many times people who have been there for a long time simply decide to leave and do something else," she added. "The good thing about open source projects is that, if people find them useful or interesting, the projects survive any one particular developer's absence. That will happen with OpenSim too."

"Justin has been the driving force behind testing, refactoring and has made a significant, if not even huge, contribution to the code base in terms of fixes as well as new features," said fellow core developer Melanie Thielker, who is also the founder of the Avination grid. "Without Justin's work, OpenSim would not be even close to where it is now in terms of reliability and features. Refactoring and writing unit tests are tedious and thankless work, but Justin has repeatedly undertaken both in order to ensure OpenSim remained maintainable and its underlying functionality was not broken by other work."
The process hasn't always been perfectly smooth, she admitted.
"Justin and I have often clashed but in most cases the discussions have led to the betterment of OpenSim," she said. "He, as a person, and his contributions will be greatly missed. OpenSim will not be the same without him."
New leadership still unclear
Although Clark-Casey was the public face of OpenSim with his development blog and presidency of the Overte Foundation, there has never been an actual formal leader of the development project itself, said Thielker.
"The core principle of OpenSim core is unity and unanimous decision-making, arrived at by the process of in-depth discussion," she said. "Since Justin's stepping back from the project, I have taken more time to review and shepherd code contributions into core and we have invited a new core member, Alicia Raven, who is a quite promising addition to our team."
"Who will take his place?" asked the administrators of the Metropolis grid, Sheera Khan, Lena Vanilli, Wanda Shigella, Uncle CM, and Zak Spot. "We at Metropolis call him 'Mr. OpenSim.' An integration figure, who holds the parts together, being open to everyone and every problem. Metropolis has a lot to thank him. He is one of the most competent developers of them all. There is no one with this combination of technical and social skills in this group of talented loners. The Opensim-project needs a leader and integrator. It makes us sad to see 'Mr. OpenSim' leaving. But on the other hand we feel happy with him about his new challenge."
Good wishes from the community
OpenSim community members wish Clark-Casey all the best in his new project.

"Justin was always a great pleasure to work with," InWorldz founder David Daeschler told Hypergrid Business. "He was usually the first person I would talk to when we found an issue that affected both InWorldz and OpenSim platforms and wanted to make sure security and other critical fixes were applied and rolled out in similar timeframes."
InWorldz is the most popular grid running on OpenSim, and is one of the most successful commercially. The grid's popularity and success has occasionally made them a target for critics, but Clark-Casey has been consistently even-handed towards all kinds of users of OpenSim, and was quick to give credit to code contributions that came in from InWorldz and other closed commercial worlds.
"On more than one occasion Justin gave us a heads up when he found issues that might impact InWorldz and we did our best to offer the same in return," said Daeschler. "He always put the best interests of the whole virtual world community ahead of everything else and we never felt alienated working with him. I think this is a big loss for everyone as Justin was very approachable, but his reasons for needing to step away from the project are understandable, and should be respected. It is a great big world of software opportunity out there. Sometimes things work out, other times they don't."
"We are all very thankful for all the contributions Justin has made to OpenSimulator over the years, the amount of time he was able to put into making OpenSimulator what it is today is just phenomenal," OSGrid administrator Dan Banner told Hypergrid Business. OSgrid is the oldest grid running on the OpenSim platform. "His contributions have really made a big difference, not only for all the grids out there, but all their users too! He will be greatly missed."
"We are now able to compete directly with Second Life, that is, we can have virtual worlds and compatible functionality in quality or greater than the Second Life, all proving that Justin did a great job and deserves the respect and support of all of us," said Milton Teixeira da Silva, owner of the Virtual Life Brazil grid. "I think this work is really fabulous. OpenSim is freedom is a tool for all users of virtual worlds, where we can create, we can freely express ourselves, we can also have a virtual world company, even with the small business owner."
In addition to running the social Virtual Life Brasil grid, Silva said he also is a developer at a small school for special children in Brazil.
"OpenSim has helped a lot to develop the creativity of these children," he said.

"I've asked Justin for help several times in debugging OpenSim grids I manage," said Stephen Gasior, who runs the Virtual Island for Better Education project. "Just quick questions, but he's always been willing and helpful in answering those and troubleshooting. I am not a programmer or developer and not engaged in the IRC channel, so having a one on one Q&A was much more helpful."
Gasior also served alongside Clark-Casey as one  of the organizers for last year's OpenSim Community Conference. "He was an energetic colleague at that and had good ideas all around. He was a pleasure to work with. OpenSimulator will miss him."
"Justin has been a backbone in OpenSimulator for longer than I've been involved with it," Cindy Chidester, technical director for YrGrid, told Hypergrid Business. "While it's a little dispiriting to see him move on, I'm glad he feels like the project is in a stable enough state that he can do that, and thanks to his hard work and the tremendous amount of code and documentation he's written the project can and will continue."
YrGrid had a successful launch earlier this year, with a focus on gambling and a BitCoin-based virtual currency.
"Justin's contributions were great, but OpenSimulator as a whole is a very strong project with no single individual or organization as the linchpin," she said. "That's one of the best things about it."
Owners of other commercial grids based on OpenSim echoed that sentiment.

"Justin played an important rule in OpenSim's development for a very long time," Kitely CEO Ilan Tochner told Hypergrid Business. "He implemented many features, did the brunt of the work integrating patches that other people submitted, and played a key part in various organizational tasks that other developers were not eager to do themselves. His presence will be missed. That said, Justin is not the first important figure to have left the project and OpenSim remains an actively developed project with multiple contributors."
Tochner pointed to the Development Team page on the OpenSimulator Wiki as evidence of the breadth of contributions to OpenSim. And, in 2012, Robin Teigland, a professor at the Stockholm School of Economics, published a paper that analysed the diverse backgrounds of OpenSim contributors, including entrepreneurs, and the key role they play in ensuring the sustainability of the platform.
OpenSim also compares favorably to other virtual world platforms, offering a true peer-to-peer, infinitely scalable metaverse platform with a thriving ecosystem of hundreds of grids, dozens of hosting providers, content creators, marketplaces, currency providers, and consultants.
"Despite other projects currently getting some media attention, OpenSim is still the best option for people looking for an open source virtual world solution they can use today," said Tochner.

"Justin has done a great deal of work for the OpenSim community over the years and we all are grateful for the contributions he has made," Frank Corsi, co-founder and CTO of OpenSim hosting company CloudServe, told Hypergrid Business. "I do hope he will still participate at a smaller level with core issues that may need to be fixed."
"I'm so sorry he is leaving OpenSim," Techland grid owner Michelina Occhioni told Hypergrid Business. "With his work, he has helped a lot of teachers — like me — to have virtual environments to teach in a different way."
"As owner of The Great Canadian Grid, I want to extend congratulations to Justin on all of his success," said grid owner and founder Rod MacDougall, also known as Roddie Macchi in-world. "I also want to thank Justin for all of his contributions, creations, dedication and hard work over the years for OpenSim. Speaking for all of us here at The GCG, we wish Justin good luck and all the best."

"I have high regards for Justin — he kept OpenSim open and transparent," said Per Eriksson, a manager at virtual world development firm Troppo Design. "We all have a lot to thank him for."
"He has been a great supporter of OpenSim and I hate to see him go," Merrie Schonbach, owner of the former Pillars of Mist grid, told Hypergrid Business. "I hope his next project will refuel him."
"May the cubes be with you and the pixels lag not but stream vastly into the metaverse," said Jacob Kukuk, owner of the former frids Concadia and EduGrid.
"Justin contributed greatly to OpenSim," said Sarge Misfit, owner of the former grids Misfit's Folly and Excelsior Station. "I saw him as being the primary developers and motivators of its development. What this means for the project, time will tell, but it does mean that there will be changes. There have been many conflicts and much politics within the developers, managers and administrators of OpenSim. With Justin leaving the dynamics of the personalities involved will change. Which means that OpenSim will change."
"From my perspective, Justin was the person to go to for questions, concerns and clarifications any time that I needed to know what the OpenSimulator developer's policies or perspectives are," said Han Held, OpenSim blogger and content creator. "With his retirement we now lack a Linus Torvalds-type central figure to act as the de-facto spokesperson that he acted as for the project. As a blogger, poster and in my role of giving individuals technical support I often needed clarification on policies or how things were supposed to work. When I had questions, he was a tweet away and he spoke with authority while still being friendly and accessible."
"Justin has given his expertise and a lot of free time to OpenSim for which I for one greatly appreciate it and I'm sure many in the community do as well," said Talla Adam, owner of the OpenSim Virtual community on Google Plus. With more than 1,500 members, OpenSim Virtual is the largest OpenSim-focused community on Google Plus. "I only wish we could have had more success getting the community to donate money to OpenSim's development."
Some worry about future of OpenSim
Held pointed out that Clark-Casey's retirement comes soon after the popular content-sharing site OpenSim Creations folded, Sim-on-a-Stick was discontinued, and FleepGrid shut down.
"While this could mean that OpenSimulator is collectively in a state of decline, it could also be the chance for the torch to be passed to a new generation of developers, creators and community leaders," Held told Hypergrid Business. "No one knows which it will be, but with the rise of filtered commercial grids, the Hypergrid Safari and a plethora of independent grids making their own niches — such as Nara's Nook — I'm confident that OpenSimulator isn't on the ropes quite yet."
"The passing of the old guard — Justin being only the latest — definitely has me concerned," Held added. "However, I have enough confidence in the OpenSimulator developer and community ecosystem that I'm putting my money OpenSimulator's vitality and future. I'm renting from Digiworldz, and I'm going forward with a long-term project specifically aimed at the hypergrid, confident that it will be a positive contribution to a vibrant metaverse, led and shaped by a new generation. Like most of us, I'm very grateful for the many contributions Justin Clark-Casey has made to our community and I join my voice with everyone else's in wishing him well with his future endeavors."
"Justin has always been willing to help with questions and ideas," said Virtual Worlds Grid owner Myron Curtis. "I have always found him to be both practical and yet visionary. He will be missed."
Curtis added that he is worried not just by the loss of Clark-Casey but by the pace of development of OpenSim and the emergence of new competing platforms and technologies. "I am concerned about the future of OpenSim," he said.

"OpenSim is a fantastic piece of software but also a very complicated one and I am afraid that no one will pick up the flare to work with it in the future," said digital artist Anna Lorentzson, CEO of the 2worlds2go digital content company. "It takes a talented programmer to add to it. As of course Justin is."
But Lorentzson said she plans to stick with OpenSim.
"I and 2worlds2go will continue to run new servers and release new OARs and content in the next months," she said. "I think that's a good tribute to all of Justin's work."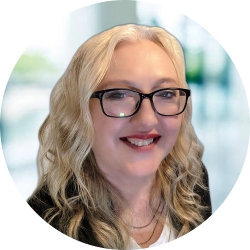 Latest posts by Maria Korolov
(see all)