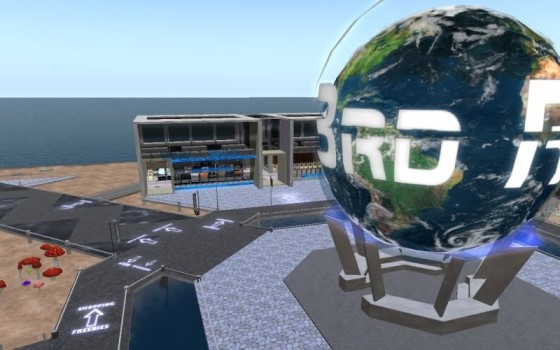 Press release: A bright future for 3rd Rock Grid
3rd Rock Grid is proud to announce the hand-over of its management to the Stichting 3rd Rock Grid Foundation, a not-for-profit corporation registered in the Netherlands. The foundation's six-member board of unpaid directors, comprised of involved citizens, includes previous owners, together with dedicated volunteers.
"This will guarantee a bright future for the friendly community grid," said Tara Dockery, 3rd Rock Grid board member. She is also known as Thoria Millgrove in-world.
For grid citizens this is only good news.
"We are now fully focused on building a sense of community, fully focused on music, education, culture, arts, and charity," said Dolfke Barbosa, president of the new foundation. "For almost seven years, 3rd Rock Grid has been the place where people from all walks of life found a safe place to interact, enjoy virtual life, or simply vent some creativity. Our goals to create a better world are now part of the articles of incorporation."
"Our many thanks go out to the previous management and owners of 3rd Rock Grid, who initiated and encouraged this transition," she added. "Some of them are now part of the new foundation's board of directors, others have taken up a role as dedicated volunteer. But we are most of all grateful that the previous owners donated their full equity shares to the new foundation, thus making the transition seamless and giving us a running start."
The new board of directors will endeavor to secure a Public Benefit Organization status for 3rd Rock Grid to make absolutely clear that the grid is here for its citizens, social, cultural and educational goals, and not to make money. Over the coming months there will be some small changes to the website and and related collateral to reflect the new situation and to introduce great new things.
About 3rd Rock Grid
3rd Rock Grid is one of the oldest OpenSimulator grids, and has been a part of virtual reality since December 2008. Since that time, it has led the way in experimenting with the social aspects of the three dimensional Internet, focussing on education, culture, arts, entertainment, and charity.

Latest posts by Press Release
(see all)