Press release: Virtual Reality Adoption in Enterprise and Industrial Markets Will Be Driven by Training, Simulation, Virtual Prototyping, and 3D Modeling Applications
According to a new report from Tractica, commercial sector revenue from virtual reality headsets, other virtual reality equipment, virtual reality content, and content creation tools will reach nearly $4.5 billion by 2020, up from just $114 million in 2014.
The market intelligence firm forecasts that the highest-potential application markets are virtual prototyping, 3D modeling, training, and simulation.  Other key markets will include medical, academia, research and development, and marketing and advertising.
Virtual reality has existed in niche enterprise and industrial segments since its origins in the 1950s and 1960s. Virtual reality plays an important role in combat training for the military, for example, while advanced visualization techniques are extremely powerful tools for research purposes.
Healthcare has also made use of the technology for quite some time.  Nevertheless, Facebook's acquisition of Oculus VR, along with the development of rival head-mounted displays from companies like HTC and Sony, has raised the profile of virtual reality immeasurably and a wide array of industries are now set to be touched by advancements in this space.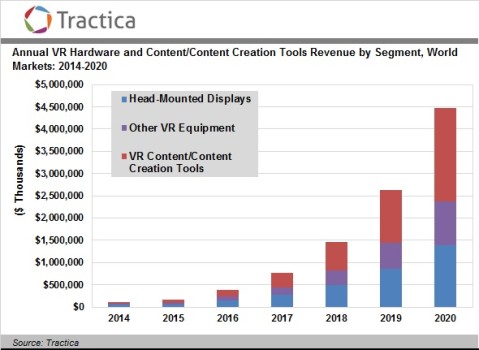 "Virtual reality will take hold first in enterprise and industrial applications that benefit from powerful and versatile visualization tools," says principal analyst Craig Foster.  "As the technology matures and costs decline, virtual reality will increasingly be utilized for more mainstream commercial purposes such as marketing and advertising, travel and tourism, and retail."
Foster adds that a number of near-term challenges to commercial virtual reality adoption remain, but are gradually being overcome.  For example, average selling prices are coming down with the emergence of consumer-grade equipment that can be used in many settings.
Getting people to experience virtual reality and become comfortable with the technology remains a challenge, however, and changing established business practices and processes will take time.
Tractica's report, "Virtual Reality for Enterprise and Industrial Markets", provides an in-depth examination of the market opportunity for virtual reality hardware and content in the enterprise and industrial sectors. The analysis covers head-mounted displays, along with other virtual reality equipment such as motion capture cameras, displays and projectors, hand tracking devices, and locomotion devices, as well as software applications and content creation tools. An executive summary of the report is available for free download on the firm's website.

Latest posts by Press Release
(see all)