It's been another record-breaking month for OpenSim, with new heights reached in land area, registered users, and active users.
OSgrid, Kitely and DigiWorldz were the biggest gainers in land area, with 678, 340 and 255 regions added, respectively.
There are now the equivalent of 68,941 standard regions on OpenSim's 302 active public grids, a gain of 2,995 regions. There are also 487,243 registered users and 33,454 active users, an increase of 8,746 registrations and 1,887 actives, respectively.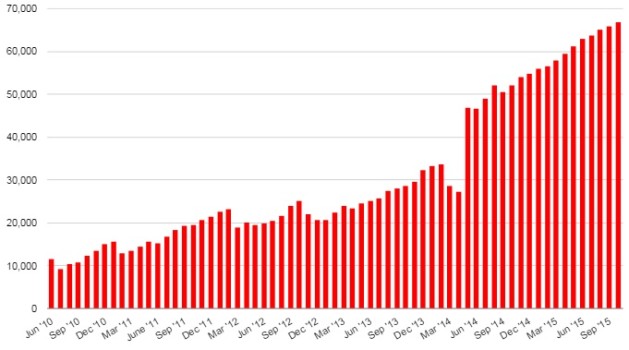 For those who are new readers, OpenSim is a free, open source virtual world platform that's compatible with the Oculus Rift. It allows people with no technical skills to quickly and cheaply create virtual worlds, and then teleport to other virtual worlds. Those with technical skills can run OpenSim worlds on their own servers for free, while commercial hosting starts at less than $5 a region — compared to $300 a region for the same land in Second Life. A list of hosting providers is here. Download the recommended Firestorm viewer here. And find out where to get content for your OpenSim world or region here.
Popularity
Of the top ten most visited grids this month, eight gained active users this month. InWorldz lost 28 actives, barely a drop compared to 6,696 remaining actives. DigiWorldz lost 45 actives.
The biggest gainers was the Great Canadian Grid, with 303 actives. The Great Canadian Grid also had an extemely high turnout in last week's grid survey. OSgrid gained 187 actives, Lost Paradise picked up 175 and PNA Grid, despite temporary server problems, picked up 170. Â Craft gained 161, Metropolis gained 145, Littlefield gained 141, Kitely gained 129.
Littlefield's gains were partly because, on my request, they added hypergrid visitors to their active user totals. Whenever available, I include hypergrid visitors in traffic numbers because these users do contribute to the activity of a grid — they attend events, make friends, make PayPal donations to support causes, perform, even buy stuff if the grid is set up to sell merchandise to visitors.
Top ten most popular grids:
This month, hypergrid-enabled grids gained a net of 1,820 active users this month, while the closed grids gained 60. Currently, 74 percent of all public grids are on the hypergrid, accounting for 93 percent of OpenSim's total land area and 65 percent of its active users.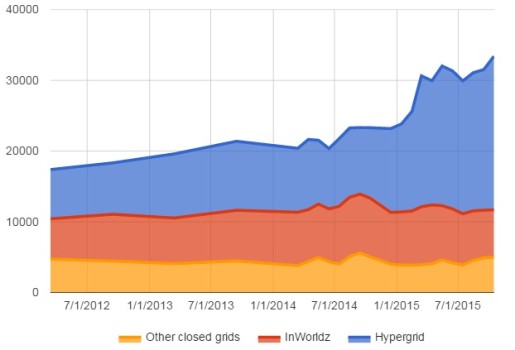 Grid News
In quick news updates this month, the Belgian Speculoos grid closed at the end of September.
"It's been an amazing experience to dive into one possible future of the Internet, but we don't have enough resources to keep this place lively and interesting," owner Olivier van Helden told Hypergrid Business.
The XMIR grid has also closed to the public.
"Because of health issues I've had to move to a location where it is impossible to maintain a network connection of such quality and reliability as to permanently connect a grid to it," owner Geir Nøklebye told Hypergrid Business. "For all practical purposes XMIR is therefore closed for both direct login and hypergrid access."
Lovers of the grid's mesh content, however, can continue to visit the XMIRÂ Kitely Market store.
"Til the time the grid again can be made accessible, I will continue to create content of which some will find its way to the marketplaces," said Nøklebye. "I will also contribute to the Mac version of the Kokua viewer and in other ways."
Transitions
We have nine new grids added to our database since this time last month: the Las Vegas-themed Neon Evolution, AviRealms, BOS OpenSim, Relliketh Grid, Phaandoria Grid, Keystone Grid, Virtual Beach Party, Quokka, Oligo and A Life Virtual.
The following 13 grids were suspended this month: , Annuna Grid, Art-z Exposed, Eureka, Hosting Virtual Worlds, LabVirSD, MagicalSim, Majickal Network, Our Own Designs, Project Blank, Rescue Grid, SPH Places, vCaltech, and VIBE: Delvalle.
Grids that have been suspended for more than two months are marked as closed. If your grid isn't on the active grids list, and not on the suspended list, and is marked closed when it shouldn't be, please let us know.
And if there's a public grid we're not tracking, please email us at [email protected]. There's no centralized way to find OpenSim grids, so if you don't tell us about it, and Google doesn't alert us, we won't know about it.
By "public," we mean grids that allow hypergrid visitors, or have a website where people can register for or request accounts.
October Region Counts on the Top 40 Grids
The list below is a small subset of existing OpenSim grids. We are now tracking a total of 1,097 different publicly-accessible grids, 302 of which were active this month, and 227 of which published their statistics.
All region counts on this list are, whenever available, in terms of standard region equivalents. Active user counts include hypergrid visitors whenever possible.
Many school, company or personal grids do not publish their numbers.
The raw data for this month's report is here. A list of all active grids is here.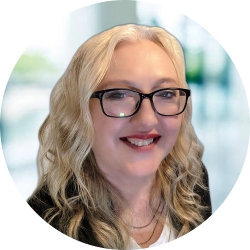 Latest posts by Maria Korolov
(see all)