Like a lot of people, I do a fair bit of shopping online. Amazon, eBay, Staples, Best Buy — I know them well, plus dozens of other online retailers as well.
Until this fall, however, I've never considered shopping at AliExpress. I'd never heard of the site before, and if I had stumbled on it somehow, I would have probably stumbled right out again because of the weirdly named listings and the Chinese-language product brochures.
But lately, I've been ordering stuff from the site almost every week. Specifically, I've been ordering virtual reality headsets.
China has more than 100 manufacturers turning out headsets in all shapes and sizes, and AliExpress sells them at ridiculously low costs.
Overall, my experience with the site has been completely positive. Once you get past the grammar, and the weird layout, there was only one time when the merchant didn't have the color that I wanted, and was very apologetic when they asked if I minded if they sent it in another color. Another time, the shipping option I picked wasn't available, and the merchant sent it using a different shipping method at no additional charge.
Here's what I've bought so far.
Shinecon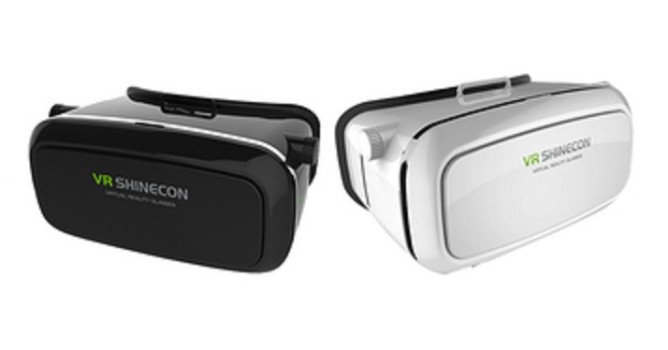 The Shinecon headset attracted me because of it's low price — just $35 — and the fact that its lenses were adjustable in two directions. I have weird eyesight, so this was important to me. I also liked the fact that it came in white, and that shipping was free.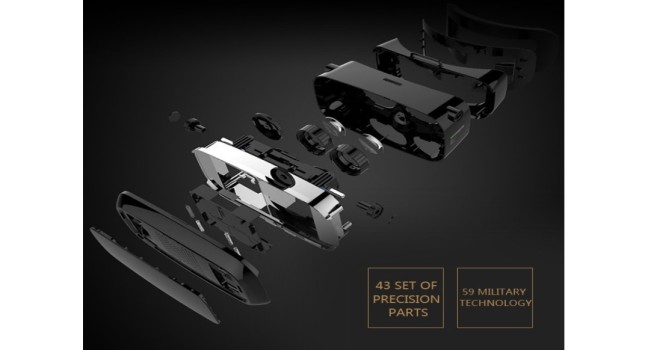 The picture of 43 precision parts also impressed me. But you've got to remember — this was a whole month ago. I was young and naive. I thought that a lot of parts was a good thing.
It's a solid headset. A little on the heavy side. Holds my Samsung Galaxy S6 phone just fine. But even with the two types of lens adjustments, the image still wasn't completely in focus. If there's a QR code that calibrates the headset with Google Cardboard apps, I couldn't find it.
The biggest problem, for me, was the narrow field of view. Imagine looking through a square-shaped diving mask. Not one of the nice, wide ones. The benefit of a narrow field of view is that if you're watching movies on a virtual theater screen, the picture is crisper. (Unless you have my eyes.) The downside is that it's harder to feel immersed in the virtual experience.
My guess is that the field of view is about 90 degrees. By comparison, a regular Google Cardboard headset made out of cardboard has a field of view of 100 degrees. Those ten degrees make a difference!
But back to my point — the headset was delivered on time and in perfect condition. Packaging wasn't the greatest, but then, not everyone can be Apple.
LingVR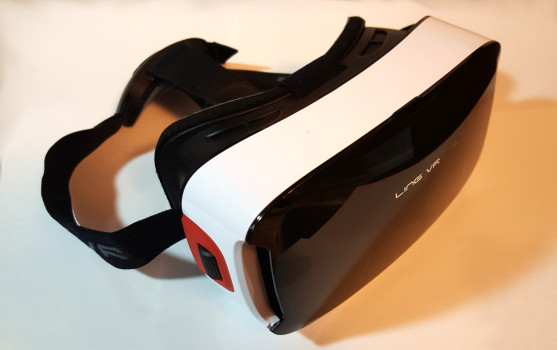 I love this $50 LingVR headset. It's pretty, very light-weight, and has a very wide field of view — a wide Scuba mask, not a square one.
Lenses were adjustable two ways, and it also came with an external controller. Of all the enclosed headsets out there right now, this one is my favorite by far.
I was attracted to this headset because of its sleek looks — what can I say, I'm shallow — and news reports that it broke crowdfunding records in China this year.
My only quibble with it — and it's minor — is with the latch that holds the smartphone in place.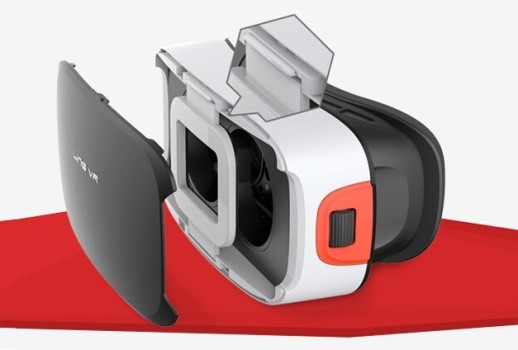 To put in the smartphone, you take off the big black cover on the outside and put it down somewhere where you'll lose it. Then you flip the little white tab at the top — the one highlighted above. I have to press down with two thumbnails to get it open, and each time worry that I'm either going to break the latch, or my nails.
It's a pain, especially when you remember that you still have to load up virtual reality apps and videos the old fashioned way — by tapping on the screen. You can't tap on the screen when the phone is inside the headset. You have to take it out, pull up your app, then put it back in again.
It's not the worst possible system for holding a smartphone in place — the Gear VR and the Zeiss One are both much worse, and the Freefly VR is so complicated that I forget how to do it each time I put it down. But it's certainly not the best.
Google Cardboards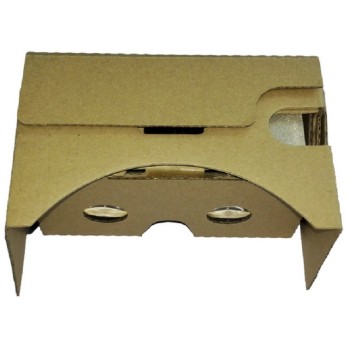 I'm giving a presentation about virtual reality headsets soon in the Boston area, and I wanted to have a few more headsets to pass around, besides the ones I already have.
So I ordered some Google Cardboards from AliExpress. On Amazon, prices start at $11. On AliExpress, I got these headsets for $6.23 each with free shipping.
These are the second-generation Cardboards, which can hold larger phones, have larger lenses, and have a capacitative button on the top rather than a magnet on the side. Best of all, you don't have to assemble them. They come in a little box. You slide them out of the box and flip them into place. Very convenient. I got five of them.
Plus, they came with headstraps and a little piece of felt where your forehead touches the cardboard. They're super light-weight, and the field of view is 100 degrees — better than the Gear VR! Taking phones in and out of the headset is a breeze and if you happen to sit on it and break it — well, no big deal.
The only quibble is that the packaging wasn't that great. They were wrapped in bubble wrap, then put in a plastic mailing bag. So not particularly fancy. But it worked — they got to me in perfect shape. Okay, I also have a second quibble — when using the headstraps, they press the headset against the face, as they should, but it also means my nose rubs against the edge of the cardboard. Not pleasant. A bit of a sharp edge there. If I was wearing them for any length of time — say, to watch a movie — I'd have to either file that edge down or cover it with some soft tape or glue on some padding.
Ordering from AliExpress went so well so far that I've ordered three more items.
This Baofeng Mojing VR small in pink is like the $22Â Goggle Tech headset I reviewed previously. It's smaller than a pair of sunglasses, folds up flat, doesn't block your peripheral vision, and allows you easy access to the screen of your phone. I carry my Goggle Tech with me everywhere I go and it's great for showing of virtual reality to strangers. I'm not sure why I wanted a version in pink, as well.
They were just $9 on AliExpress. Maybe that's why. I can't pass up a sale.
I also got them in black.
I also got this AntVR headset for $39. Again, I like the open-sided style, which makes it easy to touch the screen. It's also supposed to be really light-weight, and with a wide field of view.
The description of it shows it folding up flat and fitting in a back jeans pocket, and also shows it in white and red. I didn't see the option to choose the color, though. Maybe a different AliExpress seller had it in other colors.
I'll write up a review of it once it comes, but I'm really looking forward to seeing it.
I got this headset for one of my freelance writers, Areeba Khan. She previously had a cardboard headset, but it broke. She picked this one because it wasn't one of those I'd reviewed already, so she could review it.
It's also low-cost — just $16 on AliExpress. Â The window on the front allows for virtual reality applications, and the openings on the sides allow air to circulate — enclosed headsets can get uncomfortably warm. And it has adjustable lenses.
One thing to keep an eye out for on AliExpress is that prices change constantly, and the same product can be available from different sellers for dramatically different prices.
Plus, new headsets are hitting the site constantly. There are more than 100 manufacturers of virtual reality headsets in China. And the two main ecommerce sites there — AliExpress parent company AliBaba and its chief competitor, Taobao — are reportedly selling more than 300,000 headsets a month.
That's a lot of headsets, and a lot of competition. That means that the headsets are improving very quickly, and the prices are dropping just as fast.
So if you don't want to wait for the headsets to make their way over here to Amazon, and if you want to pay lower prices, definitely check out AliExpress.
And speaking of lower prices, many sellers also offer discounts for bulk purchases.
But if you really want to buy in bulk and save money, go straight to the parent site. For example, Google Cardboard v2 headsets are as little as $1 each or less on AliBaba. Plus, when you buy in bulk, manufacturers will print your logo on the headsets.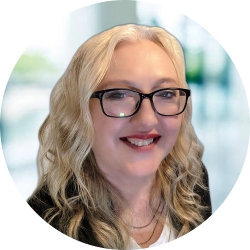 Latest posts by Maria Korolov
(see all)