As a developer of Cardboard virtual reality applications, I find that I am constantly looking for new headset solutions that I can easily carry with me anytime and anywhere to either demonstrate my latest virtual reality app or to view other virtual reality apps that I may have just heard about.
I am looking for something that is foldable and small enough that I can put in my pocket. Â Something that is flexible enough that I can use it with a wide variety of mobile devices — even with the phone case still on. Â Something that has open sides so I can easily access the phone screen without having to take off the phone and the headset. Ultimately, I want something that anybody can quickly and easily setup and use. Â Being a gadget freak, I also wouldn't mind a bit of "wow" factor to have a reason to show it off a little!
The search has lead me to find and buy various folding mini headsets like the Homido Mini, C1-Glass from Goggle Tech, Baofeng Small Mojing and VR Fold.
It's sort of become a hobby for me now — collecting folding headset!
I rarely leave my house without carrying at least one mini folding headset. No need to drag around a bulky headset – just unfold one of these minis and clip it onto whatever mobile device you want to view the virtual reality on. Because these headsets simply clip on, they can usually accommodate phones along with their cases. The mini headsets are also open framed so I can easily touch the phone screen without having to take the headset away from my head. This is definitely required for the growing number of WebVR experiences where phones can go into sleep mode during a virtual reality session.
Always on the look-out for new folding headsets, I often poke around on crowd funding platforms like Kickstarter and Indiegogo to look for potential products coming on the horizon.
Crowd funding platforms have been the launching point for many virtual reality headsets such as Viewbox from Evomade, Wearality Sky, and of course the Oculus Rift.
Some of these crowd funding projects make it — Figment VR
Some kind of make it? — VirtualVizor
And some cancel before they reach their funding goal — Goblin VR
The inventiveness of these virtual reality pioneers often reminds me of those old movies of inventors trying to fly machines of their own creation.  Lots of funny failed attempts to watch 'unfold.'
One of the latest projects that I've found on Kickstarter is the 2VR, a hands free headset by Stimuli. A mini foldable headset that can be hands-free! None of the other products on the market now can do this. My interest is piqued!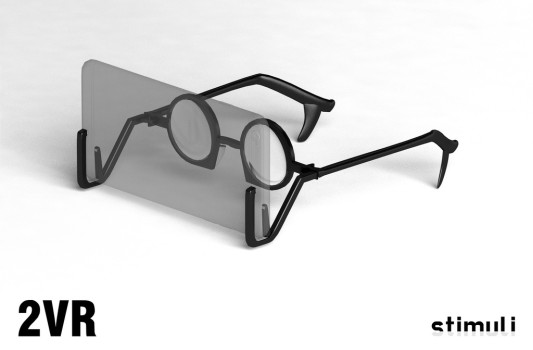 The 2VR looks like a pair of folding round Harry Potter spectacles with two extra arms at the front of the lenses for holding your phone. Â Your phone looks like it would be supported from below and held in place by being "sandwiched" between the front arms.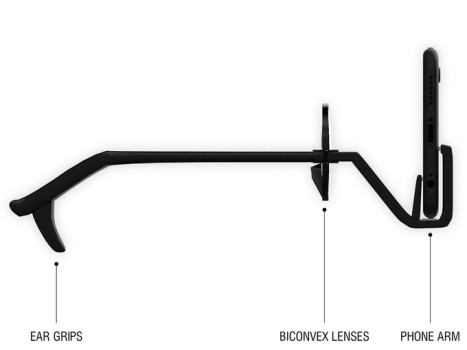 There aren't separate diagrams to show how the glasses fold, but you can get an idea from pictures of the product associated with the pledge and reward levels.  It appears that the glasses fold like normal glasses with the additional front arms folding in as well. It looks fairly compact.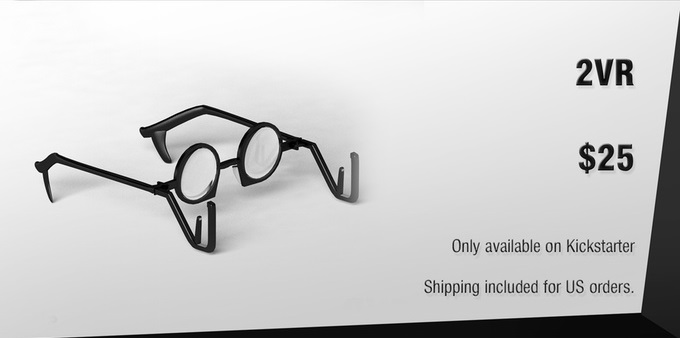 Hands-free is achieved with what looks like a specially manufactured frame that curves around the ears to hold the glasses and the phone to your head and face.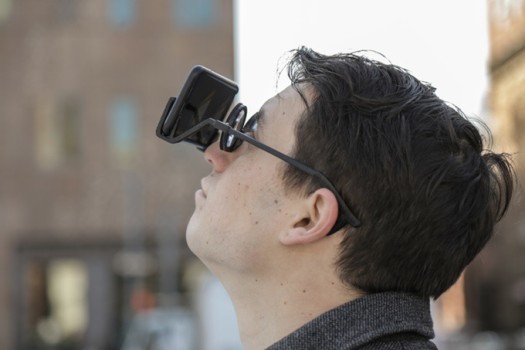 On the surface, it looks like 2VR meets my needs. Â I imagine that I can carry it around as conveniently as a pair of regular glasses. Then at any instant, unfold it, clip it to the phone and then wear it.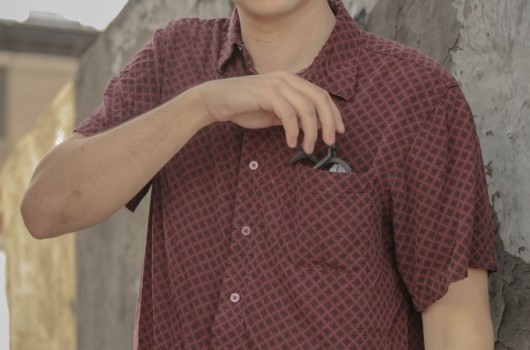 It's open-sided design would allow me to tap on the cell phone screen when I needed to without having to remove the phone or the glasses.
Digging a little bit deeper into the product, I had concerns about how it would feel to support the weight of my cell phone on the bridge of my nose and ears. Â I hope there is good padding! I also wondered how secure the phone would be when clipped into the glasses. Â On the site, the Stimuli mentioned that looking up and down is safe, but moving your head quickly side-to-side or tilting your head might not be so safe for your phone. Â That sounds like an unfortunate limitation.
I don't really see any adjustments for interpupillary distance or lens focus. Â This seems to compare to the Homido Mini's lack of adjustments, although the C1-Glasses and Baofeng Small Mojing do manage to allow IPD adjustment in their small form factors.
Stimuli do however mention that the 2VR can accommodate most phone cases. Â That would be great because I really don't like to keep pulling off my phone case in order to use a mobile headset. Â Both the C1-Glasses and Baofeng Small Mojing can accommodate phones along with their cases.
I contacted Stimuli with my concerns, but I haven't received any response yet.
This Kickstarter campaign ends on March 25th and they have raised $4744 of their $30,000 goal as of this writing. Â If they can manage to hit their funding goal, Stimuli plan to deliver their product in June 2016.
I did contribute a $17 pledge and I'll get the product only if they hit their funding goal and then if they can make it through manufacturing. As you can see, there are caveats in getting products through crowd funding platforms.
We'll see how it goes. In the past, I've backed in Figment VR –Â virtual reality glasses built into an iPhone case that folds out. It got funded successfully and is on track to be delivered in April of 2016. Â I also backed in Goblin VR, which recently got cancelled by its makers.
Kickstarter warns users, "Kickstarter is not a store. It's a way to bring creative projects to life." Â As you can see from my experience, it can be a "hit or miss" affair as other forces may have an affect on the viability of bringing the product to market. Â But with no other options in the market that match my needs for a hands-free foldable mini headset, it left me no choice but to start digging around in there.
It really is an exciting time for virtual reality with new products being announced almost daily. Michael Abrash, Oculus Chief Scientist, has said that the evolution of the headset is to become smaller and smarter until it becomes the size of ordinary glasses. Miniaturization has always seemed to me to be a statement of technological achievement. Maybe that is why I am so fascinated with the smaller headsets and why I seek-out the latest in these products.
While there are some very good mini headset products that fit most of my needs, one remaining elusive feature is having a hands-free option. To get a glimpse of potential products with this feature, I've ventured into the crowd funding platforms. Kickstarter and Indiegogo are like CES for me – a peek at the future.
Shopping for products through Kickstarter is not the most practical and quickest (that's not really what it's for), but the consolation is that you are participating in the creation of something new.
In terms of 2VR from Stimuli – the concept is exciting to me, but it appears that Stimuli still has challenges ahead of them in turning their concept into a practical product.  As an entrepreneur myself, I wish them success.
For those who want a convenient tote-able headset solution right now, my recommendation is the C1-Glasses from Goggle Tech. Â These glasses are small, foldable and quick to setup and use. Â They are so flexible and durable that I've attached them to phones with cases on and even to tablets with limited success. Â A full review of this product can be found here on Hypergrid Business.
As for me, it looks like the search continues! (Cue Indiana Jones soundtrack). By the way, if anyone has other mini headsets that I might have missed, please post in the comments!
Latest posts by Cyrus Lum
(see all)