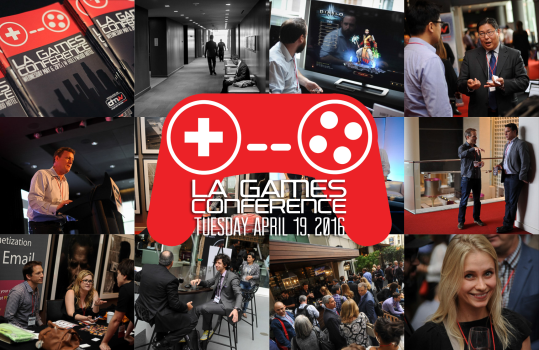 Press release: Digital Media Wire Announces Agenda, Speakers and Virtual Reality Innovation & Networking Lounge for LA Games Conference April 19th
Annual Industry Confab Brings Together Top Leaders from EA, Sony PlayStation, Twitch, Google, CAA, SGN, Nexon, Tencent, Gamevil, Seriously, Kabam, Ubisoft, Glu, Endemol, Lionsgate, Perfect World, OGA and many more at the W Hollywood.
Los Angeles, CA — Digital Media Wire today announced the agenda and speakers for the 11th annual LA Games Conference (www.lagamesconference.com) to be held at the W Hollywood in Los Angeles on Tuesday, April 19th.
The one-day event features 8 panels, 4 keynotes, 2 presentations, 1 roundtable and discussion groups as well as exhibits, demos and networking within the historic W Hollywood. This year, for the first time, the conference also includes a Virtual Reality Innovation and Networking Lounge, co-hosted by the Open Gaming Alliance, where attendees will meet with developers, investors and game and Hollywood execs, as well as see the latest demos from the industry's up-and-coming VR/AR companies and interactive panel discussions. Also, through the support of a group of Supporting Partners including Google, Gamevil, Nexon, Seriously and SGN, the conference is providing scholarships to indie developers to participate in the event.
LA Games Conference attendees are the industry's thought leaders and decision-makers from the gaming, entertainment and technology industries including company founders, investors, major and indie game publishers, developers, advertisers, mobile companies, media and more.
The event includes four keynote sessions as follows:
Keynote with Fredrik Loving, General Manager of DICE LA
Keynote Conversation with Jens Hilgers, Founding Partner of BITKRAFT/Founder & Board, ESL; Interviewed by: Joost van Dreunen, CEO & Co-Founder, SuperData Research
Keynote Conversation with Chris Heatherly, SVP/GM of Disney Mobile Games, The Walt Disney Company; Interviewed by: Michael Metzger, Media & Tech Investment Banker at Houlihan Lokey
Confirmed speakers include:
Jens Hilgers, Founding Partner & Investor, BITKRAFT / Founder & Board, ESL
Bill Wang, Corporate Vice President & Head of Global Investment, Perfect World
Dave Madden, SVP, Global Media Solutions, Electronic Arts
Jesse Sisgold, COO, Skydance Media
Andy Swanson Vice President, eSports & Events, Twitch
Adrian Sexton, President & COO, Endemol Beyond USA
Jonathan Pan, Co-Founder & CEO, Team Elemental
Jill Braff, General Manager, Ellen Digital Ventures
Catherine "Catrific" Valdes, YouTuber Javon Frazier, EVP, Strategy & Business Development, Studio71 Matt Raub, Creative Director, Video Game Vertical, DEFY Media Derek Douglas, Head of Games, Creative Artist Agency (CAA) Dan Brody, VP of Business Development, Tencent Larry Cutler, Former Head of Character Tech, DreamWorks Animation, Board ofAdvisors, Baobab Studios Matthew Collado, Chief Content Officer,Littlstar Eric Goldberg, Managing Director, Crossover Technologies John Koller, Vice President, Marketing,Sony PlayStation Chris Early, Vice President of Digital Publishing, Ubisoft Peter Levin, President, Interactive Ventures & Games, Lionsgate Teemu Huuhtanen, Co-founder & CEO, Next Games Koh Kim, Head of Business Development, Mobcrush Mike Vorhaus, President, Magid Advisors Shanti Bergel, SVP, Business & Corporate Development, GREE Josh Brooks, SVP, Brand Strategy & Marketing, SGN Lina Chen, Co-founder & CEO, Nix Hydra Joost van Dreunen, Co-founder & CEO, SuperData Research Sunny Dhillon, Principal,Signia Venture Partners Michael Cai, SVP Research, Video Games & Technology, Interpret Chris Petrovic, SVP & Head of Corporate Strategy & Development, Kabam Clinton Foy, Managing Director, CrossCut Ventures Christine Lee, Vice President, Business, Immersv Nanea Reeves, President & COO, TextPlus Andy Kleinman, Founder & CEO, MobLabs Albert Lai, Co-founder & CEO, Big Viking Games Lawrence Koh, General Manager, Nexon M, NEXON Ned Sherman, CEO & Executive Producer, Digital Media Wire
Event sponsors and media partners include: AdMob by Google, Nexon, SGN, Seriously, Gamevil, Sheppard Mullin, BlueStacks, Euro Vat Refund, Open Gaming Alliance, IGDA , PocketGamer.biz, WIGI, Gaming Business Review, Digital LA, Fusicology, NATPE, SAG-AFTRA, LA Tech Digest, WITI

Latest posts by Press Release
(see all)