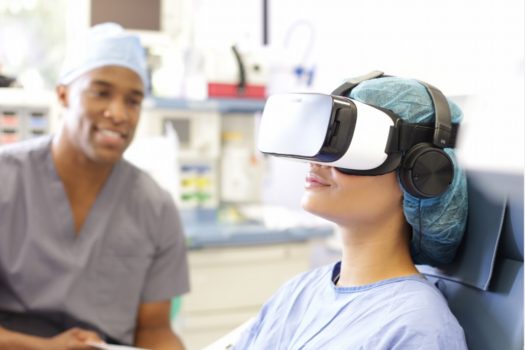 Press release: AppliedVR Brings Therapeutic Virtual Reality Content To Cedars-Sinai Medical Center
Los Angeles – AppliedVR, an industry leader in improving the healthcare experience with scalable therapeutic virtual reality content, today announced its partnership with Cedars-Sinai Medical Center, a leader in providing high-quality healthcare, to introduce the technology in its Spine Center, Department of Surgery and Orthopaedic Center.
AppliedVR helps healthcare patients throughout their journey by developing and acquiring validated therapeutic VR content and making it easily accessible. The company's main products were developed in partnership with Cedars-Sinai. The first product suite, Pain RelieVR, offers highly immersive VR games that divert the patient's focus away from the procedure or recovery process. The first product, Guided Relaxation, in the Anxiety RelieVR suite, was developed with psychologists and leading academics, and is used to help transport a patient using VR from the medical environment, to a peaceful scenic place, to relax and learn mindfulness and acceptance-based techniques, and manage stress and anxiety.
"VR is entering an 'age of utilization' in healthcare, with hospitals and surgery centers seeking new ways to increase patient satisfaction, better manage pain, and reduce hospital stays. This does not require changing the face of healthcare, it merely requires AppliedVR's SaaS model for validated therapeutic VR content, to provide standardized and scalable technology that improves a patient's experience," said Matthew Stoudt, Co-Founder and CEO of AppliedVR. "We've leveraged more than 40 years of proven academic research in how VR impacts patients' well-being, to take one of the most frightening experiences and make it much less stressful, and in many cases, even enjoyable. Partnering with the world's leading healthcare institutions like Cedars-Sinai, firmly puts us on a course to transform the healthcare experience with VR."
Cedars-Sinai Medical Center is among the first hospitals to utilize scalable VR technology. After investing in AppliedVR via the TechStars healthcare accelerator, Cedars-Sinai is implementing AppliedVR pilots across several areas, including the Orthopaedic Center, Spine Center, and Department of Surgery.
"AppliedVR is an extremely valuable option for healthcare providers seeking to enhance the patient experience and positively impact patient outcomes," said Richard B. Jacobs, executive vice president and chief strategy officer at Cedars-Sinai. "With the major shifts in healthcare toward an increased focus on patient experience, AppliedVR is uniquely positioned to succeed."
"Virtual reality is like dreaming with your eyes open," said Brennan M. Spiegel, MD, director of Health Services Research in Academic Affairs and Clinical Transformation at Cedars-Sinai."I've seen patients and their families cry tears of joy using virtual reality at Cedars-Sinai to reduce pain without medications or drugs. AppliedVR's work is helping us to achieve these compelling results."
AppliedVR has begun a limited roll out of the technology in the Orthopaedic Center with the remaining areas launching in the following month.
Watch the demo video below:
About AppliedVR
AppliedVR is an industry leader in improving the patient journey and experience through therapeutic virtual reality (VR) content for healthcare. Founded in 2013, AppliedVR is deeply rooted in research and offers easy-to-use, scalable, subscription-based VR solutions that deliver immediate benefits to both patients and healthcare providers right out of the box.AppliedVR's perioperative platform has two programs (Pain RelieVR™ and Anxiety RelieVR™) aimed at increasing pain tolerance and reducing anxiety respectively. Headquartered in Los Angeles, AppliedVR is partnering with many world leading healthcare providers such as Cedars-Sinai Medical Center, to better understand their patients' needs and deliver life changing, customized, therapeutic virtual reality content. Learn more at http://www.appliedvr.net
About Cedars-Sinai
Cedars-Sinai is a leader in providing high-quality healthcare encompassing primary care, specialized medicine and research. Since 1902, Cedars-Sinai has evolved to meet the needs of one of the most diverse regions in the nation, setting standards in quality and innovative patient care, research, teaching and community service. Today, Cedars-Sinai is known for its national leadership in transforming healthcare for the benefit of patients. For more information, please visit:Â www.cedars-sinai.edu.

Latest posts by Press Release
(see all)