With sexism still strong in the gaming industry, a Europe-based 3D model marketplace is looking to create a welcoming place for women developers in the surging virtual reality industry.
With almost as many women using virtual reality as men — 14 percent versus 20 percent, according to a study by EYÂ — the VR industry does not seem like it should be a boys-only playground. But in many areas, it still is.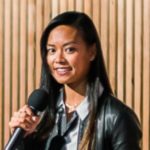 Neilda Pacquing, a developer and UI/UX expert in VR, has rallied CGTrader, one of the largest 3D model marketplaces in the world to provide a more welcoming environment to women developers.
It all started as she was looking for realistic 3D models of women for a VR self-defense project.
"During a search for 3D female assets on marketplaces, I was shocked to see that the best quality models were adult content," she said.
Neilda is vocal about the discrepancy of how males and females were represented as 3D models.
"I made a side-by-side comparison for [female and] male assets and the results shocked me," she said. "There is a big gender gap in technology today. I feel that in order to fix that, we should take steps to make content that is inclusive, accessible, and usable."
Neilda's comments did not fall on deaf ears, as the team at CGTrader decided to take action.
After reviewing their models, CGTrader saw that the percentage of nude female models, 20 percent, was almost ten times larger than the percentage of nude male models — 2 percent. However, the overall number of male models was higher, by 25 percent.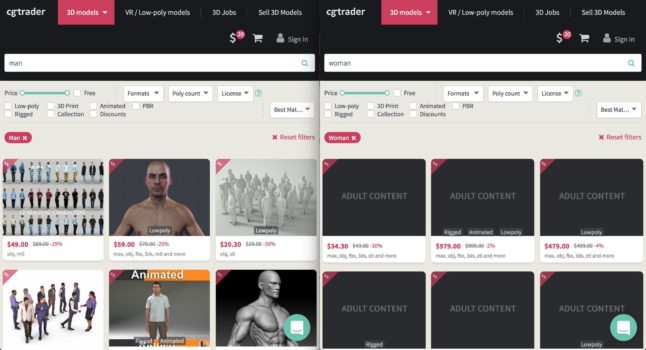 Sales data from CGTrader also showed that, in recent years, the demand for VR-ready models is increasing steadily. And, with more than 40 percent of VR users being women, and more of them developing VR experiences than conventional games, there is a real demand for female-friendly content.
Nevertheless, it seemed like designers, in large part, are not aware of the needs of developers working on VR experiences for women.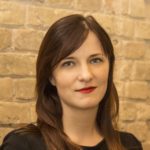 "We're trying to bring awareness to the oversexualization of women in 3D. We hope that by talking about the issue and taking action right now, we will help to create an equal playing field in VR," said Dalia Lasaite, CEO of CGTrader.
"Of course, everyone is free to work on any models they want, but our search and sales data show that there is more demand for casual models of women walking, sitting or standing, not the nude ones," said Dalia.
To encourage designers who create female models, the company has partnered up with leading 3D software and service providers Allegorithmic, Marmoset, Quixel, Cebas, 3D-Coat and Fox Renderfarm and created the 3D Female character challenge – a friendly competition where designers and design students from around the world can win software licences and other prizes by creating non-sexualized models of realistic and fantasy female characters.

Latest posts by Press Release
(see all)