OpenSim grids are welcoming former InWorldz residents with open arms, offering technical support to get their OARs uploaded, discounts on region rentals, and even free homes and stores. Scroll down for details about special offers.
Where to go
For people looking for a closed, commercial grid — no hypergrid travel in and out — the options are limited. Almost all grids are now hypergrid-enabled, meaning that people can teleport from one grid to another as easily as they do between regions on the same grid. The hypergrid also supports instant messages, friend lists, and even shopping.
Being closed does offer a couple of benefits. First, the grid can better control who can be a member, which is useful for educational grids, or grids serving vulnerable communities. And a grid has more power to protect content. Not that much more power — the biggest source of pirated content in the metaverse is still Second Life, a closed grid. But scripted content, for example, is difficult to steal on a closed grid.
The three major closed grids are The Adult Grid, Virtual Highway, and DreamNation. There are also several educational grids that are closed, and some grids run by companies and other organizations that require privacy or control.
Almost all other grids are hypergrid-enabled. As of May, hypergrid-enabled grids accounted for 98 percent of all OpenSim land area and 97 percent of all active users.
"Some of the benefits to a hypergrid-enabled grid is the ability to explore other grids and not to be tied to just one, even it is for shopping or to try to meet new people who don't reside on the same grid," World of Ascension founder Mark Hitz told Hypergrid Business.
"For those that left Second Life for whatever reason, I do suggest OpenSim," said Virtuality Grid owner Ali Logan. "There are so many grids out here to cater to almost every taste. My suggestion for those is to take your time, make an avi on a grid and hop around, find the one that looks like it will fit you best."
All grids offer free avatars, free uploads, and other basic features. In addition, open grids like OSgrid, Metropolis Grid, Craft World and ZetaWorlds, allow people to connect regions for free that they run on their home computers.
For those who don't want the hassle of installing and maintaining OpenSim on their computers, or who want better bandwith than their home Internet connection allows, as well as regular updates, patches, backups and support, can rent a region directly from many grids and also from independent hosting providers.
How to travel the hypergrid
To travel from one hypergrid-enabled grid to another, just paste the hypergrid address into the Map, where you would normally type in the region name. You can also go through a hypergrid gate, or click on a hypergrid link, or travel via a saved landmark. The hypergrid address of a grid's welcome region is usually the same as the grid's LoginURI.
Our Active OpenSim Grids list has all the addresses, and we also have a list sorted by popularity.
There's also the Hyperica directory, OpenSim World, and several Google Plus communities that can give you ideas about where to go, including Hypergrid Destinations and OpenSim Virtual.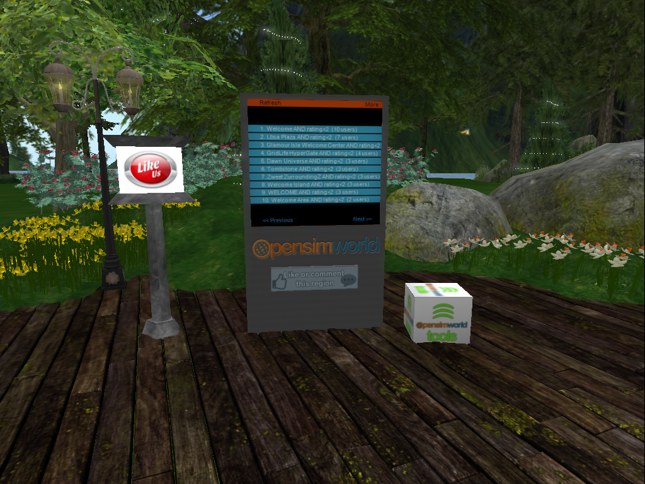 Another tool is the HG Beacon.
"The Beacon allows you to see when a region is populated and gives you the instant teleport to it if you wish," said Virtuality Grid's Logan. A copy of the Beacon is available on Virtuality Grid — teleport to grid.virtualitygrid.com:8002:Welcome Island.
"Traveling thru the hypergrid is fairly easy with all the information that is now available to us," Logan said.
How money works on the hypergrid
The most popular currency in OpenSim is the Gloebit. There are currently about three dozen grids that use the currency — check the full list of Gloebits-enabled grids here. Gloebits are set up on individual regions, so a grid can use Gloebits in some areas, and their own currency in another.
To use Gloebits, you sign up on the website — or by following a grid from a pop-up message on any Gloebit-enabled regions — and put money into your Gloebit wallet. Then you can use it to shop on any grid that supports the currency. The currency is run by Christopher Colosi, the guy who used to run the Lindex for Second Life, and the platform is GDPR compliant. Grid owners get a share of the proceeds from sales on their grids. Plus, if one grid goes down, users can still spend their money on all the other grids that use Gloebit. Ordinary users can't cash out Gloebits, but merchants can once they set up a merchant account.
Another popular shopping option is the Kitely Market. You can pay in either Kitely Credits or in real money via PayPal, and the products are delivered right to your avatar on any supported grid. As of May, the market offered more than 23,000 different product variations, of which more than 18,000 were exportable to more than 260 other grids. Hypergrid-enabled grid deliveries work by default. Closed grids need to do a little bit of configuring to enable the Kitely Market for their grids.
DigiWorldz
DigiWorldz, one of the largest and most popular commercial grids, reports that it has received more than 250 new user registrations since July 24, and has added 71 new regions.
New users can get a "First Land" region on DigiWorldz for just $8 a month, grid owner Terry Ford told Hypergrid Business. "This region can support up to 100 avatars, they have full control over every aspect of the region, can restart it themselves using our control panel if they wish. We are GDPR Compliant, We are fair, honest, our staff is great, our in-world helpers are great, our community is great, our performance is great, our reliability is great, we have a large number of regular events for our users, great shopping, we have a large amount of traffic, we have a university where we hold regular classes to educate our users."
In addition to all that, he said, DigiWorlds offers free in-world partnering, free VirTec scripted items, free uploads, free classifieds, free group creation, free picks, free uploading of region OARs and inventory IARs, free region OAR backups for our users, free inventory backups for our users, free region moves, and free region renames.
The grid is hypergrid-enabled, and each region owner can choose between Gloebit or Podex currency in their regions, and can also choose either ODE or Bullet Physics. Users can restart their own regions from a web-based control panel, estate managers can restart regions they manage using the same control panel, and region orders are usually completed and ready within an hour… sometimes as fast as five minutes.
"We do not tolerate drama, or harassment of other users," he added. "We fight content theft and copybot proliferation.. not only for our users but users on any grid or platform, our track record is solid as a rock. We make two different types of backups for each region every night and store these backups in four different locations for 30 days."
Ford has about ten years of experience running grids. Prior to founding DigiWorldz, he also found 3rd Rock Grid. DigiWorldz has done extremely well in our last few reader surveys. In addition, DigiWorldz posts user feedback from support tickets.
"These feedback comments are live, open a ticket yourself, when we have finished the support request we will close the ticket and give you an opportunity to leave feedback… just leave some feedback and then visit that page and you will see for yourself the comments are realtime," said Ford.
He also suggests that users looking for similar practices as DigiWorldz, as well as the same code base, try out 3rd Rock Grid, The Encore Escape, Great Canadian Grid, Virtuality Grid, and Baller Nation.
"Most use similar servers and infrastructure, and most of the owners of these grids are trustworthy and very supportive of their users," he said. "I have seen first hand how each cares for their users. Each of these have varying sizes and types of communities, shopping variety, and events."
DigiWorldz' hypergrid address is login.digiworldz.com:8002.
Kitely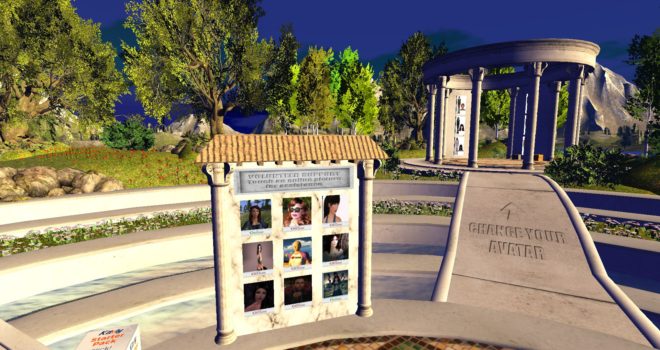 Speaking of the Kitely Market — Kitely itself seems one of the top choices for former InWorldz residents, in addition to being one of the largest and most popular commercial grids in OpenSim.
Kitely charges $40 per month for a four-by-four region with 120,000 prims that can hold up to 80 avatars at once.
The reason they can do that — and still have money in to invest in their Kitely Market and other new technologies — is that the regions are on demand. When nobody is using them, they go to sleep. When someone teleports in, they start up again.
"We built a transit system to automatically teleport avatars into a waiting area while the sims load — hich is often fast enough that people don't notice the transit by the time their viewer finishes the login and teleport process," Kitely founder and CEO Ilan Tochner told Hypergrid Business. "We've had to spend a lot of development resources to make that process fast enough to not be an issue."
Even users who don't want to make Kitely their permanent home, and spend most of their time hanging out on other grids, should consider having their primary avatar be on Kitely, he added.
"You can travel with your avatar from one hypergrid-enabled grid to another and, on most grids, there is very little benefit of using a local avatar as opposed to visiting with an avatar from another grid," he said. "As almost all grids offer free avatar hosting, you should create your avatar with the company that will offer you the most avatar management tools and the best performance and reliability."
Kitely has had a very impressive stability record since it was founded in 2011, with only a few, brief, planned and well-announced episodes of downtime for upgrades and other technical reasons.
"Kitely is GDPR compliant, offers self management of all account-related options via an easy-to-use web interface, has its own optimized high-performance cloud-based inventory system  and assets system, and backs up all content to multiple Amazon data centers both dynamically — via storage on Amazon S3 — and daily, in additional Amazon storage options," he said. "In addition, Kitely has received high rankings for both technology and customer support in all Hypergrid Business annual grid surveys."
Having a Kitely avatar makes it slightly easier and more efficient to get Kitely Market purchases, he said, since they go directly into the avatar inventory, instead of relying on hypergrid delivery.
"You also need to have a Kitely avatar if you wish to sell items in Kitely Market as the product listing process requires direct accesses to your avatar's inventory, and that only works with Kitely avatars," he added. "In addition, Kitely is able to provide better support when dealing with Kitely avatars as it has direct access to the inventory and assets systems used to store items bought for Kitely avatars."
Craft World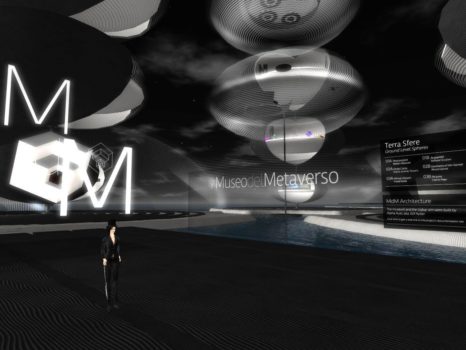 Open grids, which allow anyone to connect home-hosted regions for free, are the most cost-effective option for OpenSim land owners. The largest of these is OSgrid.
Another popular non-profit option is Craft World, a non-commercial grid aimed at educators and artists.
Since May, the grid has been getting a major technical makeover, owner Raffaele Macis told Hypergrid Business. "All servers have been changed and we are redoing or rethinking many services."
A new multi-lingual website will be up this fall, he added.
But more importantly, the grid also plans to offer on-demand regions for just 2 Euros a month. These will be like Kitely's regions — only running when someone is visiting them.
The grid also offers standard regions, with a 1,000-prim landscape region starting at 5 Euros a month, going up to 17 Euros for a 25,000 prim region.
"Each region has its own web panel in which it is possible to stop and start the region also after a crash, save OARs, download upload OARs, clearing region cache , and so on," he said. "The ordering system is completely automated. Inside their account in the website citizens can order their region and pay: in seconds the payment will be validated, the invoice will be sent and the region will be online."
Craft World's hypergrid address is craft-world.org:8002.
3rd Rock Grid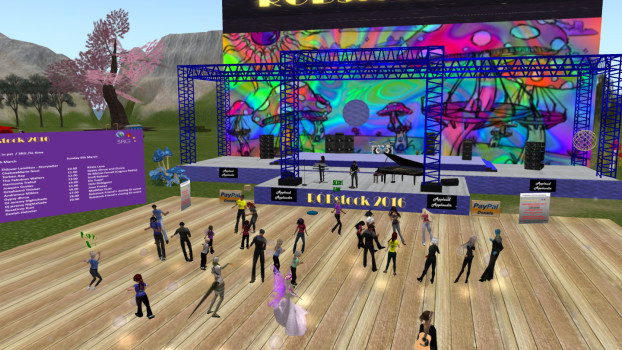 3rd Rock Grid is the fourth-oldest grid in OpenSim and has been around for ten years, and is known for its annual music festival, which raises money for Doctors Without Borders.
It is operated by a Netherlands non-profit, but also offers region rentals. Prices start at $8 a month for an 8,000-prim region, and go up to $50 per month for a 50,000-prim region. Variable-size regions are also available, at $20, $30, and $40 a month for a two-by-two 20,000 prim region, three-by-three 30,000 prim region, and four-by-four 40,000 prim region, respectively.
"Our technical team is outstanding and highly knowledgeable," volunteer Rhia Bachman told Hypergrid Business. "They handle requests for service with professionalism and rapidity to get our customers up and running."
Downloads, uploads, name changes, and many other services are all free, she added.
"We have areas dedicated to arts and education, and we encourage the creative process for all who visit and who reside with us," she said. "We are also planning many large events in the months to come which will serve to strengthen our commitment to community outreach. Overall we are a very open, friendly grid and we would love to have anyone looking for a new home to join us in our journey to an optimum virtual life. We are very focused on community and a family environment and we welcome all to join us. We also strive to create a better world for all who would join us virtually as well as those who are in need in real life as is reflected in our charity events where all proceeds are given to Doctors Without Borders and some to the MS Society."
3rd Rock Grid's hypergrid address is grid.3rdrockgrid.com:8002.
The Adult Grid
The Adult Grid, is one of the few remaining closed grids. And, as the name suggests, it is fully adult-rated. All residents must be over 18, and no child avatars are allowed.
"We welcome all ex residents from InWorldz," co-owner Constanza Amsterdam told Hypergrid Business. "We offer all new TAGgers a free plot of mainland during their first 30 days inworld and we have a fully functional marketplace, grid wide vendor system, Konk Gaming System for role play and loads more. We offer free uploads of textures and mesh, free classifieds and free group creations. Our region prices are very competitive, which means you only pay for amount of prims and not for region sizes."
Land prices are just $15 per month for either a single region, or a two-by-two varregion, or a four-by-four varregion — each with 15,000 prims. Additional prim packs are $5 per 5,000 prims.
A varregion is a variable-sized region, so a user can have more land, with no border crossings.
The grid does allow users to upload OAR files, but only if their contents have been created by the user. However, she warned that InWorldz' Halcyon branch of OpenSim may cause issues.
"It is not certain yet in how far OARs made in Halcyon are compatible with OpenSim," she added.
Halcyon has some differences with it comes to meshes and scripts, so some content may need to be adapted, other experts have said.
For more adult content in OpenSim, check out the Adult Metaverse community on Google Plus.
The Adult Grid is not accessible via hypergrid teleport.
Tangle Grid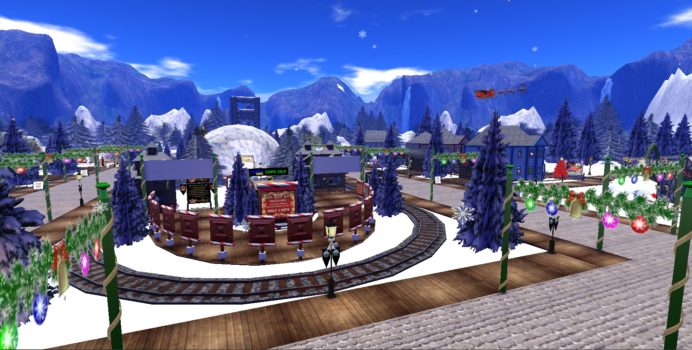 Tangle Grid, known for its hypergrid expos, also has special offers right now. There are free 435-prim lots available on the Shores Haven and Shores Oasis regions, and free homes on the Butlers Creek, Pipers Landing and TanGLe Welcome Center regions. There are also free shops on Butlers Creek and TanGLe Town.
It also offers low land prices —
"Anyone coming from InWorldz that buys a region on TanGLe Grid, I will give them a month free on their tiers to help them get started," grid owner Leslie Kling told Hypergrid Business. "It doesn't matter what package they take."
Tangle was one of the first two grids to support Gloebit payments, and runs a Gloebit shopping mall.
The current expo is the Metaverse Yard Sale & Satyr Farmers Market, and will run through August 1. Next, a Steam Punk Expo is coming up, scheduled for August 27 to September 24.
Tangle Grid's hypergrid address is tanglegrid.net:8002.
Mobius Grid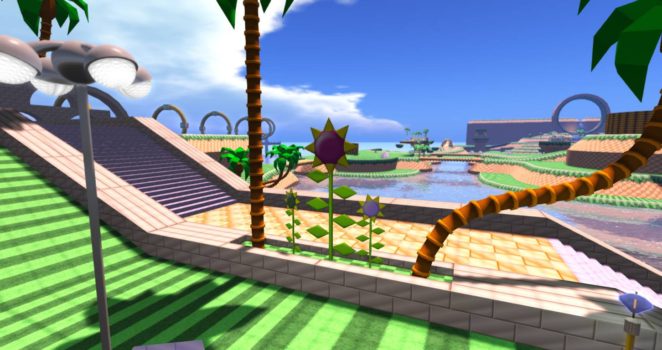 Video-game themed Mobius Grid was the other grid that adopted the Gloebit currency when it first became available.
It is currently offering a 50 percent discount on region rentals, Mobius Grid head Roy Corr told Hypergrid Business. Just use the TTL31 coupon code when you order. The offer ends on September 9, he added.
Regions start at $20 a month for a 20,000-prim, two-by-two var region and go up to $75 a month for a 120,000-prim four-by-four varregion.
"Mobius is gaming community and welcomes any roleplay regions," he said.
Mobius Grid's hypergrid address is grid.mobiusgrid.us:8002.
GreekLife Grid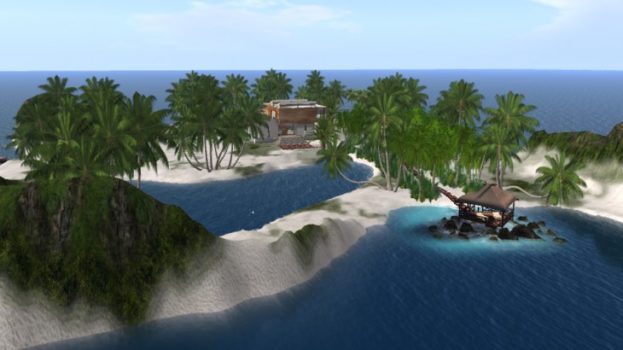 GreekLife Grid embraces everyone from InWorldz and give to all 30 percent discounts at all regions to all InWorldz residents," GreekLife owner Nic Envoy told Hypergrid Business. "So any one from InWorldz can email me to get the 30 percent discount."
GreekLife Grid's hypergrid address is grid-greeklife.info:8002.
Tranquility Grid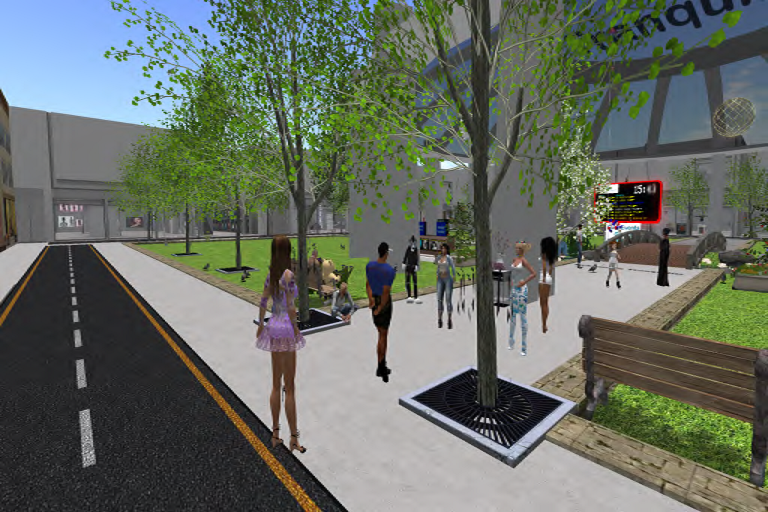 Launched about six months ago, hypergrid-enabled Tranquility Grid is offering regions for us $5.40 per month, grid owner Steve Stewart told Hypergrid Business.
"For InWorldz refugees, we would help them adjust to OpenSim, hypergridding, setting their avi up, and so on," he said. "If they have the OAR from InWorldz , we upload all residents OARs free of charge."
In general, OpenSim land prices are very reasonable, he said. Tranquility also offers free homes for new residents.
"With the welcome cash we give all new residents means they could stay there for months without costing them a penny," he added. "And Tranquility advisers are always available to help anyone, resident or not."
Tranquility Grid's hypergrid address is tranquility-grid.info:8002.
Virtuality Grid
Virtuality Grid is a new hypergrid-enabled commercial, social grid, that currently has a 15 percent off sale on regions, a sale that is being extended to help people leaving InWorldz.
"For all new members, we do offer a free home plot for your first 30 days to give you time to get used to how our grid works," grid owner Ali Logan told Hypergrid Business. There are also free stores available for members in which they can sell their products. The grid uses its own local currency, the V$.
Former InWorldz residents coming with copies of their old OARs can upload them for free, Logan said. "I will consult with my tech specialist to find the best way to do this to ensure the OARs come in correctly."
"My team, made up of both North American and European members, are the best that OpenSim has to offer," Logan said. .  Most of my team has been involved in virtual reality for as many as two decades, first in Second Life then moving to OpenSim.  Our team is professional as well as personable.  We are here FOR the member, not the other way around.  I have worked in customer service my entire adult life and this is paramount to me as a grid owner.  When you land on our grid, you are greeted as any member who has been with us since our inception, you are one of us.  No matter if you are just visiting or looking to join us permanently.  We have a live chat on our website that offers help for those needing it as well as in world support throughout the day and night.  If by some chance no one is around and our live chat has shut down for the night, our support ticket system is available as well as our grid chat on the Discord App."
Virtuality Grid's hypergrid address is grid.virtualitygrid.com:8002.
World of Ascension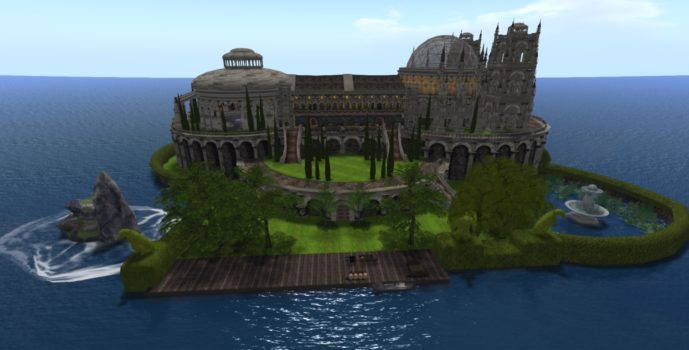 World of Ascension is a hypergrid-enabled role playing grid founded last summer based on fantasy stories written by Mark Hitz, who is also working on a novel.
"I just recently finished the Port of Ascension, which is a place where who we call citizens instead of residents, can go and enjoy sailing or any other type of water craft," founder Mark Hitz told Hypergrid Business. "The Castle will be available soon and then I will be working on three more temples.  We have an excellent staff that is ready to help out new people by taking them to the shopping region where they can find free stuff like mesh bodies, clothes and what not.  It's like I've told people, I'm not in this for the money, I'm actually a game developer and like to share things with like minded people or people who like explore different places.  Some people can't take vacation in real life, but in a virtual world, they have no limits."
Region prices are very reasonable. A homestead region is $5 a month, a full region is $10, and a four-by-four varregion — the equivalent of 16 standard regions — is just $20 per month.
Users can import anything they own or that is available as open source, he said — including OARs exported from InWorldz, which ran on the Halcyon branch of OpenSim.
"I don't believe importing an OAR from Halcyon to OpenSim will be too much of a hassle, just need to make sure it objects mesh properly and the scripts still work," he said. "Normally scripts will work after a recompile."
The grid uses the multi-grid Gloebits currency, which can be used on many grids on the hypergrid. Creators can sell products to visitors from the entire metaverse in several places on the grid, or they can rent their own region to put up a store. There is also a freebie region, the Ascension Shopping Center, Hitz said.
World of Ascension's hypergrid address is world.ascensiongrid.com:8002.
Gevolution World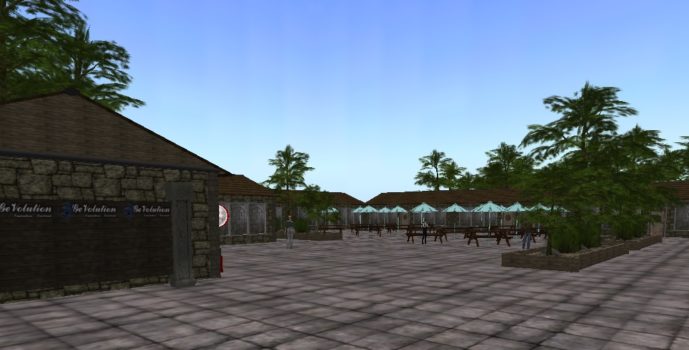 To help InWorldz residents adjust to a new grid, Gevolution is offering the first month free on regions of all sizes.
"This is to allow them to settle into a new home, explore and start to set up their avatars, businesses and get their virtual lives back on track," grid owner Cliff Hopkins told Hypergrid Business. "After the 1st month we will discount our prices for a further three months, all regions will be 50 percent off the already low marked prices. Roleplay pack regions will also be discounted 50 percent for the first three months. If they have an OAR of their region we will also upload that free of charge to their new region in GeVolution World."
Use the coupon code inworldz when ordering, he added.
The grid is known for its exceptionally low land prices. A two-by-two varregion with 75,000 prims is just $15 per month, with 1,000-prim addon packs just $1 each.
"All regions will have full ownership, they will be able to restart, change all information, set their own maturity ratings and can even turn off hypergrid access if they wished to," said Hopkins.
Gevolution will also help InWorldz residents upload their InWorldz OARs, at no cost, he added. "Bear in mind, some scripts may need tweaking as InWorldz ran a different code."
"We spent a long time trying to think of ways to help the InWorldz residents," he said. "After all, they are losing everything and have to start from scratch. We wanted something that would not benefit us but benefit them and show that not every grid is just after their custom."
There are also free homes available, he said.
He admitted that Gevolution has had a rough start. "We don't hide the facts, and we're not always everyone's first choice when looking for a new home."
However, for the past eight months, the grid has been investing heavily in its technical infrastructure.
"We have released our own fork, Cobra, which is coded by our own committed and in-house development team, Sarah and Crystal," he said. "Since December 2017 when Cobra was first bought online we've had approximately one hour down time — and that was human error as I forgot to switch over to the backup system to update code."
As part of a new commitment to stability and transparency, the grid also publishes its currency payout totals every month. It's the only grid that does this, said Hopkins, "as far as I can tell."
Gevolution World's hypergrid address is login.gevolutionworld.com:8002.
Kinky Grid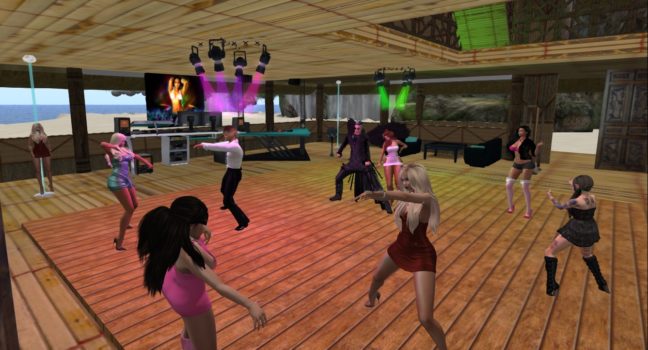 Kinky Grid is a new hypergrid-enabled grid which officially opened three months ago and is run by former InWorldz members. All regions are adult rated with various regions being designed for different types of adult roleplay.
"We have been welcoming InWorldz residents and OAR uploads are free," owner Freya Stagg told Hypergrid Business.
"We also have a unique region manager being built which gives region owners more control over their regions," she said, "such as instantly loading backup OARs, downloading copies of there region OARs, viewing sim logs and stats and performing hard restarts — a more powerful version of a normal restart."
Region prices start at $10 per month for a 15,000-prim region, $20 per month for a two-by-two region group with 60,000 prims and we also offer variable-sized regions.
Kinky Grid's hypergrid address is kinkygrid.com:8302.
UKTurk Grid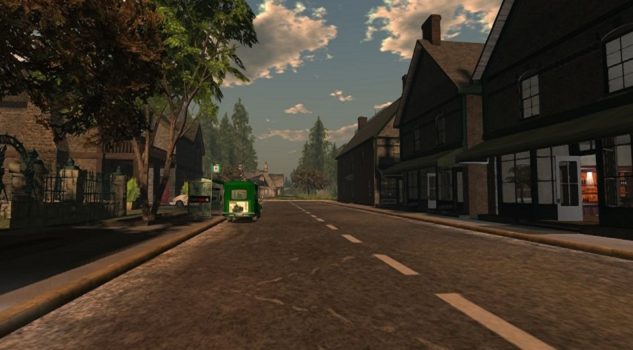 The UKTurk Grid, which features Turkey and U.K.-themed destinations, also has a special offer for former InWorldz residents looking for a new home.
"If people are looking for somewhere cheap and cheerful with robust hosting I currently have a special offer for some remaining regions with 10,000 prims at just 4 Euros, or US $5, if that helps anyone," grid owner Mike Townsend told Hypergrid Business.
The region order page is here.
The grid also offers freebies on its Freebies region and in freebie stores across the grid, as well as free homes as well.
"I think for anyone looking for a tranquil home on a non-adult-oriented grid then the UKTurk Grid is ideal and we have plenty of ready made homes and a couple of quarter regions which are completely free for people to move into," said Townsend.
He also suggested that people check out his other favorite grids –Â Greek Life, Lost Paradise, Dynamic Worldz and Littlefield.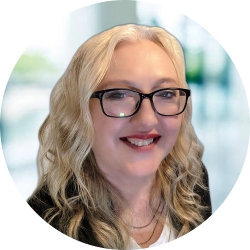 Latest posts by Maria Korolov
(see all)