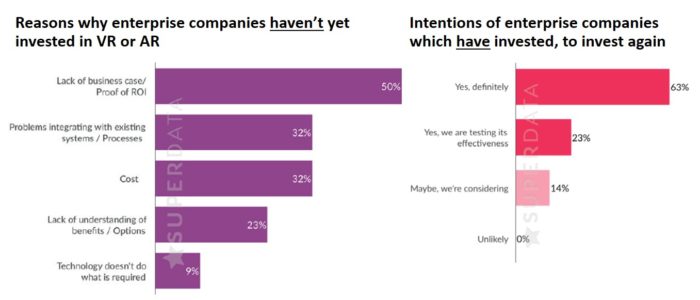 Survey: Enterprise Companies Seeing Strong Return on Investment in VR & AR
LONDON – Businesses working in areas such as automotive, construction, manufacturing and retail are seeing a good return on their investment in virtual and augmented reality, according to an industry survey by VR Intelligence. The survey targeted senior-level business execs in VR & AR, aiming to filter through the hype and get to the core of what's really happening in immersive tech.
As VR and AR continues to break down the barriers to mass consumer adoption, it's in enterprise where the technology is seeing the most immediate growth. This has been a widely reported trend, backed up by this new survey – where 83 percent of current enterprise end-users say they see benefits in VR, 69 percent say they see benefits in AR, and 86 percent plan to invest more.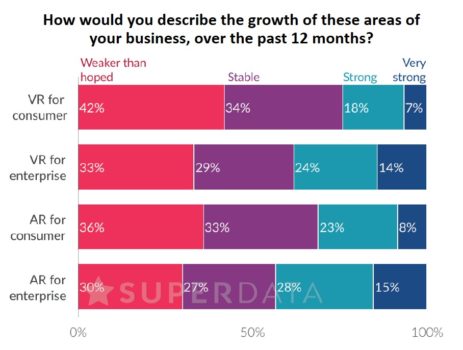 The survey interviewed almost 600 VR and AR professionals, giving insights into where companies are seeing growth, where they intend to invest next, the challenges towards mass adoption and the industries integrating most effectively.
Some key survey findings include:
The majority of current enterprise VR & AR end-users report that the technologies are having a positive impact on their business, with 86% claiming they'll be investing more in immersive tech
Enterprise businesses already using XR technologies are much more likely to invest more than businesses yet to start using XR technologies (86% versus 46%), suggesting ROI is strong.
67% of enterprise VR solution providers and 70% AR providers report stable and strong growth. However, growth on the consumer side was slightly less, with 42% (VR) and 36% (AR) reporting results that were weaker than hoped.
Education is showing the most growth – both in demand for immersive tech and supply of immersive services
Price and lack of content still seen as the major barriers to consumer adoption – but less of a concern than they were in 2017
Field of View, Motion Tracking and Eye Tracking are deemed some of the most important technologies needing to be developed – yet also some of the least currently being invested in
"Consumer uptake is yet to fully take off and the results highlight some of the areas needed to improve, in order for it to do so," said VR Intelligence director Rich Goddard. "But the overwhelmingly positive feedback from enterprise is encouraging for everyone and shows strong signs of immersive tech beginning to truly fulfill its potential."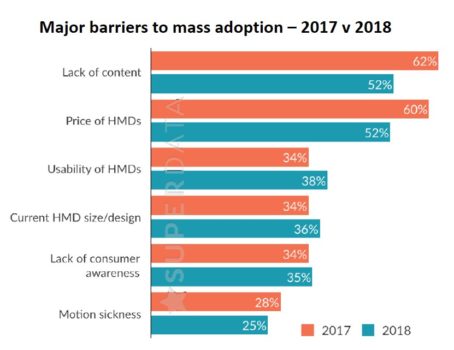 The survey was produced in conjunction with VRX 2018, the senior-level B2B event for VR & AR execs, in San Francisco this December 6-7.
About VRX and VR Intelligence
The VRX event series launched in 2015 and focuses on strategic business and tech opportunities as virtual reality takes hold in gaming, consumer entertainment and enterprise. It is specifically designed as a high-level networking environment for senior-level decision makers to connect and do business.
VR Intelligence is the world's leading network of senior level decision makers in VR, AR and immersive tech, brought together at the annual VRX events in San Francisco (December) and Amsterdam (April). The company's year-round dialog with the industry's biggest tech innovators and forward-thinking strategists, allows for the production of market leading events, insights from industry thought leaders and game-changing business connections.

Latest posts by Press Release
(see all)