The United States Air Force had a problem. They needed to train hundreds of airmen, but there weren't enough real aircraft to go around. Virtual reality offered the next best thing.
Vinci VR, a two year old virtual reality startup founded by a 22 year old college undergrad, was recently awarded a $1 million contract by the United States Air Force to develop solutions for aircraft maintenance training.
Vinci focuses on creating realistic training environments and tools with an emphasis on maintenance training for industries including aircraft maintenance and wind turbines.
Vinci created realistic aircraft models for airmen to train on, and also "built a platform that allows instructors to go in and directly edit training simulations or create their own procedures around our 3D model," said Eagle Wu, CEO and founder of Vinci VR.
The platform, known as CODEX, allows instructors creative freedom without previous software or programming experience.
According to Wu, developing accurate 3D models is a costly endeavor that also takes a lot of time and effort, which is why an organization like the US Air Force is a good fit.
"They are big enough that they have their own innovation division that can make this investment, and they're big enough that they can afford to take the risk," he told Hypergrid Business.
Vinci was tasked with developing and deploying its technology into active Air Force units that are currently training airmen. It developed a simulation of USAF aircraft using the HTC Vive running the Unreal Engine.
The VR training had a goal of saving time and money for the Air Force versus the traditional textbook method.
"They get these textbooks and they train for aircraft they've never seen before, and when they go out into the field they have to essentially retrain," said Wu.
By working in VR from the start, it "allows them to train in a real aircraft early on and theoretically cut their training time in half," he added.
Wu released a case study in September which offers more information about Vinci VR's aircraft maintenance training.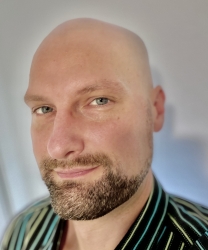 Latest posts by Alex Korolov
(see all)