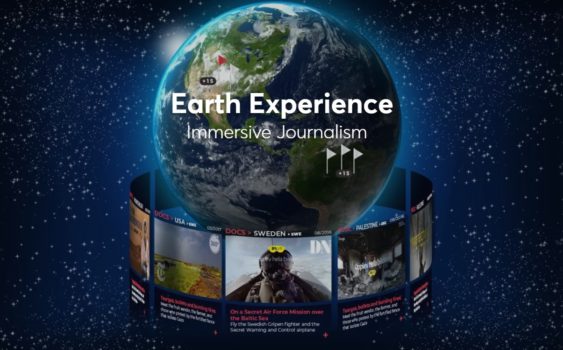 Press release: VIRTUAL REALITY START-UP IMMERSIONN OPENS FOR BUSINESS
New Discovery Engine for Immersive VR Content Launches with 'Immersive Journalism' Partnerships with Dagens Nyheter and Euronews
6 January 2019, London:Â Immersionn, a content discovery engine for virtual reality, today announced that it had officially launched its platform for subscribers and VR content creators.
The unique platform, which can be found at www.immersionn.com, and accessed via smartphones, virtual reality headsets and laptops, consists of a high-quality immersive VR browsing experience that combines VR and the web to enable a first-of-its-kind spatial user interface that aims to make VR content accessible to everyone.
In a market dominated by VR gaming, Immersionn makes VR content across a range of diverse topics such as art, culture, education and news available from one location. Immersionn is launching with immersive journalism partnerships with news outlets including Dagens Nyheter and Euronews with more to be announced in due course.
"There is nothing out there that lets people discover VR content easily through a VR interface. Everything is closed and proprietary and content discovery is delivered in 2D which not only misses the point of VR but impacts the consumer experience," said Alexandra Hussenot, CEO and Founder, Immersionn. "At Immersionn we want to open up VR for everyone and let people experience this amazing immersive world for themselves and discover new 360-degree content that they have never seen before across a range of different topics."
Fragmented market
Currently, VR content is hard for users to discover. The market is fragmented and content is only accessible from a small number of international companies via their proprietary platforms and devices.
Consequently, there is no system in place to curate or recommend new content across different platforms, meaning that consumers are unable to browse and discover new immersive content for themselves.
Content distribution is also only made available via 2D online channels or through dedicated applications to VR headsets or smartphones meaning that the content browsing experience is viewed in formats other than VR. 
Immersionn aims to address this by becoming a centralized, open and device-agnostic platform for all immersive content.
5G for VR
With fast speeds and low latency, 5G networks are the perfect use case for VR and the opportunity to stream VR content instead of downloading it will improve the user experience and uptake.
Immersionn uses WebVR which utilizes these fast speeds to deliver an incredible experience to end users and is perfectly placed to capitalize on the growth of 5GÂ Â networks.
5G networks are currently being deployed around the world with mobile industry trade association, the GSMA, estimating that 5G will account for an estimated 15 percent of global mobile connections by 2025.
Immersive journalism
Immersionn has launched a comprehensive 'immersive journalism' offer to subscribers and has agreed initial deals with international media outlets including Dagens Nyheter and Euronews with the aim of becoming the central hub for immersive journalism discovery around the world. Immersive documentaries and news gives viewers a unique perspective on world events by enabling them to experience them in 360 degrees. 
"VR journalism lets us tell stories that are otherwise hard to tell. It lets us show audiences exactly how it feels to be in Japan while North Korea is firing missiles overhead or stand eye to eye with a North Korean border guard. I've been struggling to tell these stories as a photo/videographer for years but with VR I feel that I'm closer than ever before and the impact is powerful," commented Lars Lindqvist, VR producer and photojournalist at Dagens Nyheter. "Being able to reach new audiences is very important for Dagens Nyheter and we are exploring this exciting new field of journalism and want as many people as possible to experience it."
"As an international media organization, we strive for our journalism to engage people wherever they are, and this is true for our most innovative formats as well. Thanks to Immersionn, the content from our award-winning immersive journalism workflow will be able to be discovered more easily, and thus reach more and more people attracted by the VR format," commented Thomas Seymat, Euronews VR editor.
VR and content creators
Immersionn is supporting the development of new immersive content by VR content creators. The platform helps creators to monetize their content and get it discovered by new audiences. Uploading new content to the platform is also a simple process. Each content creator can submit it to Immersionn and if it is a fit with the editorial line it will be published and promoted within days. Subscribers to the platform will also be in control of what content they discover and not have content fed to them based on previous searches.
About Immersionn 
Immersionn is a virtual reality discovery engine for VR content. By combining VR and the web, Immersionn enables a first-of-its-kind spatial user interface, that will re-invent the way content libraries are explored. In a sector dominated by gaming, our aim is to help people to discover new VR and 360-degree content that they have never seen before across a range of different topics including news, art, education and culture.

Latest posts by Press Release
(see all)