OpenSim stats are down this month by a little over 1,000 active users — but Tag Grid, OpenSim's largest closed grid, did not report stats this month, and had over 1,500 active users this month.
Active users are expected to increase again next month, as students return to school. Craft World is already seeing increased interest from educators (see related article here.)
OpenSim land area also went down, by nearly 5,000 standard region equivalents. But OSgrid, OpenSim's largest grid, reported a loss of nearly 5,800 regions. OSgrid allows users to connect home-based regions for free, and holds the map spots reserved while the regions are offline. Once in a while, OSgrid clears map reservations for regions that haven't been connected to the grid in a long time, and the total reported land area goes down.
This month, any map reservations that hadn't been used since 2019 were removed, OSgrid president Dan Banner told Hypergrid Business.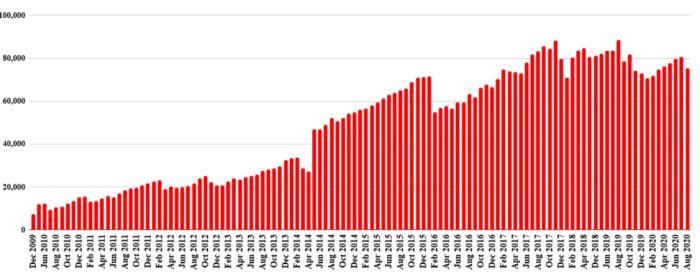 These stats do not include most of the grids running on OutWorldz' DreamGrid distribution of OpenSim, or private company or school grids who used other installers.
OutWorldz reports that it has so far, ever counted a cumulative total of 2,531 grids, out of which were hypergriddable and 1,727 private grids.
There have been 6,308 grids of any type that have been crawled by the Hyperica robot since Jan 1, 2020. These are tracked in a different database. Hyperica stores online DreamGrids, regions, parcels, regions, objects, and hypergrid events provided the region or item is set for 'Show in Search' in-world.
Out of the total counted 6,308 grids, 5,588 grids are Dreamworlds or virtual worlds created using the OutWorldz DreamWorlds software. Out of these, only 720 were detected as online during August using the Hyperica grid crawler, and out of these online grids, 647 are hypergriddable Dreamworlds or Dreamworlds accessible to the metaverse via the hypergrid port.
The total list of grids tracked by OutWorldz is available here. You can also add your grid in the stats if it is not being crawled by OutWorldz. OutWorldz also provides OpenSim users with free mesh items, OARs, and free seamless textures that you can download and use on your grids.
OpenSim is a free, open-source virtual world platform that's compatible with the Oculus Rift. It allows people with no technical skills to quickly and cheaply create virtual worlds, and then teleport to other virtual worlds. Those with technical skills can run OpenSim worlds on their own servers for free, while commercial hosting starts at less than $5 a region.
A list of hosting providers is here. Download the recommended Firestorm viewer here. And find out where to get content for your OpenSim world or region here.
Top 25 grids by active users
When it comes to general-purpose social grids, especially closed grids, the rule of thumb is: the busier, the better. People looking to make new friends look for grids that already have the most users. Merchants looking to sell content will go to the grids with the most potential customers. Event organizers looking for the biggest audience… you get the idea.
Island Beach recorded the most growth in active users this past month, with at 995 new actives, followed by Little Breath with 394, Forbidden World with 193, Virtual Dream with 493, Grimm with 182, with 171, and Party Destination Grid with 103 new active users.
Top 25 most popular grids this month:
The actives list is based on active, unique 30-day user login numbers that grids report on their stats pages. Those grids that don't report their numbers might be just as popular, but we wouldn't know. The active user stats are also used to generate the popular hypergrid destinations list, which is useful if you have a hyperport and want to put up gates to the most popular grids, or include the most popular grids in an in-world directory.
This list is also a good place to start if you want to open up new stores or hold events, or are just looking for places to visit.
Here some information on how and why you should set up a stats page for your grid. Of course, not all grids need a stats page, especially grids that aren't open to the public, like school grids, private company grids, small family grids, and so on. From prior surveys, this "dark metaverse" of OpenSim grids might actually be bigger than the one we know about, because those grids don't need to promote themselves, and we never hear about them.
Kitely Market
There are currently 16,989 product listings in Kitely Market containing 34,638 product variations, of which 29,578 are exportable.

The Kitely Market, which is the largest collection of legal content available in OpenSim , has delivered orders to 446 OpenSim grids to date, both hypergrid-enabled and closed, private grids. (Instructions for how to configure the Kitely Market for closed grids are here.).
Ansky moves to a new dedicated server, resumes land sales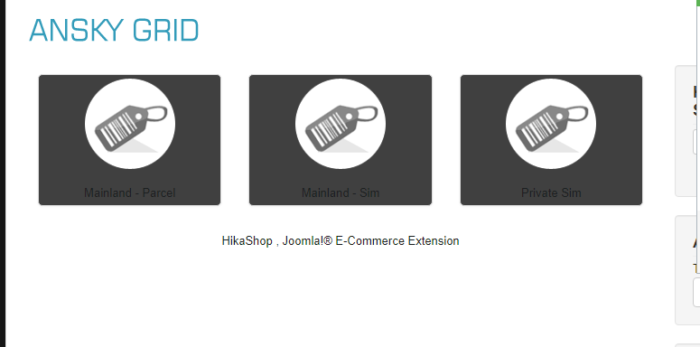 AnSky Grid has moved to a new dedicated server beginning mid-July this year and away from a cloud server that previously hosted the grid. The grid is now better with improved loading time and flexibility, grid owner Andrew Simpson told Hypergrid Business.
"I couldn't set-up a few features like to add security options like two-factor authentication, and now the server is owned by us, and am glad to see a lot fewer lag issues and faster loading time," he said.
The grid has resumed all events and activities.
Sale of land and sims is also back on track on the grid but only for grid residents, who will need to log into the grid website to buy land.
3RD Life Grid offers new pre-built regions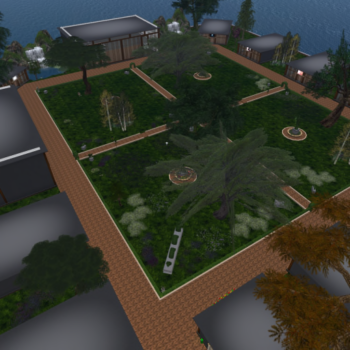 3RD Life Grid now offers two options for those who want to purchase regions—either a region with nothing built on it or a region with pre-built structures on it. Those buying regions with pre-built structures can choose between a Village or Farm Land, Beach Home, and Forest which is a home and other surprises on it.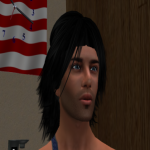 "These have been pre-built for the non-builders," grid owner Tommy Seetan told Hypergrid Business. "If a resident buys one of the pre-built sims, they will have full access to everything. They can take the stuff away or add more if they wish. There is plenty of room."
Craft World prepares for school openings, museum exhibits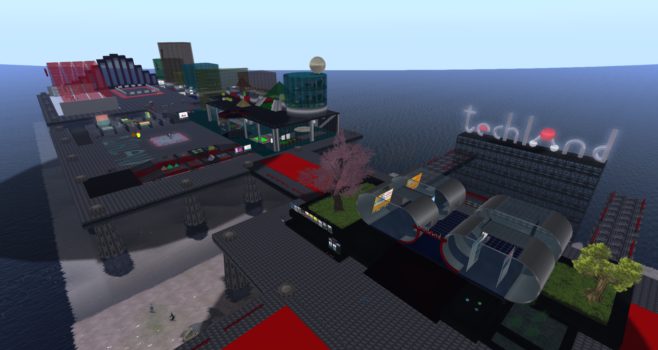 Craft World Grid's educational groups will restart their activity in September as schools resume with new tools and activities. Read more about it here.
In addition, the grid's Museo del Metaverso is hosting a three-week group exhibition with eight artists, called Arena Call, every month. The coming month's Arena Call for Artists 2020 event will take place on September 1 with a group exhibition by eight artists.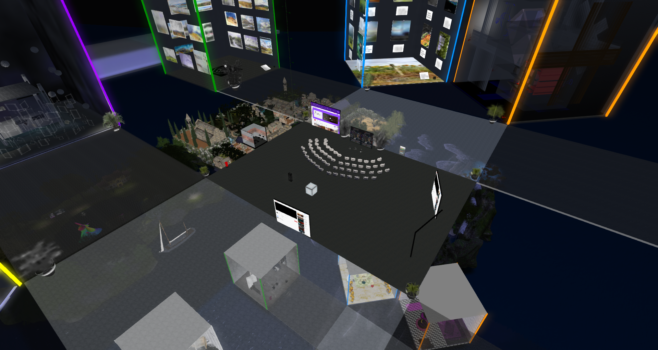 The hypergrid address for the Museo's main region is MdM:craft-world.org:8002:mdm.
The event's venue is hypergrid address is craft-world.org:8002:ebla.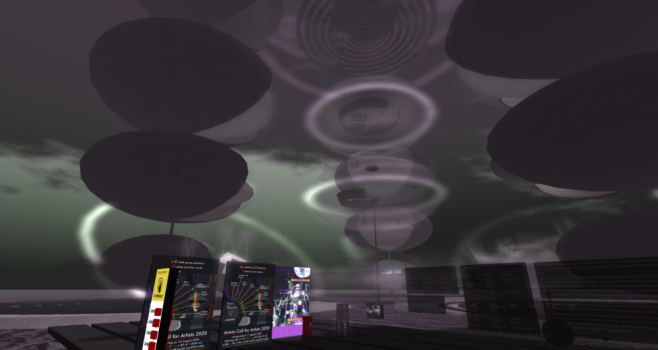 The museum will also hold educational events about the coronavirus on September 6 and 8.
Craft is also updating its website to make it easier for users to find some information. First, it will provide a new page for students, teachers, and parents and will make it possible for users to search regions by "general," "mature," "adult" and "school" categories on its grid map.
Attend SciFi events at Furry World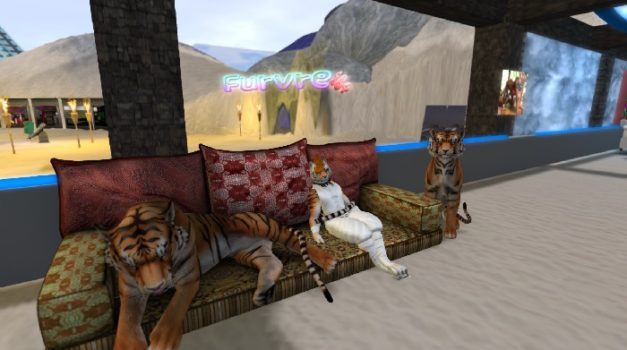 Furry World will be hosting a SciFi event every Sunday at 9 a.m. Pacific time on the Dawn Universe region.
"It is about SciFi roleplay with stories such as recovering crashed spaceships, researching new events in space, fighting against a villain who threatens galaxies," grid owner Tigger Puschelpaw told Hypergrid Business.
The hypergrid URL for the region is Furry-World.de:8002:Dawn Universe.
Virtuality grid closes for the foreaseable future
Commercial grid Virtuality has now closed indefinitely, owner of the grid Candi Infiniti told Hypergrid Business.
The owner neither disclosed the reasons for closure nor gave a possible come-back date or duration of the closure, but sources allege mismanaging of finances at the grid. The grid had turned off the hypergrid access in April this year, as part of a switch to a different version of OpenSim.
We will be back with more information regarding this once we have received it.
Visit a reconstruction of Villa Latifundia on Ancient Rome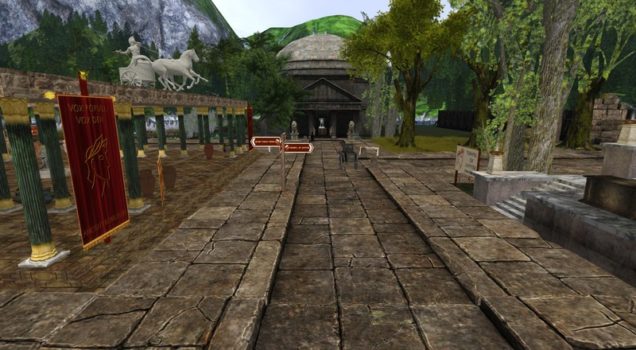 The Ancient Rome grid, which focuses on history, geography, research, and archaeology, has built a virtual German Villa Borg, which is a complete virtual reconstruction of Villa Latifundia and Rustica, excavations, artifacts, and historical sites.
"It is a university project," grid owner Carmen Rochel told Hypergrid Business.
Students or members of the general public can get free houses and land and build on the grid. Anyone who can help to build on the grid can also contact Camen on the grid's webpage.
The Ancient Rome grid also updated its website.
Tangle Grid hosts classic rock party every Monday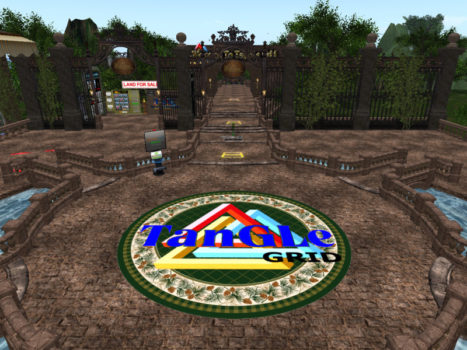 Tangle Grid is now hosting a Classic Rock party with DJ Leslie starting at 10 a.m. Pacific every first Monday of the month at the Great Community Group region.
The hypergrid address is tanglegrid.net:8002:gcg refugee.
Learn to fly on Discovery Grid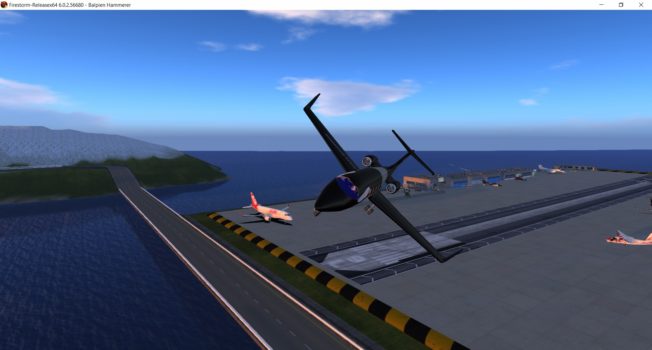 Discovery Grid has an airport region called Earhart Regional Airport on which anyone can hop into an aircraft and fly virtually, or even learn how to fly by attending regular classes each Thursday at 1 p.m. Pacific time. The classes are taught by the region's virtual flight instructors who each teach ground school, owner of the Discovery grid Balpien Hammerer, also known as Rene Vega, told Hypergrid Business.
"The grid has picked up in activity with the arrival of roleplay activity, and events in new genres, notably aviation activity," he said. "With the new Discovery Aviation Club the grid now has a group of aviators and a growing number of airports and airfields located throughout the grid."
Recently, Hammerer created a set of scripts for the F-18 and A-18 fighter jet model made by Neytiri Omatikaya of PyroVR Fireworks. The scripts are generalized to drive a range of aircraft, including a Lear Jet model built by Magic of Ocean Engineering, a Falcon trijet, and a Goa'uld death glider.
Discovery Grid also hosts the Seattle Pop-up Market near the Space Needle in the virtual Seattle.
"This popular pop-up market is going into its second year already," said Hammerer. "In its two-weeks run, the summer market had 130 unique local and hypergrid visitors."
Try virtual flight at Kea Nation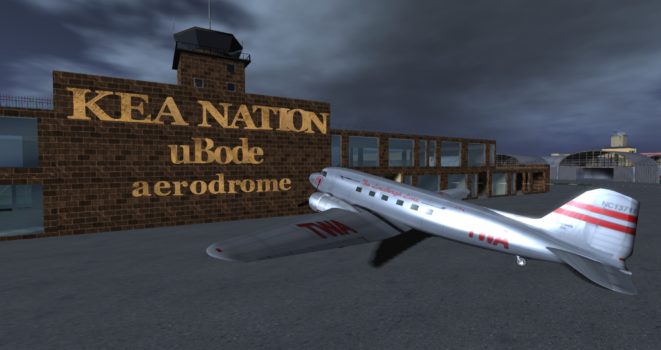 KEA Nation, which is a grid within DigiWorlz grid, has now been providing virtual aviation for four years now on its cluster of 4×4 VAR regions at DigiWorldz grid. This cluster of regions is divinded into uBode and Bullet aircraft flight-enabled areas, and all regions are accessible with regional crossing aircraft, KEA Nation grid owner DA Admiral told Hypergrid Business.
"We offer both uBode and Bullet scripted aircraft and source our models from professional 3D artist," said Admiral.
"All regions in the cluster are open for vehicle transit and we offer rental regions in this area," he said.
Tranquility Grid extends 20 percent off summer region sale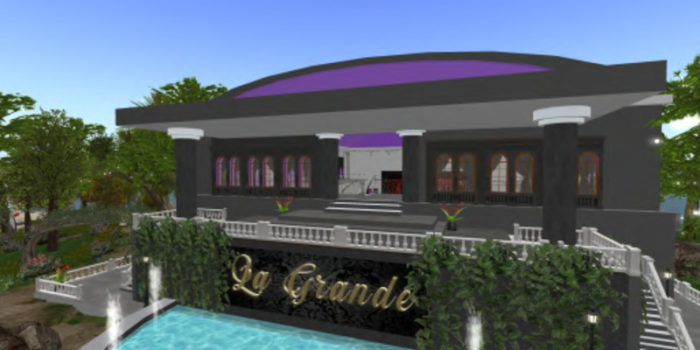 Tranquility grid is extending the summer sale until the end of August with a 20 percent discount for region buyers who use the "July202o" discount code.
"The price is normally $7.50 and after a discount it's just $6 per month for a home starter region of 10,000 prims," grid owner Steve Stewart told Hypergrid Business. Land rentals are only available for grid residents, not hypergrid visitors.
One needs to be a grid resident to purchase land at the grid.
"We also now can supply DJ or radio streams for Shoutcast or Icecast, starting from $1.50 per month," said Stewart.
Littlefield reboots system, plans Labor Day, 9/11 celebrations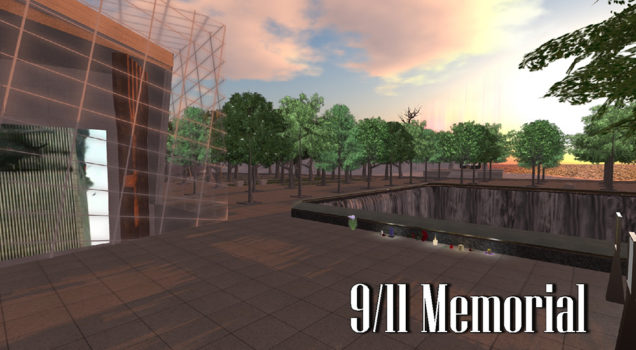 Littlefield Grid announced a completed successful hardware refresh of their system including the grid servers and region servers, grid spokesperson Walter Balazic told Hypergrid Business.
"We also updated our SQL [database] and asset system," said Balazic.
Further, the grid will continue with their events. The Speakeasy region will host an event to salute the hard-working men and women of the world with an end of the summer blow out party for Labor Day Dance with DJ Essensual and DJ Walter Balazic starting at 4 p.m. Pacific time. Then, on
Littlefield Grid remembers the 9/11 every September 11 with al memorial service on the 9-11 Memorial region. The memorial will start with the ringing of the fire bell at 5.45 a.m. Pacific time.
The hypergrid address is lfgrid.com:8002:9-11 Memorial.
In addition, there are weekly events at the Sweethearts region with Best Love Songs and Rock Ballads starting at 1 p.m. Pacific time every Thursday, at the Speakeasy region with music starting at 4 p.m. Pacific time every Saturday, and on Sundays at the Latex Lounge starting at 5 p.m. Pacific time.
New grids
One new grid was added to our database this month: Virtual Temple 449.
Do you know of any other grids that are open to the public but that we don't have in our database?
Email me at david@hypergridbusiness.com.
Top 40 grids by land area
The list below is a small subset of existing OpenSim grids. We are now tracking a total of 1,573 different publicly-accessible grids, 351 of which were active this month, and 270 of which published their statistics.
All region counts on this list are, whenever available, in terms of standard region equivalents. Active user counts include hypergrid visitors whenever possible.
Many school, company, or personal grids do not publish their numbers.
The raw data for this month's report is here. A list of all active grids is here. And here is a list of all the hypergrid-enabled grids and their hypergrid addresses, sorted by popularity. This is very useful if you are creating a hyperport.
You can see all the historical OpenSim statistics here, including polls and surveys, dating all the way back to 2009.
Below are the 40 largest grids by total land area, in terms of standard region equivalents.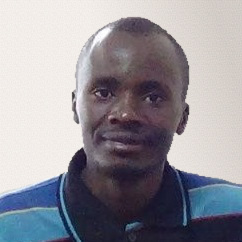 Latest posts by David Kariuki
(see all)