You can now create apps controlled by a user's thoughts. Yup, you can operate computers, lights, TVs, music, games with your mind — as long as you've got a little lighter-sized device strapped to your head.
Neurotechnology startup NextMind is now shipping its 399 Euro development kit for a real-time brain-sensing wearable, the company announced in a press release. There's no news yet on when a general consumer device will arrive.
The cigarette-lighter-shaped wearable weighs just two ounces and can be clipped to a headband, baseball cap, or virtual reality headset. It's built-in battery is supposed to last for eight hours of use and charges via a USB-C connection.
The sensor uses artificial intelligence to translate signals from your brain and sends it to your computer.
According to the company, you can program anything from no-code applications that take a few minutes to build to advanced AR and VR experiences.
The NextMind development kit includes the sensor,  an adjustable headband, the AI algorithms, as well as additional resources such as tutorials, demo apps and games, and code building blocks.
Watch the video below:
"This is a huge milestone for NextMind and a tribute to all our scientists, investors, and partners who have helped us bring a truly transformational experience to the developer community," said NextMind CEO Sid Kouider in a statement.
"We believe this technology will change the gaming industry in massive ways due to how fully immersive and exciting the NextMind experience is. Our product will truly make you feel like a Jedi, and we cannot wait to see what NextMind can bring to the global developer community as well as to the future of brain-computer interfaces," he added.
NextMind's development kit is compatible with a wide range of digital platforms, including macOS, Windows 10, Oculus, HTC Vive, and HoloLens.
NextMind is a winner of two CES 2020 innovation awards, including Best of Innovation in Virtual & Augmented technology and as an Honoree in Wearable Technologies,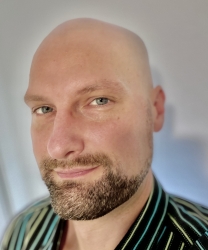 Latest posts by Alex Korolov
(see all)