OpenSim grids are going all-out this year with Halloween events.
Here is where to visit and things to do virtually in-world this Halloween.
Halloween Day on Wyldwood Bayou
Halloween Day on Wyldwood Bayou grid will take place beginning 9 a.m. Pacific Time on Sunday, October 31. You can enjoy a skating party in the streets of N'Awlins where the Bayou Belle will dock, and a beautiful Samhain ceremony hosted by Wyldwood Bayou's Roleplay group Ravenquest.
There also will be Beetlejuice movie at the grid's new "Wyld Thangs" Riding Park and of course, the spectacular Halloween Bash in the swamps of Voodoo Circle!
"Our Halloween party gets bigger and bigger every year, is always a hit with party goers and is especially grand this year!" grid spokeswoman Harmony Beningborough told Hypergrid Business. "Costumes are encouraged, but not required and a great time will be had by all! Fun, friendships and fabulous music are the biggest constant of Wyldwood Bayou events!"
Vampire and Demon hunts at the Phantom Rose Grid
The Bayou's region of the Phantom Rose grid is hosting two Halloween-themed adventure quests, Vampire Hunter and Demon Hunter, both of which start near the SeaDog Pub. You will find the boat that takes you to Van Helsing Region.
By participating in these hunts, you can win unique prizes including a Gothic chandelier, a matching standing candelabra, and a small candelabra with a gothic half-column, said grid owner Lannorra Sion.
"Read the instructions carefully," she told Hypergrid Business. "When you arrive at Van Helsing, you will see the Quest giver, a display of the prize and do not forget to pick up your free vampire and demon hunting kits. These have everything you need to confront these dangerous creatures."
The hypergrid address is PhantomRose.Outworldz.net:8002.
Halloween hunt and tour at the Virtual Dream's Tortuga Island region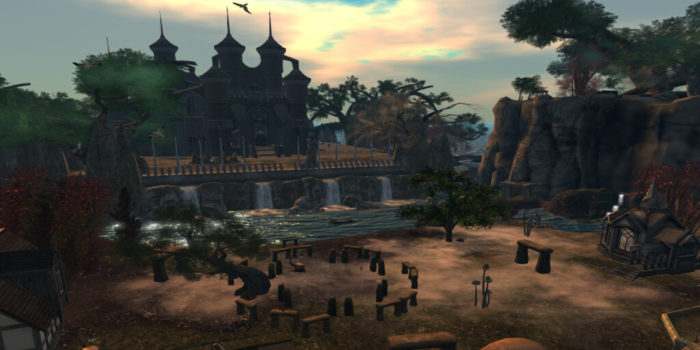 The Tortuga Island region at the Virtual Dream grid, which is a new build by Ange Menges and Nani Ferguson, will be open starting on October 30 for 15 days for Halloween celebrations. The region will host a Virtual Discovery Tour, which will feature a group visit and treasure hunt starting at 12 p.m. Pacific time on Tuesday, November 5. The region will host a classic treasure hunt with ten chests to find, said Vladimir Djannovic. 
"The theme is that the cursed island of Tortuga is haunted by the phantom skeletons of pirates who expiate their atrocities there," he told Hypergrid Business. "No one tries to approach them, yet their treasures are still there."
The hypergrid address is virtualdream-grid.com:8002:VirtualDream Accueil.
Halloween scarecrow-making event at Aurora Georgetown in Twisted Grid
Aurora Georgetown, which moved from Neverworld Grid to Twisted Grid, will be holding a Scarecrow-making contest in October for the Halloween season. The event will be open for residents and non-residents from any grid. Although the date is yet to be announced, you are encouraged to start planning your designs.
At the same time, the grid is offering free stores for renting. The region, which takes the theme from Northern Ontario, hosts a fictitious Georgetown army base, gambling at the arcade, campsites, fishing, wildlife, and a trailer park.
The hypergrid address is login.twistedgrid.xyz:8002:Aurora Georgetown. 
Hayride, balloon rides, racing, and gifts for Halloween at Littlefield grid

Littlefield will be opening their annual Halloween Themed region — Halloween Island starting on Friday, October 1. It will run through Monday, November 1.
The region includes many haunted attractions including a Haunted Hayride, Haunted House, Balloon Ride, Haunted Corn Maze, the Bates Motel, and Witches Broom Race track.  The region also has some free Halloween gifts for all!
The grid will also host a Mischief Night Dance Party starting 8 p.m. Pacific Time on Saturday October 30. Then there will be a ninth annual Halloween Costume Dance Party on the Halloween night, Sunday, October 31 at the Halloween Island.  DJ Walter Balazic will DJ in both events, said Littlefield grid co-owner Walter Balazic.
"We will have a video from Halloween Island available starting on October 1, opening night," he told Hypergrid Business. 
The hypergrid address is lfgrid.com:8002:Halloween Island.
Halloween freebies at the Holiday Haven in Twisted grid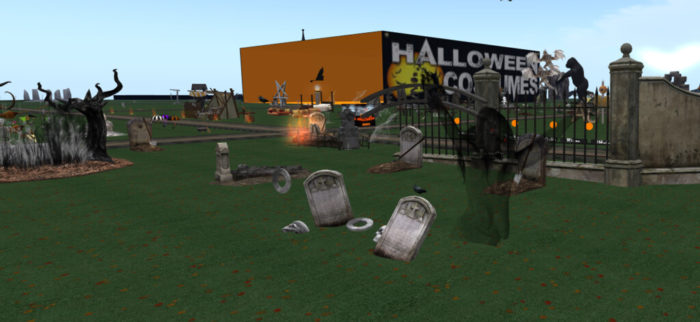 The Holiday Haven on Twisted Grid has an Halloween costumes mall, which has a lot of stuff for anyone visiting the region. There also are land marks at the main landing and other items like graveyards, ghosts, ghouls, and zombies.
There are train stations with trains, and you can pick freebies such as houses and other buildings to take to your home grid or region. There is also a castle with holiday items, and an ice castle. There also are gift boxes, paper textures, and and other items to collect in this regions. Freebies are organized into religious, lights, snowmen, elves and fairies, kids' items, full scenes, landscaping, animals, people, and other categories to make it easier for you to find what you are looking for.
More items keep being added from time to time. They also welcome donations for anyone willing but you do not have to donate to get freebies.
The hypergrid address is login.twistedgrid.xyz:8002:Holiday Haven.
Halloween shopping at Barefoot Dreamers grid

The Halloween shop in the Barefoot Dreamers grid is a nine-region sim which all set for Halloween shoppers looking for avatars, clothing, hairs, shoes, furniture, gardens, and other items.
The hypergrid address is barefoot-dreamers.com:8002:Easternflats4.
StoryLink Radio hosts Halloween events
StoryLink Radio, a group of Irish storytellers at Seanchaí Library, will host a series of Halloween events on Kitely and Second Life next month.
There will be live in-world storytelling sessions and hunts from 7 p.m. Pacific Time every Thursday, Friday, Sunday, and most Tuesdays from 1 October to 30 October, on their Halloween Mall, located on the OctoberWorld region on the Kitely grid. The Mall is it own level, the size of a full region, 3,000 meters above ground level on the OctoberWorld region, and themed with a Gothic castle, swamp, town, and cemetery.
The hypergrid address is grid.kitely.com:8002:octoberworld.  
Every Friday night in October, starting at 7 p.m. Pacific Time, there will be live storytelling from the Ghostbusters novel, a 1985 novelization by Larry Milne.
And that's just the start of a long list of Halloween-themed activities that StoryLink Radio is offering this season. Read this article for all the details.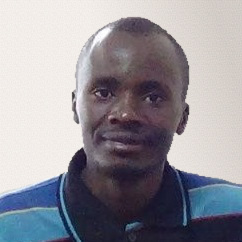 Latest posts by David Kariuki
(see all)