OpenSim added more than 1,300 active users this month, after a drop of nearly 5,000 last month. Public grids also registered 2,670 new user accounts. Land area slipped slightly — by 507 regions, but nothing like last month's drop of 4,361.
The drop in area was fully accounted for, and then some, by a decline on the Discovery Grid, which was down 618 region equivalents compared to this time last month.
In addition, Tag Grid did not report its active user numbers this normally, which are normally over 1,500 unique monthly logins.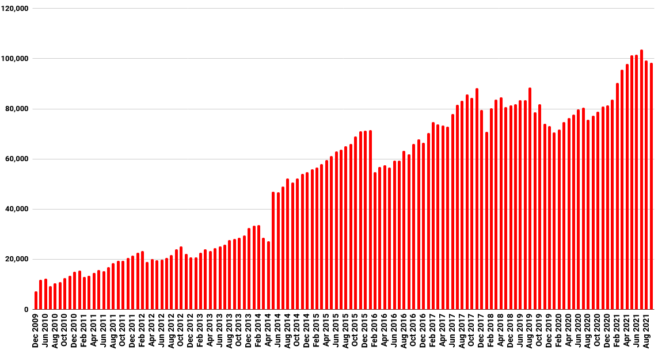 The Seconds grid gained the most regions this month with 109 new regions, followed by Furry World with 84, Trans Sidera with 74, Virtual Life with 69, and OpenManniLand with 68 new regions. However, OSgrid is still the largest grid in terms of the number of regions or 32,104 standard region equivalents, followed by Kitely with 18,891, ZetaWorlds with 9,720, Discovery Grid with 6,151 and DigiWorldz with 5,552 standard region equivalents.
These stats do not include most of the grids running on OutWorldz' DreamGrid, which is a distribution of OpenSim used by many people to create virtual worlds on personal computers, or private company grids, or school grids who used other installers.
OutWorldz is now tracking more than 2,787 unique DreamGrids in total. The Hyperica robot has crawled over 6,300 grids of any type since the start of this year. These items are tracked in a different database. Hyperica stores online DreamGrids, regions, parcels, regions, objects, and hypergrid events provided the region or item is set for "Show in Search" in-world.
OutWorldz also offers free OARs — complete pre-built regions — and free IARs — user inventory files — as well as mesh objects and textures which OpenSim users can download and install on their own regions on any grid that permits those kinds of uploads.
The Hyperica events listing also lists current and future online events directly published to OpenSim viewers.
The total list of grids tracked by OutWorldz is available here. You can also add your grid in the stats if it is not being crawled by OutWorldz.
OpenSim is a free, open-source virtual world platform that's compatible with the Oculus Rift. It allows people with no technical skills to quickly and cheaply create virtual worlds, and then teleport to other virtual worlds. Those with technical skills can run OpenSim worlds on their own servers for free, while commercial hosting starts at less than $5 a region.
A list of hosting providers is here. Download the recommended Firestorm viewer here. And find out where to get content for your OpenSim world or region here.
Top 25 grids by active users
When it comes to general-purpose social grids, especially closed grids, the rule of thumb is, the busier, the better. People looking to make new friends look for grids that already have the most users. Merchants looking to sell content will go to the grids with the most potential customers. Event organizers looking for the biggest audience… you get the idea.
Top 25 most popular grids this month:
The Virtual Life grid topped the list of grids that gained the most active users this month with 474 new actives, followed by The City with 451, German World Grid with 385, Tomi's World with 140, and Soul Grid with 139 new active users.
The actives list is based on active, unique 30-day user login numbers that grids report on their stats pages. Those grids that don't report their numbers might be just as popular, but we wouldn't know.
The active user stats are also used to generate the popular hypergrid destinations list, which is useful if you have a hyperport and want to put up gates to the most popular grids, or include the most popular grids in an in-world directory. This list is also a good place to start if you want to open up new stores or hold events, or are just looking for places to visit.
Here some information on how and why you should set up a stats page for your grid. Of course, not all grids need a stats page, especially grids that aren't open to the public, like school grids, private company grids, small family grids, and so on. From prior surveys, this "dark metaverse" of OpenSim grids might actually be bigger than the one we know about, because those grids don't need to promote themselves, and we never hear about them.
Online marketplaces for OpenSim content
There are currently 19,061 product listings in Kitely Market containing 37,743 product variations, of which 32,671 are exportable.
Kitely Market has delivered orders to 518 OpenSim grids to date.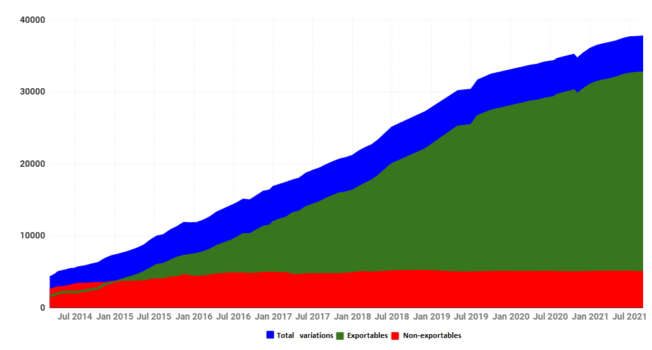 The Kitely Market is the largest collection of legal content available in OpenSim. It is accessible to both hypergrid-enabled and closed, private grids. The instructions for how to configure the Kitely Market for closed grids are here.
As seen from the above chart, nearly all the growth on Kitely Market has been in content that can be exported to other grids — that is the green area in the chart. The red area, of non-exportable content, has stayed level.
Offering a convenient and low-cost way for OpenSim users to buy legitimate, legal content not only offers creators sales opportunities that they wouldn't have otherwise but reduces the need for pirated content, similar to the way that Netflix and other streaming services have reduced the amount of illegal video streaming.
In addition, restricting content to closed grids does little to stop piracy. Most stolen content is ripped from Second Life, the original closed grid. The only time that being on a closed grid offers additional security for content creators is when the content involves high-end scripts or proprietary animations.
Speaking of closed grids — where users are not able to teleport to other grids — the biggest such grid, Tag, also has its own online marketplace.
The Tag grid marketplace now lists a total of 28,256 items, most of which are apparel, avatar accessories, and avatar appearances. The market now has over 300 verified users.
From the marketplace website, anyone is able to list their products or items on the marketplace to promote them either for sale or as a freebie, but the content can only be purchased and used within the Tag grid.
Grids prep for Halloween season
Halloween is the time to expect all scariest things in OpenSim grids. Many grids already have regions themed for Halloween, with story telling, freebies, hunts, contests, and tours, all for Halloween.
StoryLink Radio is hosting an entire month of Halloween-themed storytelling in-world and on YouTube stream, and is welcoming any merchant interested in claiming a space to display and sell their Halloween-themed wares in Kitely and Second Life. The Bayou's region of the Phantom Rose grid is hosting two Halloween-themed adventure quests. The Tortuga Island region at the Virtual Dream grid, which is a new build by Ange Menges and Nani Ferguson, will be open starting on October 30 for 15 days for Halloween celebrations.  Aurora Georgetown in Twisted grid will be hosting a Scarecrow-making contest for Halloween in October.
In addition to these Halloween events, we are also doing a separate Halloween story roundup for all what grids are doing in readiness for the Halloween. Do not forget to reach me at david@hypergridbusines.com if your region or grid already has something on-going or you are preparing something for Halloween.
Utopia Skye Grid to host Emergence event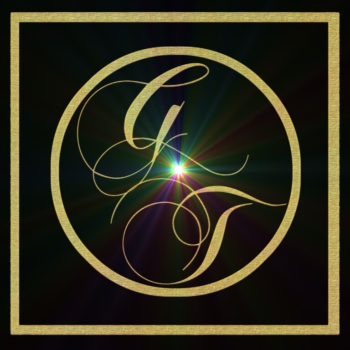 The Golden Touch Theater group will be hosting the Emergence show starting at 12 p.m. Pacific Time on Saturday, September 18 at the Golden Skye region of the Utopia Sky grid. The show involves an artistic dance, poetic theater, and visual entertainment representing a celebration of coming out of the dark.
The event will be full of music from the Golden Touch shows, dances with the dancers who've performed them, as well as fun all around.
There will be a pre-show event at noon Pacific Time on Sunday, August 15 where visitors can come for a dance and a sneak peek of what will happen at the event.
The hypergrid address is utopiaskyegrid.com:8002. 
Group seeks content contributions to help battle violence against women
For the first time ever, OpenSim grids, communities, and individuals are invited to participate in 2LEI, an event held annually in Second Life to honor November 25, the International Day for the Elimination of Violence Against Women.
To participate, contact Craft World founder Raffaele Macis, known in-world as Licu Rau, either on the Craft grid or by email at licu.rau@craft-world.org.
Craft is the first OpenSim to officially announce its participation, according to an announcement posted by organizer Rosanna Galvani. Galvani is the founder and owner of Craft World's Museo del Metaverso.
This year, 2LEI will run from November 5 to 27 and is dedicated to the recognition of rights not yet achieved.
Autumn Fest Kicks off in Alternate Metaverse grid
The AutumnFest Stage region of the Alternate Metaverse grid will be celebrating the Autumn season as well as the Halloween, starting September 16 to November 2. The region now has Halloween decor and an October Park for these celebration.
First of all, all is set for the Autumn Fest at the 5-region sim. The event has already featured musicians or performers like Clan Escotia who performed today live from noon Pacific Time during the event opening. September 17 there will be Meow Fall Fashion Show where attendees will be showcasing all types of fashions in-world, starting at 1 p.m. Pacific Time at the Meow Fashion region.
The hypergrid address is alternatemetaverse.com:8002:Meow Fashion.
Musician Terry TheWildman will be performing live on stage from 11 a.m. Pacific Time on September 20. She will be playing old rock and roll. The event also features belly dancing with DJ Cataplexia Numbers from 10 a.m. to noon Pacific Time on September 21. You will enjoy tribal beats and sensual Eastern rhythms and the dress code is silks or warrior kilts for men. There are outfits available for everyone.
Then Cataplexia Numbers will do a pre-show starting 5Â  p.m. Pacific Time on September 23. There also will be Joao Frazao playing classics and sensuals from 11 a.m. Pacific Time same day.
At 11 a.m. Pacific Time on September 24, Aex Zatsepin will play songs from his own pre-made recordings for the Autumn Fest. The region will also host this as well as events like Fall Fashion Show which will feature 16 performers.
The hypergrid address is alternatemetaverse.com:8002:AMV Autumnfest Stage.
Prefabricated houses and freebies in Needful Things on Offworld grid
The Needful Things region at the European Offworld grid is offering several freebies items including prefabricated houses with snow control. These buildings are recommended for anyone looking for a virtual building to set up a new virtual home in their region in any grid.
They are also new freebies categories that allow people to switch between summer and winter with just a single click from a control panel. Most of the houses also have a light control panel. Bink Draconia, who runs the region, will be adding new modified prefabricated houses to the freebies as well.
Needful Things also offers animations, textures, lady fashions, Ruth 2.0 avatars, hair, skins, eyes, shapes, jewelry, NPCs, landmarks to other hypergrid destinations, potted plants, lighting fixtures, pets, Easter items, and furniture.
New grids
The following grids were added to our database this month: CopyKat, Dutch Life, Harz World, Kinky Haven, PixArtGrid, The City, and The Simple Life.
Do you know of any other grids that are open to the public but that we don't have in our database? Email me at david@hypergridbusiness.com.
Top 40 grids by land area
The list below is a small subset of existing OpenSim grids. We are now tracking a total of 1,686 different publicly-accessible grids, 326 of which were active this month, and 276 of which published their statistics.
All region counts on this list are, whenever available, in terms of standard region equivalents. Active user counts include hypergrid visitors whenever possible.
Many school, company, or personal grids do not publish their numbers.
The raw data for this month's report is here. A list of all active grids is here. And here is a list of all the hypergrid-enabled grids and their hypergrid addresses, sorted by popularity. This is very useful if you are creating a hyperport.
You can see all the historical OpenSim statistics here, including polls and surveys, dating all the way back to 2009.
Below are the 40 largest grids by total land area, in terms of standard region equivalents.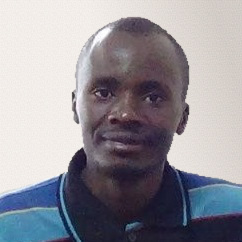 Latest posts by David Kariuki
(see all)