The number of active public grids hit a record high of 382 this month, but usage stats were down across the board. The number of active users dropped by 3,844 since this time last month, to 37,301.
This is mainly because several grids, including German World Grid and 3rd Rock Grid were undergoing maintenance, and other grids seem to be closed, including Amaryllis, Enchanted, Chimerus, and Gevolution.
In addition, there is often a seasonal drop in usage during the winter months.
Meanwhile, the total area of the public OpenSim grids fell by 748 standard region region equivalents, to 102,092.
OSgrid was the biggest gainer in land area this month, growing by the equivalent of 534 standard regions, followed by ZetaWorlds with 247 new regions, Littlefield with 237, Alternate Metaverse with 137, Metropolis with 76, and Tag Grid with 68 new regions.
OSgrid's growth helped it retain it's spot as largest OpenSim grid, at 35,812 regions. OSgrid is a non-profit, free-to-connect grid that allows users to attach home-based regions for free. It's nearly twice as big as the next biggest grid, Kitely, with 18,911 regions. Kitely offers on-demand, cloud-based regions that are put to sleep when nobody is on them, allowing them to offer high-powered commercial-grade regions at a relatively low cost.
Scroll at the end of the report to find the list of top 40 grids in total land area or check out our full monthly stats export.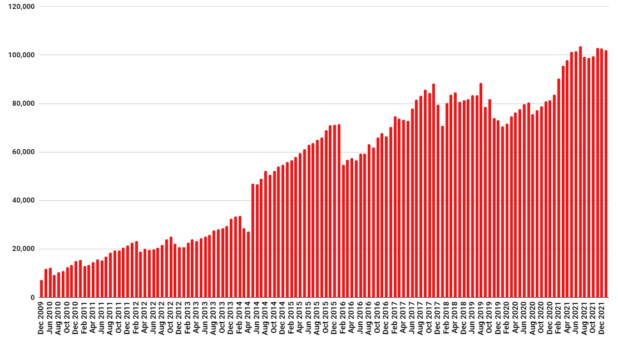 These stats do not include most of the grids running on OutWorldz' DreamGrid, which is a distribution of OpenSim used by many people to create virtual worlds on personal computers, or private company grids, or school grids who used other installers.
OutWorldz is now tracking thousands of other unique DreamGrids. The Hyperica robot has crawled over 6,000 grids of any type since the start of this year since we received an update about it. These items are tracked in a different database. OutWorldz also offers free OARs — complete pre-built regions — and free IARs — user inventory files — as well as mesh objects and textures which OpenSim users can download and install on their own regions on any grid that permits those kinds of uploads.
The Hyperica events listing also lists current and future online events directly published to OpenSim viewers.
The total list of grids tracked by OutWorldz is available here. You can also add your grid in the stats if it is not being crawled by OutWorldz.
OpenSim is a free, open-source virtual world platform that's compatible with the Oculus Rift. It allows people with no technical skills to quickly and cheaply create virtual worlds, and then teleport to other virtual worlds. Those with technical skills can run OpenSim worlds on their own servers for free, while commercial hosting starts at less than $5 a region.
A list of hosting providers is here. Download the recommended Firestorm viewer here. And find out where to get content for your OpenSim world or region here.
Top 25 grids by active users
When it comes to general-purpose social grids, especially closed grids, the rule of thumb is, the busier, the better. People looking to make new friends look for grids that already have the most users. Merchants looking to sell content will go to the grids with the most potential customers. Event organizers looking for the biggest audience… you get the idea.
Top 25 most popular grids this month:
The above are top 25 grids in terms of total active users over time of 30 days. We compare this figure with the previous month's tally for each grid to generate a list of most active grids or a list of grids that gained most active users in the last 30 days.
This month, grids that gained the most active users were Zone Nations with 137 new active users, Sharing Is Caring Family with 127 new actives, A Virtual World with 105, Discovery Grid with 94, and Freedom Grid with 82 new active users.
The actives list is based on active, unique 30-day user login numbers that grids report on their stats pages. Those grids that don't report their numbers might be just as popular, but we wouldn't know.
The active user stats are also used to generate the popular hypergrid destinations list, which is useful if you have a hyperport and want to put up gates to the most popular grids, or include the most popular grids in an in-world directory. This list is also a good place to start if you want to open up new stores or hold events, or are just looking for places to visit.
Here some information on how and why you should set up a stats page for your grid. Of course, not all grids need a stats page, especially grids that aren't open to the public, like school grids, private company grids, small family grids, and so on. From prior surveys, this "dark metaverse" of OpenSim grids might actually be bigger than the one we know about, because those grids don't need to promote themselves, and we never hear about them.
Online marketplaces for OpenSim content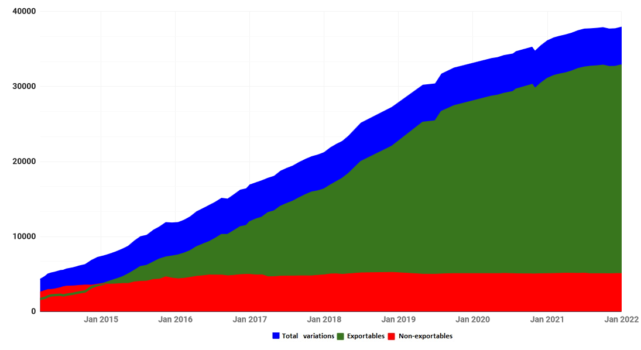 There are currently 19,089 product listings in Kitely Market containing 37,902 product variations, of which 32,812 are exportable.
Kitely Market has delivered orders to 530 OpenSim grids to date, which includes both public grids listed here as well as private grids that are not accessible to the public, don't report their stats, and don't make it into our reports.
The Kitely Market is the largest collection of legal content available in OpenSim. It is accessible to both hypergrid-enabled and closed, private grids. The instructions for how to configure the Kitely Market for closed grids are here.
As seen from the above chart, nearly all the growth on Kitely Market has been in content that can be exported to other grids — that is the green area in the chart. The red area, of non-exportable content, has stayed level for the past five years.
Offering a convenient and low-cost way for OpenSim users to buy legitimate, legal content not only offers creators sales opportunities that they wouldn't have otherwise but reduces the need for pirated content, similar to the way that Netflix and other streaming services have reduced the amount of illegal video streaming.
In addition, restricting content to closed grids does little to stop piracy. Most stolen content is ripped from Second Life, the original closed grid. The only time that being on a closed grid offers additional security for content creators is when the content involves high-end scripts or proprietary animations.
Speaking of closed grids — where users are not able to teleport to other grids — the biggest such grid, Tag, also has its own online marketplace.
The Tag grid marketplace, the only other OpenSim marketplace comparable to the Kitely Market, also lists apparel, avatar accessories, avatar appearances and other items across 26 categories. This month, the market has listed a total of 28,244 items. From the marketplace website, anyone is able to list their products or items on the marketplace to promote them either for sale or as a freebie, but the content can only be purchased and used within the Tag grid and can't be taken or delivered to other grids.
Phantom Rose Grid celebrates its third anniversary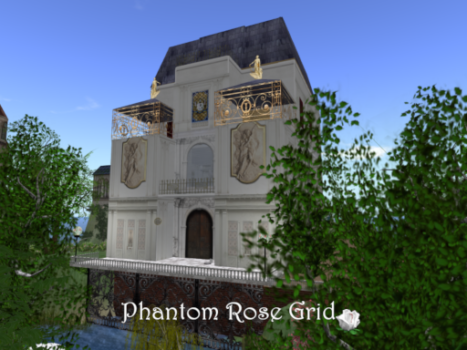 Phantom Rose grid will celebrate its third anniversary on January 24. The celebration will involve a host of interactive activities on different regions of the grid. There will be three hunts, three adventure quests, two interactive fantasy magic circles, a maze, seasonal ballets, a year-round ice skating, extensive underwater diving and Mer Folk, surfing, as well as many trails and outdoor activities such as rock climbing, kayaking, white water rafting, hang gliding, and horse back riding.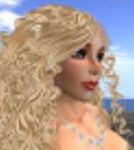 Created on January 24, 2019, Phantom Rose private and non-commercial grid has been steadily growing and now offers more experiences and free gifts for visitors. The events and activities will be hosted on different regions including Steampunk, 1890s Egypt, Regency, Bayou, and the yet-to-be opened medieval fantasy region. There also will be free gifts to be given to visitors during the event and which are made specifically by the grid owner Lannorra Sion. Some of these gifts are outfits for both men and women, crystal stemware, cake plates with petit fours, and also vampire and demon hunting kits in the Dark Nights area, Sion told Hypergrid Business.
"My goal has been to offer activities for individuals that are fun and interesting," she said. "I also want the grid to be a place where people can come and get legal free items. I offer Linda Kellie's Clutterfly Mesh Mall and her original mall, where I have added a few stores for other free legal gifts creators, such as Selea Core. These free gifts are a great starting point for anyone new to the OpenSim or for customizing into other items."
The hypergrid address is PhantomRose.Outworldz.net:8002.
3rd Rock Grid down for maintenance
3rd Rock grid is carrying out a server software version migration which has caused some of the web interfaces to be down at the moment, but the migration is on-going well, grid's spokesperson Tara Dockery, also known as Thoria Millgrove in-world, told Hypergrid Business.
Speculoos switching payment system
Speculoos World is in the process of testing and migrating from Gloebit to Podex payment system and currency exchange service as a result of the lack of support from Gloebit and its CEO Chris Colosi. For more than half a year now, users have not been able to register their Gloebit accounts, see their balance or use it, said grid owner Gudule Lapointe.
"Months after being aware of a certificate issue, it still seems unsolved — nearly no communication on their website or social accounts, while the solution seems obvious to me though I might be wrong — simply buy a commercial-grade certificate from a major, old issuer, instead of the new, free LetsEncrypt," he told Hypergrid Business. "This would have fixed their main issue in less than 24 hours. LetsEncrypt is a great achievement in internet security and we use it in dozens of websites we made but, it's not intended for commercial use let alone financial operations, which should require a higher level of certification."
Speculoos World originally chose Gloebit because it is a small grid with no commercial activity and Gloebit allows a grid to use an external independent currency, said Lapointe.
"The main advantage of Gloebit was that it is grid independent," he said. "So people buying Gloebits can use them immediately in any other grid using Gloebit. While Podex users can transfer money to their alt account on another grid, I don't know yet if they can directly buy things with their foreign avatar on another grid.
The grid is currently adapting flexible helper scripts to add cost estimation and a clear redirect for people trying in-world purchases. This was already adapted in the past with an option for Gloebit currency and it will be integrated soon in the W4OS plugin when ready.
The lack of responsiveness has been on-going and reported by multiple grid owners. Last month, AviTron grid also switched to using Podex and own money system as a result of Gloebit inconveniences and outages.
Chimerus grid closes down
Chimerus grid is closing its curtains this month, effective January 26, grid owner Eliopod Beaumont told Hypergrid Business. The reason for closing down is low traffic, low attendance to events, which is mostly related to health reasons.
"Only larger grids can manage these days," Beaumont said.
Pre-Valentines party at Alternate Metaverse grid
The Alternate Metaverse grid will be hosting a pre-Valentines party from 10 a.m. Pacific Time on February 13 at the Funsize region. Come and celebrate love and love tunes with your partner or if you are single and ready to mingle.
Starting from 9 a.m. to 12 noon Pacific Time on March 2, the same region will also host the Farm Tractor Race and After Party event. You can either join the racing on the track to compete against others with your favorite racer or watch from the stands as drivers race against each other to the finishing line. Tractors will be provided for the racing to those interested. Head over to the region and talk to the admins if willing to participate.
The hypergrid address is alternatemetaverse.com:8002:Funsize. 
New grids
The following grids were added to our database this month: 4Creative, Castello Incantato, CosmoPlanet, Floyd World, MAGA Grid, PrimGrass, Scripted Artwork, Shameenas Welten, Technic World, Two World, Virtual Life World, Western Prairies and Grid Play.
Do you know of any other grids that are open to the public but that we don't have in our database? Email me at [email protected].
Meanwhile, the following grids were marked as suspended: A New World, AlterLife, Amber Grove, Angel Grid, Gevolution, MajWorld, Nymph, Perfection Grid, Polish Arena, Savannah Grid, Second World, Soloton Grid, Taffy Grid, Virtualife, Virtuelle Welt, and Youniverse Grid.
Do you have any updates about these grids? Let us know!
Top 40 grids by land area
The list below is a small subset of existing OpenSim grids. We are now tracking a total of 1,733 different publicly-accessible grids, 382 of which were active this month, and 313 of which published their statistics.
All region counts on this list are, whenever available, in terms of standard region equivalents. Active user counts include hypergrid visitors whenever possible.
Many school, company, or personal grids do not publish their numbers.
The raw data for this month's report is here. A list of all active grids is here. And here is a list of all the hypergrid-enabled grids and their hypergrid addresses, sorted by popularity. This is very useful if you are creating a hyperport.
You can see all the historical OpenSim statistics here, including polls and surveys, dating all the way back to 2009.
Below are the 40 largest grids by total land area, in terms of standard region equivalents.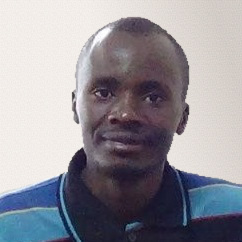 Latest posts by David Kariuki
(see all)