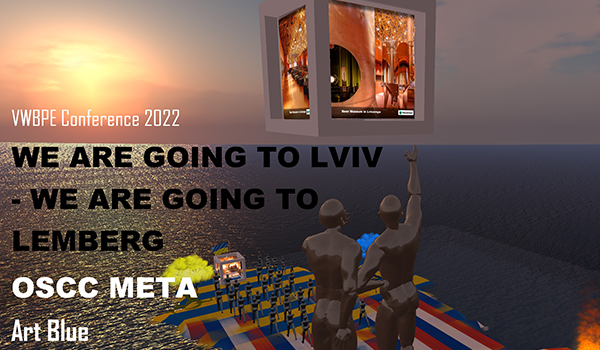 You can join the Hypergrid Hoppers — a club for explorers of the OpenSim hypergrid —  as they travel to Ukraine.
The trip is part of the Virtual Worlds Best Practices in Education 2022 conference and is an artistic journey that spans the past and future of Ukraine with a focus on Lviv, the main city in western Ukraine, also known under its historical name Lemberg.
The Hypergrid Hoppers are meeting at META in the OpenSimulator Community Conference grid on Tuesday, March 22 at 1 p.m. Eastern Time.
The hypergrid address is cc.opensimulator.org:8002:Meta.
The instructions for how to hypergrid are here.
Art Blue, also known as Reiner Schneeberger, is the host and will meet participants with more directions to META and an overview of the experience.
Visitors will sit on chairs arranged in a circle around a stage and will move through the sky through 20 stages, starting from ground level to over 4,000 yards in height. The screen and camera of a visitor will be controlled by the Speakeasy HUD tool, which is designed to be worn as a heads-up display and sits in the top-left hand corner of your screen.
The travel and presentation concept is called Infinite Theater and is part of the Virtual Worlds Best Practices in Education 2022 conference interactive display.
A virtual Volodymyr Zelenskyy, president of Ukraine, will meet the HG Hoppers as part of the presentation.
Contributions to the interactive display came from Venus Adored, Thoth Jantzen, Kisma Reidling, Art Eames, Hashmark 15753, and Sun Tzu. The platforms were created by Juliette Surreal-D.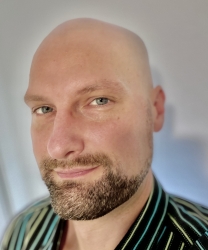 Latest posts by Alex Korolov
(see all)