The public OpenSim grids lost more than 4,000 active users and nearly 2,000 regions since this time last month for a combination of reasons, the biggest being the closure of the Metropolis grid.
Metropolis closed at the end of June so that the owners could focus on educational projects. The grid was one of the three oldest worlds, the fourth most popular by active users, the fifth largest by registered users, and the 12th largest by land area.
Several smaller grids also experienced downtime this month, did not report their stats, or had other issues. In addition, there is often a seasonal drop to OpenSim statistics in the middle of the summer as people spend more time outside and schools close for the season.
The total tally for registered OpenSim users is 464,887. There were 112,581 standard region equivalents and 38,957 active users. This month we collected stats for 276 grids in total. Of these grids, 98 percent are accessible via the hypergrid, meaning that users can teleport in from other grids without having to create a new account.
Wolf Territories Grid gained the most land area in terms of the number of standard region equivalents this month at 1,600 additional regions, followed by OpenSim Fest which hosts the OpenSim Fest 2022 event until August with 115 regions, Serenity with 59, 3rd Rock Grid with 25, and Xmir with 15 new regions.
Grids that did not report stats this month yet we had their stats last month include The Great Canadian Grid, which had 43 regions and 198 actives last month, and Virtual Life,  which reported 292 actives last month.
Panthera grid, which had 109 actives and 43 regions last month, also had an inaccessible stat page. Other notable offlines are Bernicia Prime which had 110 actives last month, Perfect Life which had 130 regions last month, Chan Grid which had 31 actives last month, Victoria Lane, which had 46 actives last month, and Darkworldz, which had 29 actives.
Those could have been temporary outages and the grids may well be back online by the time you read this.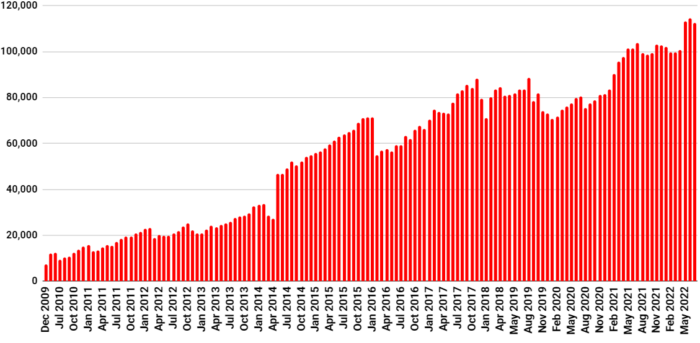 OSgrid is still the largest grid at 36,590 regions in total, followed by Kitely with 18,678, Wolf Territories Grid with 13,200, ZetaWorlds 7,961, and Alternate Metaverse with 6,500.
These stats do not include most of the grids running on OutWorldz DreamGrid, which is a distribution of OpenSim used by many people to create virtual worlds on personal computers, private company grids, or school grids.
With the free-to-use software, customers can easily create virtual worlds through a graphical interface and one-click install feature. They can also use it to easily and quickly manage their grids using graphical interfaces. This includes adding new regions, banning users, deleting regions, auto restarting, shutting down entire grids or unoccupied regions to save computing power, and tracking usage stats.
OutWorldz now has over 1,100 users according to latest update from Fred Beckhusen, CEO at Micro Technology Services Inc. that runs both DreamGrid and OutWorldz. On the other hand, DreamGrid continues to grow each month with a total of 6,241 unique grids, which is about 92 percent of all hypergridable grids. A total of 3,504 grids, an average of 292 new grids per month, were crawled in 2021 alone by Hyperica software, which has now been integrated into OutWorldz.
In 2022 so far, there are an average of 285 per month or a total of 1,423 new grids crawled. This is according to a table from the Outworldz Dynamic DNS system, which is an easy-to-use, free service for grids for the Outworldz.net and Inworldz.net domains that make a "grid of grids."
There are currently 8,145 distinct items listed — ignoring duplicates — at outworldz.com/search along with links to 115 grids, 581 regions, 127 parcels, and 105 events — it appears in the viewer in 'Search.' Only assets, regions, parcels, and grids marked 'Show in Search,' along with an enabled 'Publicity' checkbox in DreamGrid will appear. This also populates the Destination Guide, which was also a part of Hyperica.com.
The total list of grids tracked by OutWorldz is available here. Anyone can also create a grid with the software and add it manually in the stats via the same link if it is not being crawled by OutWorldz. Outworldz DreamGrids have access to over 170 free OpenSim Archives, which are complete region files. The Hyperica events listing also lists current and future online events directly published to OpenSim viewers.
OpenSim is a free open-source virtual world platform that's similar to Second Life and allows people with no technical skills to quickly and cheaply create virtual worlds and teleport to other virtual worlds. Those with technical skills can run OpenSim worlds on their own servers for free, while commercial hosting starts at less than $5 a region. A list of hosting providers is here. Download the recommended Firestorm viewer here and find out where to get content for your OpenSim world or region here.
Top 25 grids by active users
When it comes to general-purpose social grids, especially closed grids, the rule of thumb is the busier the better. People looking to make new friends look for grids that already have the most users. Merchants looking to sell content will go to the grids with the most potential customers. Event organizers looking for the biggest audience — you get the idea.
Top 25 most popular grids this month:
The actives list is based on active, unique 30-day user login numbers that grids report on their stats pages. Those grids that don't report their numbers might be just as popular, but we wouldn't know. Again, the most popular are grids with most active users in total but are not necessarily the top gainers of new active users over the course of the last one month since we reported stats.
This month, OpenSim Fest grid led in terms of the total number of new active users gained over the past one month with 638 users, Fire and Ice grid with 400, Neverworld with 161, AviTron with 145, and Cooperation Creative with 143 new active users.
The active user stats are also used to generate the popular hypergrid destinations list, which is useful if you have a hyperport and want to put up gates to the most popular grids, or include the most popular grids in an in-world directory. This list is also a good place to start if you want to open up new stores, hold events, or are just looking for places to visit.
Here's some information on how and why you should set up a stats page for your grid. Not all grids need a stats page — especially grids that aren't open to the public like school grids, private company grids, small family grids, and so on. From prior surveys, this dark metaverse of OpenSim grids might actually be bigger than the one we know about, because those grids don't need to promote themselves, and we never hear about them.
Online marketplaces for OpenSim content
There are currently 19,576 product listings in Kitely Market containing 38,622 product variations, 33,477 of which are exportable to other grids.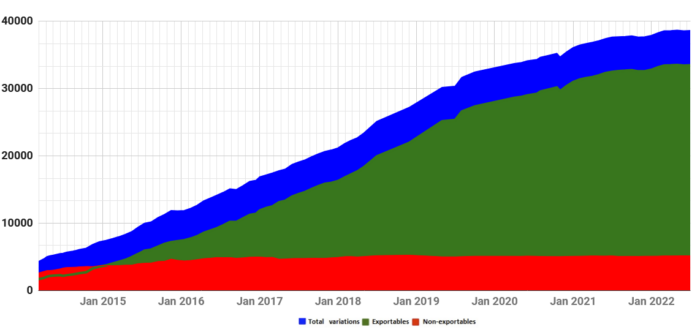 Kitely Market has delivered orders to 554 OpenSim grids to date, which includes both public grids listed here as well as private grids that are not accessible to the public, don't report their stats, and don't make it into our reports.
The Kitely Market is the largest collection of legal content available in OpenSim. It is accessible to both hypergrid-enabled and closed, private grids. The instructions for how to configure the Kitely Market for closed grids are here.
As seen from the above chart, nearly all the growth on Kitely Market has been in content that can be exported to other grids — that is the green area in the chart. The red area, of non-exportable content, has stayed level for the past five years.
Offering a convenient and low-cost way for OpenSim users to buy legitimate, legal content not only offers creators sales opportunities that they wouldn't have otherwise but reduces the need for pirated content, similar to the way that Netflix and other streaming services have reduced the amount of illegal video streaming.
In addition, restricting content to closed grids does little to stop piracy. Most stolen content is ripped from Second Life, the original closed grid. The only time that being on a closed grid offers additional security for content creators is when the content involves high-end scripts or proprietary animations.
Speaking of closed grids — where users are not able to teleport to other grids — the biggest such grid, Tag, also has its own online marketplace.
The Tag grid marketplace, the only other OpenSim marketplace comparable to the Kitely Market, also lists 2,8305 items including apparel, avatar accessories, avatar appearances, and other items. From the marketplace's website, anyone is able to list their products or items on the marketplace to promote them either for sale or as a freebie, but the content can only be purchased and used within the Tag grid and can't be taken or delivered to other grids.
OpenSim Fest 2022 enters second weekend
OSFest 2022 was packed with a host of weekend performances as it entered the second weekend.
Meanwhile, a new navigation tool has been added to the grid calendar. To check in to an event, find the grid calendar in-world and check the details, and click on any name of any performer whose event you would like to see, and time of the event. You will see details and three different teleport buttons that work with different viewers. Click on any to visit.
About 20 OpenSim Fest 2022 merchants from different regions across the grid are also ganging up this week starting July 18 to July 24 for a sale promotion event dubbed Merchant Sales Event featuring freebies and low-cost inventories. Check out the different merchants from this link or via the event's calendar.
80 OpenSim Fest 2022 parcels filled up
Meanwhile, even as 80 parcels at the OpenSim Fest 2022 are filled up with product and service exhibitions by merchants and sponsors, the event is still welcoming new late entry exhibitions and sponsorships. Please sign up or contact the moderators, admins, and hosts including in-world at OpenSim Fest grid or through website contacts if willing to participate.
You can watch the exhibitions and events live on YouTube through this link.
Vogue College launches in AviTron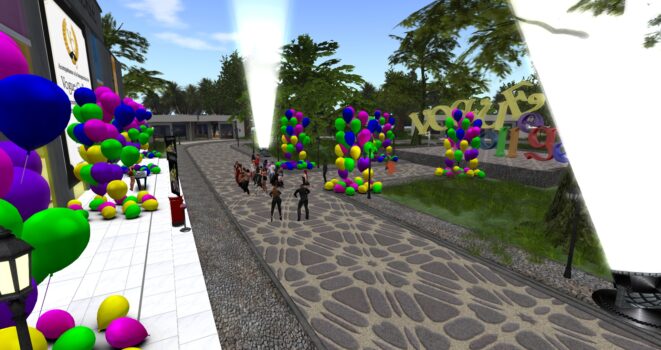 Rafaela Kaplan de Heartsong, owner of the Vogue Entertainment Group,  has opened Vogue College to teach modelling, blender, English, building, other classes in AviTron grid. The classes launched on July 13 and the first class to be taught was  a building class on July 14. You can enroll for future classes by joining the group in-world or signing up on the website and filling an enroll card.
The class are free to attend and the teachers are also donating their time. Some are weekly, others monthly, and others occasional according to this calendar.
We have enrolled about 15 students," she told Hypergrid Business.
She moved to AviTron from Second Life due to price advantage since the former is cheaper to rent. She is now renting a four sims region for about $15 to $20 a month and a second region for $10 to host all her operations.
"I used to have a a whole sim in Second Life which was very expensive. I used to pay about $260 per month for just the land and of course you know maintaining the ball rooms and all that, we don't get any money from there," she said."
She has other operations on AviTron including ball rooms, mall, stores from different people, concerts, dances, weddings, and other special events.
Neverworld is offering self-hosted regions
Neverworld grid is offering self-hosted regions through their OpenSim viewer. The service is free, said a Neverworld grid admin.
"You can have as many regions as you can fit on your home computer, no limits," the admin told Hypergrid Business. "We do from time to time clear out dead or unused self hosts to free up space but as long as you are using it, we welcome people to run their own. Less stress on our servers and everyone is happy."
To set up a self-hosted region, you simply download and install the Neverworld Region Server installer, check the open ports on your system that you can use to forward or open up the ports as per these instructions, install the software, and then start creating a region. Find the OpenSim.exe file in the Bin folder and click on it to run it.
Open the Bin folder and find a file named OpenSim.ini, open it, and edit the listener port to a unique and different port to the one you will be using for the region port.Each region needs a separate open port. Install Firestorm, open it, and use it to visit Neverworlds to see the positions of the current regions and find an empty spot for your region on the map. Pick a place.
Go back to the Bin folder and find the OpenSim.exe file and click on it. After this, answer the questions that follows including the new name of the sim, location, the port you will use for the region, and the estate of the owner. It creates the region with a unique UUID then asks for the name of the estate owner. You can now teleport to the region.
Migrating Coconut merges with Youth Nation
The Migrating Coconut grid has merged and migrated to Youth Nation grid and is calling on its residents to register there and put Kofi as your grid sponsor to access their sims and other data. Members will have their inventories approved for free.
New grids
The following grids were added to our database this month: Proud Rainbow, AusVirtual Grid, and OpenSim Fest,
Do you know of any other grids that are open to the public but that we don't have in our database? Email me at [email protected].
Top 40 grids by land area
The list below is a small subset of existing OpenSim grids. We are now tracking a total of 1,7623 different publicly-accessible grids, 348 of which were active this month, and 276 of which published their statistics.
All region counts on this list are, whenever available, in terms of standard region equivalents. Active user counts include hypergrid visitors whenever possible.
Many school, company, or personal grids do not publish their numbers.
The raw data for this month's report is here. A list of all active grids is here. And here is a list of all the hypergrid-enabled grids and their hypergrid addresses, sorted by popularity. This is very useful if you are creating a hyperport.
You can see all the historical OpenSim statistics here, including polls and surveys, dating all the way back to 2009.
Below are the 40 largest grids by total land area, in terms of standard region equivalents.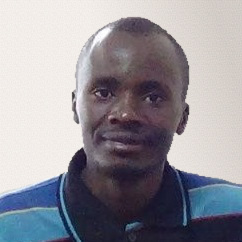 Latest posts by David Kariuki
(see all)