Press Release: Unisfair Experiences 60% growth year over year, adding 20 new virtual event customers in first half of 2010
Companies like 3M, EMC, Genentech and Tourism Fiji Turning to Virtual Events for Improved ROI and Customer Engagement
Menlo Park, CA, Aug. 10, 2010 – Unisfair, the leading provider of virtual events and business environments, announces it acquired 20 new customers in the first half of 2010, demonstrating 60 percent year over year growth. 3M, EMC, Epicor, Genentech, Q-Center and Tourism Fiji are among the companies leveraging Unisfair's technology to effectively reach both prospective and existing clients. The most common business use cases include marketing, training and recruiting initiatives.
"Unisfair's Virtual Engagement Center provides us the most innovative and cost effective way to reach travel professionals across the United States and abroad. The flexibility of the platform allows us and our partners to offer an engaging training environment for the travel industry" said Ili Matatolu, Regional Director of Tourism Fiji in Los Angeles.
Unisfair has deployed hundreds of virtual platforms for clients like Ariba, IBM, CA Intuit and KMPG. By offering companies the ability to more effectively listen to and communicate with customers, virtual engagement helps to build brand advocacy and ensure long-term profitable customer relationships.
Platform design
Reporting, analytics
Market presence
Scalability
Viability
Virtual environment
Collaboration, networking
Integration
Security, provisioning
Localization
A February 2010 report by Forrester Research entitled, "Market Overview: Virtual Event Platforms for B2B Marketers," outlined how to choose the right virtual platform and services in order to meet marketing objectives. The report noted that, "Single sign-on across multiple events — based on permissions, of course — and the ability to maintain a profile, briefcase, and contacts differentiate the Unisfair platform." It ranked Unisfair above all other virtual event providers, noting the company's high leading capabilities in these categories:
"Unisfair's growth is a reflection of our focus on customers' objectives and user experience." said Hoang Vuong, CEO of Unisfair. "Attendees expect engaging and easy to use virtual environments, and our clients want to connect with more customers using a platform that they can configure on their own."
Unisfair's virtual engagement platform offers live conference sessions, an exhibition floor and professional networking via the internet with no software to download, no avatars to dress up and no new commands to learn. Using only their web browsers, attendees click a link and can simply navigate the virtual environment with their mouse.
The platform's reporting and analytics capabilities make it easy to track return on investment (ROI). Smart Reports helps customers track and qualify leads. The Unisfair Engagement Index — an aggregate variable attached to each attendee — enables lead ranking based on the level of engagement over time.  This allows organizers to define the ideal lead, with weights on desirable attributes such as location, title, time attended, downloads, sessions viewed and surveys answered.
Today's announcement comes on the heels of the first annual Unisfair Marketing Survey, which revealed that 68 percent of the 500 respondents consider lead generation to be their top marketing priority, compared to brand awareness (16 percent) and customer retention (16 percent). In addition, 40 percent cited virtual events as one of the top emerging channels for lead generation in 2010 and beyond.
Unisfair has also been recognized with three prestigious awards in 2010: the AlwaysOn OnMedia 100, the AlwaysOn Global 250 and the Beagle Research Sustainability Award.
For more information, visit www.unisfair.com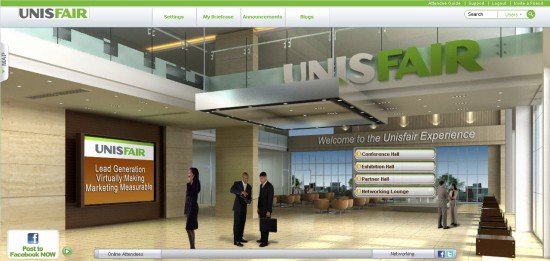 About Unisfair
Unisfair provides virtual events and environments that deliver highly measurable results for the world's most innovative enterprises. The company's industry-leading platform enables companies like Ariba, CA, IBM, Intuit, KPMG, Quest Software, and Novartis to implement a virtual engagement strategy across the customer lifecycle.
Unisfair's virtual events are easy-to-use and offer a highly interactive experience through speaking sessions, exhibition floors and networking areas. By delivering comprehensive attendee data, Unisfair's virtual events result in highly qualified leads and enhance demand generation, community building and customer advocacy.
Backed by Sequoia Capital and Norwest Venture Partners, Unisfair is headquartered in Silicon Valley and has led the virtual events space since 2000. For more information, visit www.unisfair.com.

Latest posts by Press Release
(see all)