Many virtual designers are wary of coming to OpenSim because of worries about content protections. One virtual worlds company is bending over backwards to alleviate these concerns and to create a safe and supportive social environment. But the security comes at a cost, that of heavy restrictions on enterprise users.
Maryland-based PowerSynch, owners and operators of the SpotOn3D and VeeSome grids, ensure that content stays safe by restricting the viewers that can be used to access the grid, by prohibiting hypergrid teleports, and by placing severe restrictions on region backups.
In addition, outside hosting is not allowed for regions on the grid — all land is owned and operated by PowerSynch.
The reason is that when someone has access to the management consoles for an OpenSim region, they can access asset databases, copy or change permissions on objects, and otherwise circumvent digital rights management technology such as the "no copy," "no modify" and "no transfer" settings on OpenSim objects.

The SpotOn3D grid was first launched in the summer of 2009 as a beta development platform, and acquired about 1,000 registered users over the following twelve months. The development was a "six-figure project," PowerSynch co-founder and COO Tessa Kinney-Johnson told Hypergrid Business.
It went live this past June. Today, the SpotOn3D grid has 85 regions, and the VeeSome grid has 48 regions.Three more grids are currently under development. They include the music-oriented MusicaJam, the business-focused BizGrid and the teacher-friendly Edu-Merge.
Eye on security
Most OpenSim hosting providers serving the enterprise market model themselves on Web hosting companies — they provide the server space, install the server software, and take care of backups and upgrades, but leave the content of the grid up to the individual customers. Customers can usually also decide for themselves if they want hypergrid enabled on all or part of their grid — or if they want to turn it off while, say, classes are in session.
PowerSynch, however, has a different approach, taking extra steps to protect the content of each grid against potential copyright violations, prohibiting hypergrid teleports in or out, and allowing backups only after a full — and expensive — infringement audit, all designed to protect the rights of content providers.
"Without the creators' work, you just have a lot of flat land and very ugly avatars," said Kinney-Johnson, who is known as "Tessa Harringon" on the SpotOn3D grid.
In addition, each private grid hosted by PowerSynch is part of the company's network of grids, sharing a common inventory server and document repository.
The common inventory server means that if a user has avatars on multiple PowerSynch grids, each avatar has access to the user's full inventory. This allows free access to a user's content across all the PowerSynch grids — but not to grids outside the network. The PowerSynch browser allows users to quickly switch between their different avatars.
Content creators can also opt to have virtual purchases simultaneously delivered to Second Life, ReactionGrid, or another grid, but PowerSynch's content protection measures would no longer apply and each content seller has to decide whether to allow the multi-grid option.
"There is a lack of vision for the 3D Web, and we have a quite unique one," said Tessa Kinney-Johnson. "We want to lead by example. Someone has to lead the way and open up people's minds about where our vision is about where people should go."
That vision doesn't stop with locking down inventories and viewers, however.
Dispute Resolution
The company also has arbitration panels for in-world content disputes, that all residents must participate in or else risk suspension or account termination.
"It's a public arena, the whole community can be there and witness it, we don't believe in doing it behind closed doors," said Kinney-Johnson.
In addition, if the virtual dispute resolution doesn't work out, there is arbitration from Virtual Court House at $150 a pop.
"It's legal and binding in 150 countries," she said.
In-world panels are conducted under avatar names, but the real-world arbitration requires the real identities of those involved, she added.
PowerSynch has the actual identities of all its users on file because there is a $3 monthly fee, payable by PayPal, for all users with building or land ownership privileges.
Private viewer
PowerSynch's custom viewer is developed by Mana Janus of MJM Labs, the developer behind the highly-popular Hippo viewer for OpenSim and Second Life.
"It's made us very secure and very stable," Kinney-Johnson said. "We haven't been hacked yet — knock on wood."
Someone who tries to log in with an unapproved client will be limited to accessing only the single "The Lounge" region on the SpotOn3D grid, she added.
"Our client security routing system isn't in the client but rather server-side and proprietary," she said. "If someone takes even our client and does the typical spoofing they will still end up in The Lounge  region and not be able to get out without downloading and using approved clients."
The official Second Life viewer isn't allowed on the grid, either, she said.
"Like any other client, it can be spoofed," said Kinney-Johnson.
But it's hard to keep viewer code secure when the source code is available, OpenSim core developer Justin Clark-Casey told Hypergrid Business.
The source code for the PowerSynch viewer, for example, is available for download here. It is based on the Hippo viewer, and, under the licensing terms of that viewer, all derivative viewers must also be open source.
"I don't know of any schemes to prevent spoofing in this case," said Clark-Casey.
As of this writing, Mana Janus has not responded to our requests for comment.
Backup blockers
One of the top complaints that enterprise users have about Second Life is that they can't make backups of their regions. A teacher who creates an interactive classroom, for example, can't just save her region and share it with other teachers. A company can't built an office region, save it locally, then upload multiple copies to create a multi-region office campus.
And content designers can't create a high-end simulation, save it, then sell copies to customers.
This is all possible in OpenSim. In fact, many OpenSim hosting providers today include unlimited free backups (in the form of OAR files) at the push of a button. It is up to end users to ensure that they don't run afoul of content licensing restrictions — just as is the case today with Web sites, where you can easily save a page or an entire site, but you're not supposed to redistribute it unless you have the rights to do so.
PowerSynch can make OAR backups for its users, said Kinney-Johnson, but only after a manual review of all the content on the region.
"It's pretty laborious, but we go through every single object and make sure its viable," she said. And there's a price for each OAR backup. She estimated that it will cost around $500 per region, but that actual prices will vary, since different regions have varying amounts of content on them.
"It puts the power back in creator hands," she said. "They should decide how their products are created and who they're distributed to."
The World Wide Web flourished despite the lack of this kind of iron-clad content protection mechanism.
But that doesn't mean that the 3D Web has to follow that lead, said Kinney-Johnson.
"In 2D, they didn't forecast all the issues of theft of intellectual property," she said. "We want our [content] creators to know that we care about their careers, and their futures. We know that if they don't support them, they're going to leave. And if they leave, that's bad."
SpotOn3D is bucking the trend here. Almost all OpenSim grids active today allow access by standard Second Life compatible viewers, and all other OpenSim hosting providers that we know of allow full regions exports. In addition, about half of all public grids allow hypergrid teleports in and out. As hypergrid gets more secure, more grids embrace the hypergrid. In fact, one of the most popular free distributions of OpenSim, the Diva Distro, comes with hypergrid enabled by default.
PowerSynch does have internal backups of the regions on the grids it hosts, however, and, next year, users will be able to generate backups of their regions with the press of a button. These backups will be saved on PowerSynch's own servers, however — users won't be able to save them on their own computers.
There are no inventory backups available. Other OpenSim hosting providers allow their customers to make full local backups of the entire inventories of their avatar accounts in the form of IAR files.
Vendor lock-in
If a customer is running a ten-region minigrid with PowerSynch, taking a backup of each region as an OAR file to move it to another hosting provider would cost a whopping $5,000. That's a pretty massive exit fee.
Plus, there's paperwork involved.
"They have to prove with written statements and contracts that the products they're using can be imported to another grid," Kinney-Johnson said.
Imagine if your Web hosting provider demanded that you prove that you have the rights to every image and logo on your corporate site before letting you have an export.
To be fair, PowerSynch's export options are still an improvement over Second Life's, which does not allow full region exports at all.
Meanwhile, the PowerSynch region OAR wouldn't be necessarily fully functional, since PowerSynch offers proprietary back-end technology. It's in-world shopping system, and its document presentation tools, for example, wouldn't work with the standard deployment of OpenSim.
A full export of the entire grid for migration to another vendor isn't an option.
"That would require you to take our proprietary software with you," said Kinney-Johnson.
However, she said that PowerSynch isn't deliberately trying to make it hard to switch hosting vendors.
"We don't want to say that you have to be with us," she said. "People should be with you because they liked your business, not because we trap them into it."
Higher prices
SpotOn3D — like other OpenSim grids — does not charge users to upload textures into the world. And there are no listing fees, Kinney-Johnson said.
But it's not the least expensive option out there, either. Companies who get private grids from PowerSynch pay extra for the custom development that the company has put into its offerings — the centralized asset and document storage, the extra layers of security, and the custom viewer.
The company is currently running a promotion, with 100 islands available at $60 each for 15,000 prims and $40 each for 5,000 prims, on any PowerSynch grid. Setup fees are waived as well.
By comparison, most other hosting providers charge between $25 and $40 for full regions with 15,000 prims or more, with no setup fee — and some providers are charging as little as $10 for a full region.
But once the promotion ends, regular land rentals on SpotOn3D start at $60 a month with a $60 setup fee for a full region with only 5,000 prims — and go up to $100 a month for a region with 15,000 prims.
There is also a membership fee for anyone who wants to have full access to the grid, such as the ability to build, of $3 a month. Most other grids don't charge anything for membership.
So far, only 374 users have paid for the premium memberships, according to Kinney-Johnson.
But the really pricey product is the white-label private grids, which start at $1,500 a month with a whopping $5,000 setup fee for a ten-region grid with an extra cloud-based region for large events.
"We really not going to make a fortune on the [public] grids," said Kinney-Johnson. "Our real money-maker is the private label grid."
That's about $150 per region per month. There's an extra charge for the cloud-based regions for large events of $5 an hour, and avatars for individual employees are $3 a month for a set of five. Basic avatars — that have no building abilities — are free.
Other hosting providers charge around $90 a month for the most high-performance, Second Life-comparable regions — with no setup fees, and no extra charge for users.
Most other hosting providers will even set up mini-grids are no additional cost, and full private grids for just a small additional fee.
A mini-grid is one that can run on a single server, usually with 16 regions or less. A full-scale grid is one that can be unlimited in size and can run on multiple servers, but requires additional central grid administration functionality.
Ten "premium" regions from SimHost run around $900 a month total, with no setup fee, and up to 60 simultaneous users and a dedicated processor core on each region. A dedicated processor means maximum performance and stability. This is about the same price as Dreamland Metaverse would charge for 10 of its highest-performance regions, again with no setup fee.
An eight-region minigrid from ReactionGrid — the most popular provider for enterprise and education customers today — starts at just $675 a month.
And, of course, OAR backups are free and readily available from all three providers.
However, PowerSynch's business customers do get some extra features for the premium price they pay.
According to Kinney-Johnson, PowerSynch offers basic customization with its private-label grids, including a custom branded web interface, corporate logos on company shirts, and a conference center. Customers will also get a starting selection of basic avatar models for their users.
Users can even get custom lanyards with their photos and links to their LinkedIn profiles, she added.
In addition, customers get access to PowerSynch's multi-grid asset system, where users can share their inventories across avatars on multiple grids. There is also a separate document repository.
If a company wants to do an in-world PowerPoint presentation, for example, the presentation document would be uploaded, and an in-world tool used to make the presentation.
By comparison, other common OpenSim presentation tools require users to convert their presentations to images and upload the images one by one and add them to a slide projector, or put the entire presentation on the Web and use in-world-media to display it.
According to Kinney-Johnson, PowerSynch's document repository is more secure because once the presentation is completed, the user can erase all trace of it. With uploading slides to a slide projector, the image files would be stored permanently on the grid's asset server and traces could remain even if the slide projector holding the presentation was deleted.
However, PowerSynch employees still have access to the active documents in the repository, just as they have access to the asset database of the grid.
Companies with sensitive or proprietary information should avoid public OpenSim hosting altogether and instead run the OpenSim software on their own servers, either located behind a corporate firewall or in secure data centers.
PowerSynch will offer a behind-the-firewall, licensed version of their software, Kinney-Johnson said, but the price has not yet been determined. The price will be closer to ReactionGrid's $875 price for its "Harmony" server software, however, than IBM's $50,000 price tag for its Lotus Sametime 3D product (not including support).
The feature set will also be closer to ReactionGrid's, she added, with pre-configured avatars, regions, and other functionality such as that available to PowerSynch's private label customers. IBM, by comparison, also offers integration with its Lotus product suite and corporate directories.
All three vendors promise a hardened, more stable, pre-configured version of OpenSim than that available as a free download.
Finally, customers get maintenance and support, Kinney-Johnson added.
"Our cornerstone is customer service," she said. "We really believe in hand-holding."
However, SimHost, ReactionGrid and Dreamland Metaverse all have good track record with support, and some very vocal satisfied customers.
PowerSynch doesn't currently have any business customers for its private grids, since it just launched the product.
Limited access
The PowerSynch multi-grid avatar system is unique in the OpenSim space.
It's chief alternative is the hypergrid, which allows grids to enable teleports to other grids. Hypergrid teleports are much like regular teleports — the avatar appears at the destination fully clothed (usually) and with all its attachments, and has access to its inventory on its home grid.The only difference is that avatar names change – instead of "John Smith" the avatar name would appear as "John.Smith@origingrid.com" in the avatar label and in local chat. In addition, pulling something out of inventory can take a micro-second longer, since the request has to go back to the original grid.
Hypergrid travelers can even go shopping on other grids and bring goods home, with all permissions and creator names intact. The latest release of the hypergrid standard, Hypergrid 1.5, adds additional security preventing rogue grid operators from hacking into and stealing inventories hosted on other grids  (though no cases of such theft have been reported, it was still a worrisome security hole in the previous version of the protocol).
Hypergrid can be enabled on an entire grid, or just part of a grid, and can be turned on and off at will. For example, a school can enable hypergrid during construction, so that builders and designers can teleport in from other grids with their supplies, and then turn off hypergrid while classes are in session. Hypergrid can also be used to connect a trusted network of grids together — such as multiple virtual campuses of a single school or college.
PowerSynch considered rolling out internal hypergrid connectivity and decided against it, said Kinney-Johnson.
"Basically, we already have very secure environment," she said.
Unfettered hypergrid — where users can teleport in and out to any other grid — is even less likely. Hypergrid teleports would allow users to take content to other grids, where they might have access to the region databases and where technically inclined users can thus circumvent the permission system on objects. Even non-technical users can save backups of regions containing the objects and then distribute them to friends, or make multiple copies.
"We have a number of creators adopting us, and we put their interests first," Kinney-Johnson said.
No in-world vendors
Purchases on PowerSynch grids take place on their website, not in-world.
There are still stores on SpotOn3D — but shoppers make all payments through a pop-up website.
"You walk up to the couch you like, you sit on it, you try it out, and you click on a sign to buy it — and you get a pop-up window with our built-in Web browser inside our client," said Kinney-Johnson.
Taking vendors out of the grid makes the regions run faster, she explained.
Voice and media
SpotOn3D was among the first grids to embrace Mumble voice, which was rolled out in late June. The Mumble voice system — which has a client-side OpenSim component called "Whisper" — is a high-end voice solution that works very similar to that of Vivox in Second Life, and is a significant improvement over FreeSwitch, which is currently the most popular option in OpenSim. Vivox does not currently offer licenses to OpenSim grids. Both Mumble and FreeSwitch are free.
However, the grid doesn't currently support media-on-a-prim, which is available in Second Life Viewer 2. Other OpenSim grids running the latest version of the OpenSim software do support it, but PowerSynch first has to add the functionality to its custom viewer.
"We're blending [Second Life viewer] 1.23 with 2.0 right now," said Kinney-Johnson, who estimated that in-world media will arrive in four to six weeks.  "Once we get that out the door, we'll have that, and we'll have Flash and YouTube."
Company background
In addition to Tessa Kinney-Johnson, the other main figure in PowerSynch is Stevan Lieberman, an attorney with Greenburg & Lieberman., a Maryland-based lawfirm specializing in patent, trademark and copyright law.
There are two other technology partners, four full-time staff, and about a dozen contractors.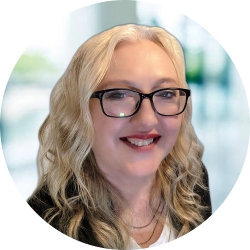 Latest posts by Maria Korolov
(see all)