Press Release: Unisfair launches virtual training environment
Shown to reduce costs by up to 95%
Companies like IBM, Intuit, Novartis and ACS Are Leveraging the Unisfair Virtual Classroom to Easily and Cost-Effectively Train Customers, Partners and Employees
Menlo Park, CA – On September 15, Unisfair, the leading provider of virtual events and business environments, will introduce to the market the Unisfair Virtual Classroom, an engaging and cost-effective virtual training environment used by organizations like Intel, Intuit, IBM and Novartis, to train customers, partners and employees.
In addition to higher attendee satisfaction, companies leveraging the Unisfair Virtual Classroom have reported a 95 percent reduction in training costs, with the average cost per attendee going from roughly $2,000 to $100. By replacing traditional training with a virtual classroom, companies are able to save millions of dollars without sacrificing effectiveness.
The Unisfair Virtual Classroom also enables the trainers to administer online tests and monitor learning progress. The outstanding success rates delivered by the Unisfair Virtual Classroom are the result of providing participants a highly interactive and stimulating learning environment, including studying live with an online instructor or accessing the recorded training sessions when it is most convenient. Participants can be trained at their own pace, repeating previous sections at any time, resulting in a deeper learning experience.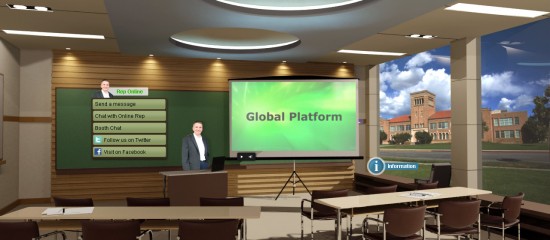 Other features of the Unisfair Virtual Classroom include:
A suite of interactive communications tools such as video, audio, text, slides, blogs, instant messaging and Skype-enabled voice and video chat.
The rich, fully customizable learning environment makes participants feel as if they're right in a classroom.
An agenda builder lets attendees easily build their own class schedules
Live chat translation helps bridge language barriers by enabling discussion in 50 different languages.
Networking capabilities allow attendees to easily connect with others using interest matching tools, creating interest groups and share information.
Report on attendees' interactions and rank them with Unisfair Engagement Index
"Companies are looking to make training more engaging and fun," said Hoang Vuong, CEO of Unisfair. "Our virtual classroom allows them to create an exciting and interactive place for customers, partners and employees to discover, connect and learn while improving ROI."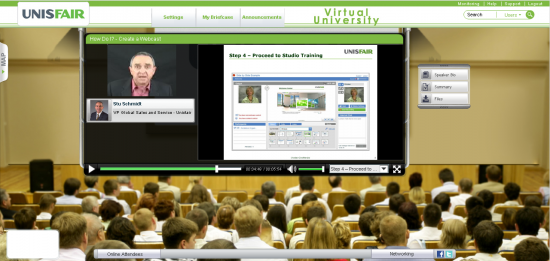 To share their experiences with the Unisfair Virtual Classroom as well as best practices for virtual training success, Unisfair, its customers ACS and Intuit, and industry-leading organizations such as ASTD and the eLearning Guild held a virtual showcase event on September 9. To view this event, visit http://events.unisfair.com/index.jsp?eid=140&seid=1652
Last month, Unisfair reported 60 percent year over year growth, based on its leadership in the market for virtual events and environments. Unisfair has also been recognized with three prestigious awards in 2010: the AlwaysOn OnMedia 100, the AlwaysOn Global 250 and the Beagle Research Sustainability Award.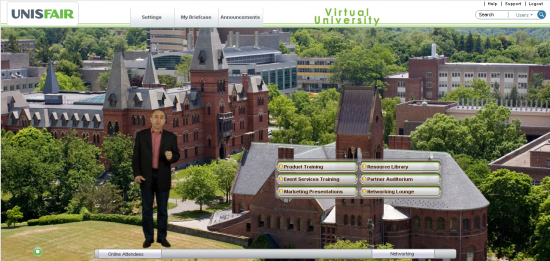 Latest posts by Press Release
(see all)