Virtual events are undoubtedly effective… but can they also be fun?
Over the last several years, many companies, squeezed by tough economic conditions, have looked for alternatives to in-person events. At the same time, virtual event providers have responded with a hundred rational arguments regarding why meeting online is better from an ROI/reach/pipeline velocity perspective. As a result, virtual events (and hybrid events) have gained popularity and become a credible alternative in many event scenarios.
However, despite the fact that virtual events are indeed superior in many ways to in-person events, many potential event organizers and attendees still believe that offline events are significantly better from a networking and business development perspective; given the current structure of most virtual events, they are right (at least in part). Ironically, virtual events may never be able to truly compete with offline events until virtual events companies address the human element – the desire for community, entertainment and emotional experiences, not just on efficiency.
For many event attendees, casual encounters, whether on the tradeshow floor, or, over a beer at a local saloon, are irreplaceable business development tools. The question is, can we build a better bar…one with relaxed conversations, idea-sharing, and collaboration, but, without the hangover?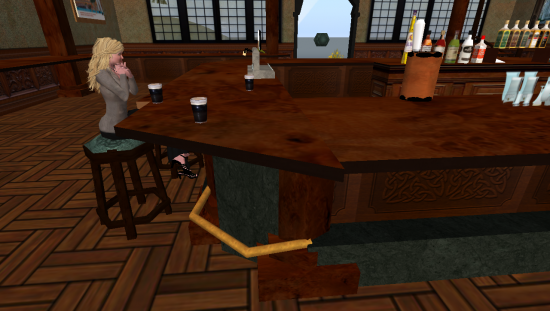 Entertainment, collaboration and the softer side of virtual events
While virtual events will never be able to replace a warm handshake, they can replicate many of the experiences that are currently the exclusive property of offline events. Doing so will require virtual event providers to focus on innovation in the following categories of experiences.
Ad-hoc encounters vs. just adding contacts – one of the pleasures of visiting an in-person event is having the opportunity to "bump into" attendees through ad-hoc encounters. Not only do these encounters often lead to valuable business relationships, but, they also play on our basic human desire to be surprised. We love the unexpected. Through social CRM, virtual event providers could replicate this experience, by, "introducing" attendees with similar interests between sessions. Many companies offer passive matchmaking today, but, this process could be made to simulate the process of bumping into another attendee (subject to user preferences of course).
Collaboration vs. communication – most of the interactive tools that are currently built into virtual events today focus on facilitating conversations (through chat, or, less frequently, video). Less developed are technologies that would allow attendees that meet at events to collaborate. Building such technologies (virtual whiteboards, group chat, etc) into virtual events would allow attendees to begin the process of building trust once contact is made.  How many great ideas go unborn for want of a virtual napkin to write on?
Building trust through problem solving and game dynamics – one look at the World of Warcraft community will dispel any belief that relationship building online is impossible.  The difference is that World of Warcraft allows its members to unite around a common purpose through shared problem solving. The opportunity for virtual events is to give attendees a similar opportunity, without distracting from their main experience. This could be accomplished through interactive games or group-based project work.  If ad hoc encounters and social CRM are the basic ingredients for relationship building at virtual events, game dynamics are the catalysts that will accelerate the process.
Education AND Entertainment – companies are comfortable spending tens and sometimes hundreds-of-thousands of dollars to hire the best music artists and entertainers to add spice to their in-person events. They do this because they understand that, in order for attendees to fully absorb a message, they need to be in the right emotional state. Virtual event companies should provide flexible opportunities for their clients to build entertainment options into their projects. Whether through exclusive online concerts, Q&A sessions with industry gurus, or presentations from inspirational leaders, almost all virtual events would benefit from a combination of education and entertainment activities.
"What we have to learn to do, we learn by doing" – Aristotle.
While attempting to win the minds of BDMs and CMOs, virtual event companies must also find ways to win the hearts of attendees; when individuals start to see virtual events as an opportunity not only to learn, but, also to have fun and network, there will be no limit to how far the industry will go.

Latest posts by Ike Singh Kehal
(see all)