In early December, I wrote about the cease & desist order sent by lawyers representing the Frank Lloyd Wright Foundation to the Frank Lloyd Wright Virtual Museum in Second Life – which had recently been granted a licensing agreement by the same Foundation, and later attained official 501(c)3 non-profit status from the IRS.
Today, there is breaking news that NBC / Universal has agreed to let Battlestar Galactica-themed roleplay sims continue in Second Life.   They too had been issued a cease and desist order through a DMCA (Digital Millenium Copyright Act) order.  In their case, the order was arguably even more serious – filed against Linden Lab itself, resulting in the closure of several Battlestar-themed sims and even the confiscation of content.
I think the clear difference between this case and the FLWVM incident is that NBC / Universal took the time to understand what it was that fans were using SL for through open discussions with the community. Â This resulted in a clarification or compromise, whereby fans are allowed to recreate Battlestar Gallactica items under the fair use act, but that any items sold or purchased will not be tolerated. Â  Further, they are allowed to create theme-based works that are not IP or trademark protected.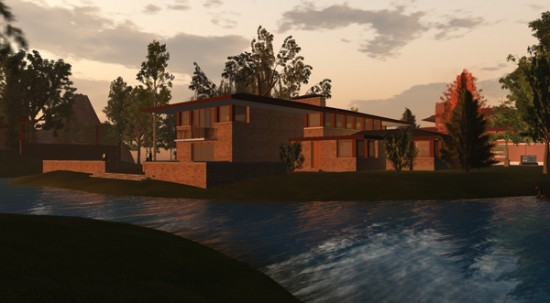 I found a comment by Lillystar Parx, of BSG Exodus on examiner.com that might be inspiration to anyone with the time and energy to attempt renewed dialogue with FLWVM,
"I believe it was through the efforts of education and communication regarding exactly what role play communities within SL actually do,"  and goes on to say, "Additionally, I'm of the belief that the letter campaign launched by various community members  as well as publicity was helpful. To what extent I can't say but I don't believe we would have gotten this far without that support."
Copying and selling someone else's intellectual property without permission is never acceptable, and that is the issue that should have been addressed directly in the FLVM case – through an open discussion with the community, rather than a blanket notification that resulted in the swift destruction and elimination of an entire community of people who were inspired by, and carrying forward the legacy of Frank Lloyd Wright.
Not long ago, companies would spend tens, even hundreds of thousands of dollars trying to get Second Life communities to engage their brands.  Now there are native communities growing within Second Life that *want* to interact with specific brands, but they're being discouraged, denied, and threatened with lawsuits.  What could have been a tremendous opportunity for the Foundation became a short-sighted mistake, and I still wish there was some way the FLWVM could have been saved.
(This article reprinted with permission from ArchVirtual.)
Latest posts by Jon Brouchoud
(see all)