Press Release: UBM Studios Introduces New Evolution of Virtual Environments' Chat Tool
Chicago – UBM Studios continues to follow on its mission of transforming the way show organizers and event attendees interact through world-class engagement.  Today, UBM Studios adds a new chat tool to its virtual environments.  Key features include:
Show managers can now monitor multiple chats at one time through a one stop dashboard;
Event sales can add enhanced sponsorship opportunities through categorized chat; and
Attendees can view chats easily by topic.
UBM offers a complete virtual environment solution as a Marketing-as-a-Service (MaaS), from the production and creation of virtual environments to the content development, recruitment, custom creative development and the management of audiences within the virtual environment.
"According to a Forrester study, social marketing programs that don't focus on a specific audience and objective get preoccupied with the tools and fail to connect with customers," said Michael O'Sullivan, Creative Director, UBM Studios.  "Our philosophy at UBM Studios is to continue to evolve our virtual environments to meet the needs of both show organizers and event attendees. We find the pain points inside our virtual environments and create solutions to improve the virtual experience and encourage interaction."
For additional information on UBM Studios or to purchase a virtual business solution, contact Michele McPhail at 773 687 4321 or [email protected].
To follow UBM Studios on Twitter, visit http://twitter.com/UBMStudios, to follow on Facebook, visit UBM Studios and to follow on LinkedIn, visit UBM Studios.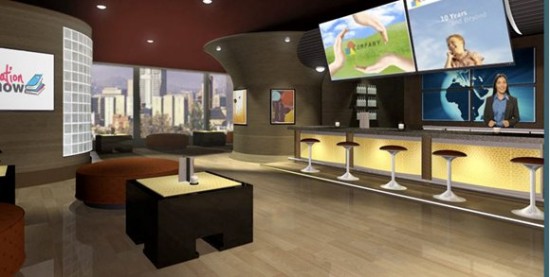 About UBM Studios
UBM Studios is a leader in virtual environments. Â UBM Studios connects, educates and enables virtual communications through a portfolio that fits every budget. Â UBM Studios offers the complete solution including platform, content, audience recruitment, reporting and social marketing and gaming. Â  UBM Studios virtual events include Virtual Trade Shows, Virtual Career Fairs, Virtual Seminar Centers, Virtual Resource Centers, Virtual Product Launch, Virtual Business Continuity, Virtual Corporate Meetings, Virtual Sales Meetings, Virtual Focus Group Centers and Virtual Training. Â UBM Studios delivers a complete global communication solution in Asia, Europe and North America in industries including, health, finance, technology, building and education.
About United Business Media Limited
UBM focuses on two principal activities: worldwide information distribution, targeting and monitoring; and, the development and monetisation of B2B communities and markets. UBM's businesses inform markets and serve professional commercial communities — from doctors to game developers, from journalists to jewelry traders, from farmers to pharmacists — with integrated events, online, print and business information products. Our 6,500 staff in more than 30 countries are organised into specialist teams that serve these communities, bringing buyers and sellers together, helping them to do business and their markets to work effectively and efficiently. For more information, go to www.ubm.com

Latest posts by Press Release
(see all)