Press Release: TEDxBoston Expands Reach With Avaya web.alive Global Online Auditorium
— Avaya web.alive Immersive Web Conferencing Enables Attendees to View Event From Comfort of Their Desktops
— TEDxBoston Speakers Live Streamed From Event to Avaya web.alive Audience of Avatars
BASKING RIDGE, NJ — Avaya, a global provider of business communications and collaboration solutions and services, today announced that Avaya web.alive will enable TEDxBoston to further revolutionize the way local and global communities experience the Boston brand of innovation. TEDxBoston is an independently organized TED event that will feature 20 inspirational speakers from the Boston area.
For the first time, TEDxBoston will open the doors of the June 28Â live event being held at the Boston Seaport Center to an audience of up to 300 avatars who can participate in real-time from the comfort of their desktop and view the full line-up of speakers.
TEDxBoston will also supplement its Adventures 2011 series throughout the summer with the Avaya web.alive environment used as a virtual meeting place to continue to meet and connect with a global audience that has similar passions and interests.
"TEDxBoston showcases Boston's revolutionary thinkers and doers that have the potential to implement game-changing ideas on a broad scale," said Matt Saiia, co-curator, TEDxBoston. "By exposing these ideas to a broader audience, it increases the possibility that they will take root and grow with those who can provide the missing ingredients for effective transformation from idea to reality. Avaya web.alive is the kind of potentially disruptive innovation that is part of our charter, and thus, the perfect means through which we expand our reach and provide the virtual venue to foster ongoing collaboration."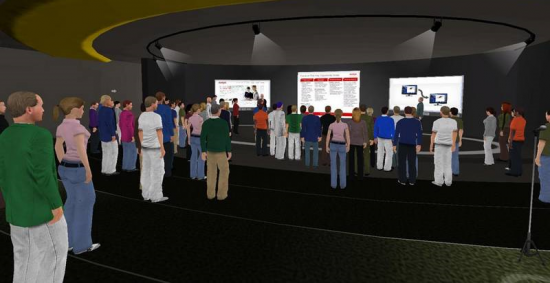 "Boston teems with innovation, and TEDxBoston provides the platform that brings it out of the laboratories, journals and libraries with a broadcast event that reaches far beyond city limits and a single day in time," said Brett Shockley, senior vice president, Corporate Strategy and Development, Avaya. "This kind of collaborative opportunity is what Avaya web.alive was made for — bringing ideas and people together in an easily accessible venue and providing them with substantial business tools that can take them to the next level."
Additional Resources:
TEDxBoston
Avaya web.alive demo
About Avaya
Avaya is a global provider of business collaboration and communications solutions, providing unified communications, contact centers, data solutions and related services to companies of all sizes around the world. For more information please visit www.avaya.com.
About TEDx
In the spirit of ideas worth spreading, TEDx is a program of local, self-organized events that bring people together to share a TED-like experience. At a TEDx event, TEDTalks video and live speakers combine to spark deep discussion and connection in a small group. These local, self-organized events are branded TEDx, where x = independently organized TED event. The TED Conference provides general guidance for the TEDx program, but individual TEDx events are self-organized. (Subject to certain rules and regulations.)
About TED
TED is a nonprofit organization devoted to Ideas Worth Spreading. Started as a four-day conference in California 26 years ago, TED has grown to support those world-changing ideas with multiple initiatives. At TED, the world's leading thinkers and doers are asked to give the talk of their lives in 18 minutes. Talks are then made available, free, at TED.com. TED speakers have included Bill Gates, Jane Goodall, Elizabeth Gilbert, Sir Richard Branson, Benoit Mandelbrot, Philippe Starck, Ngozi Okonjo-Iweala, Isabel Allende and former UK Prime Minister Gordon Brown. Two major TED events are held each year: The TED Conference takes place every spring in Long Beach, California (along with a parallel conference, TEDActive, in Palm Springs), and TEDGlobal is held each summer in Edinburgh, Scotland.
TED's media initiatives include TED.com, where new TEDTalks are posted daily; the new TED Conversations, enabling broad conversations among TED fans; and the Open Translation Project, which provides subtitles and interactive transcripts as well as the ability for any TEDTalk to be translated by volunteers worldwide.
TED has established the annual TED Prize, where exceptional individuals with a wish to change the world are given the opportunity to put their wishes into action; TEDx, which offers individuals or groups a way to host local, self-organized events around the world; and the TED Fellows program, helping world-changing innovators from around the globe to become part of the TED community and, with its help, amplify the impact of their remarkable projects and activities.
For information about TED's upcoming conferences, visit http://www.ted.com/registration
Follow TED on Twitter at http://twitter.com/TEDTalks, or on Facebook at http://www.facebook.com/TED
Follow Avaya on Twitter, Facebook, YouTube, LinkedIn, Flickr, and the Avaya Connected Blog.

Latest posts by Press Release
(see all)