Press Release: Cubic Delivers COMBATREDI Virtual Training System to the Florida National Guard
ORLANDO, FL — Cubic Simulations Systems, the virtual training systems business of Cubic Corporation CUB +0.62% , has delivered a cutting-edge virtual training solution to the Florida National Guard (FLNG) that will provide the most advanced virtual training capability available for mounted and dismounted infantry operations.
Cubic's FLNG solution includes a manworn "virtual reality" training system and vehicle training platform — both integrated with the widely used VBS2 game engine.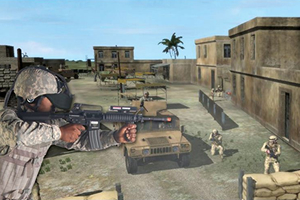 COMBATREDI(TM), the virtual reality component, provides soldiers with unprecedented fidelity, portability, and flexibility for training dismounted soldiers in warrior tasks and battle drills in a synthetic environment. COMBATREDI allows soldiers to train anywhere, anytime without the need for dedicated facilities.
Taking a revolutionary approach to virtual training, COMBATREDI combines the fidelity of a high resolution helmet-mounted display (REDISITE) with a powerful manworn tactical computer (REDITAC) that is optimized to run the latest commercial and military game engines. Add a compact motion sensor suite (REDITRACK) and simulated weapons (REDIFIRE) based on Cubic's world-class EST 2000 system, and the result is a one-of-a-kind, tetherless soldier training ensemble that is durable, easy to use and maintain, and ready for training today.
"COMBATREDI is the latest in a comprehensive line of immersive training products specifically designed for the individual soldier," said Mark Saturno, Director of Business Development for Cubic Simulation Systems in Orlando. "Since fielding the Army's first Engagement Skills Trainer in 1999, Cubic has never stopped pushing the envelope to provide solutions that meet training objectives, utilize durable hardware components, and integrate the latest in visual solutions and gaming technology. We are extremely excited about COMBATREDI and its benefits for our soldiers."
The Warrior Skills Trainer (WST) component provides the platform for vehicle training or mounted operations. WST incorporates Cubic's high-fidelity Engagement Skill Trainer weapons, which are the only simulated weapons validated by the U.S. Army for ballistic accuracy, performance and overall operation. The system allows soldiers to engage targets while in a simulated moving vehicle, or to dismount and engage on foot. The integration of WST with COMBATREDI allows fire teams and squads to perform increasingly complex missions in a virtual environment, a capability that, until now, did not exist for U.S. Army soldiers.
VBS2, the U.S. Army's game engine of record, is the visual software that drives the training scenarios. VBS2 allows for geospecific terrain and scenario development which results in highly effective pre-deployment training for National Guard soldiers. Cubic's multi-device integration is a significant milestone that will serve as a model for the future fielding of flexible and cost-effective virtual training solutions. Cubic's FLNG solution marks the first fielding of multiple, integrated training devices operating VBS2.
About Cubic Corporation
Cubic Corporation is the parent company of three major business segments: Defense Systems, Mission Support Services and Transportation. Cubic Defense Applications is a leading supplier of combat training systems, communications, cyber technologies, and global tracking solutions. Cubic Mission Support Services is a leading provider of training, operations, maintenance, and technical support services. Cubic Transportation Systems is the world's leading provider of automated fare collection systems and services for public transit authorities For more information about Cubic, see the company's Web site at www.cubic.com .

Latest posts by Press Release
(see all)