At the 2011 Second Life Community Convention (SLCC) in Oakland, California, Linden CEO Rod Humble announced that in the next few months Linden Lab will release a new version of Second Life for the web and tablets.
This new software will be separate from the current Second Life, not just a lighter version of it, but will maintain the same feel as the traditional Second Life environment, he said. The new software is a reaction to the growing popularity of tablets and the danger it poses to Second Life, he added.
The general reaction to Humble's speech was positive. Inara Pey, a Second Life blogger, called Humble's speech " a polished, if short-term and purely tactical, overview of Second Life"  today in a blog post.
According to Rod Humble, Second Life is still growing. He claims that Second Life is receiving an influx of younger users, users in their 20s instead of the usual 30s or 40s. Second Life receives around 16,000 new users every day, even in summer, he added, when signups typically fall off.
"The fact that Second Life still enjoys that growth is stunning," Rod Humble said in his keynote speech at the SLCC. However, Humble did not disclose user retention numbers.
Humble also announced that there will be no dramatic changes in land prices and that Linden Lab is planning on integrating the basic viewer back into the regular one.
During the rest of this year, Linden Lab will focus on polishing existing features and fixing bugs, rather than implementing lots of new features, he said.
"He really does get how it's broken, where it's broken in precise ways, and how to fix it," said Prokofy Neva, author of the Second Thoughts blog about Second Life, today in a blog post,
In an effort to retain new users, Linden Lab is creating a curated area for newbies. This curated area will help direct new users as well as offer them immediate entertainment, rather than letting them find their own way around, according to Rod Humble.
Rod Humble also addressed the issue of privacy concerns. In his talk, Humble said "I really believe in the right for you to choose your identity," and commented on the lack of privacy afforded by current social networking sites.
According to Rod Humble, the creativity offered by Second Life is what attracts the users. "Everything you see is created by other users, and that's a phenomenally important and powerful thing," he said in his talk.
"Overall it seemed a solid speech, albeit a little scattered at times,"  said Lowell Cremorne, founder and editor of the Metaverse Journal, in a blog post today .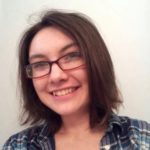 Latest posts by Anastasia Korolov
(see all)