Press release: Fashion Research Institute Announces ScienceSim Land Grant Program Awardees
New York, NY  – Fashion Research Institute has been collaborating with Intel Labs since 2009, helping to push the limits of content development, and overseeing the Science Sim Land Grant Program. The program consists of awards of campuses of four 'supersized' 3D volumes called regions, which can support 100,000 primitive units.
These campuses are awarded for a six-month period to educators, scientists, and researchers who wish to explore using OpenSim for their work, and who need the power and control of their projects that a campus provides them. The campuses are provided for nine months beginning September 1, 2011 and ending June 30, 2011.
The 2011-2012 awardees, in alphabetical order:
The Abyss Observatory
The Abyss Observatory is a museum of earth science, undersea technology and also Sense of Wonder for the mysteries of Earth & Life in 3D virtual world, established mainly by Japan and US volunteers, supported by SciLands, NOAA, JAMSTEC, Open University UK and Science Circle.
"Earth system science research fields are spread world-wide and far from human habitation. To gain a better understanding of global issues, visualization in immersive virtual world is powerful tool. Our students can develop observation methods of virtual environment phenomena or law of physics easily, cost-effectively and safely," said Hajime Nishimura (JAMSTEC).
The Cyprus University of Technology
Chrysanthos Voutounos is a doctoral student at the Department of Multimedia and Graphic Arts in Cyprus. His research work negotiates the design of serious virtual and multimedia applications that deal with the presentation and preservation of Byzantine heritage. The Byzantine heritage of Cyprus is globally known and many monuments on the island are included in the UNESCO's World Heritage List, like the monastery and the museum of St. John Lampadistis which Chrysanthos aims to design in ScienceSim as part of his research.

"My main research objective is to design and evaluate a virtual museum of Byzantine art applying methods that will enable a cross-cultural and cross-aesthetic mediation of Byzantine Aesthetics; providing a meaningful mediation of Byzantine artifacts and a spiritual experience to users," said Voutounos. "The opportunity given to implement this work on ScienceSim ensures the serious concept of a virtual heritage project; ScienceSim platform hosts a unique of its kind research on virtual worlds (1000 avatars on a region, security of digital content and other achievements). Many thanks to Intel Labs and the Fashion Research Institute for their support!"
The EdLab Group Foundation
Hypatia World is supporting and expanding the reach of the National Girls Collaborative Project (NGCP) in a 3D virtual environment. Hypatia World provides a safe space for the 5.3 million girls in the NGCP network to access online activities and participate in collaborative projects. The NGCP is committed to informing and motivating girls to pursue careers in science, technology, engineering, and mathematics (STEM). NGCP currently supports 21 Collaboratives, serving 31 states to provide support and local resources to STEM practitioners. Hypatia World will host the first 3D virtual Collaborative, providing an online place for the girls and their mentors to interact and participate in STEM activities and events. Through collaborative relationships with partners such as NASA, quality content will assured.
Project Manager, Lindy Orwin, explained, "Hypatia World will provide opportunities for girls to access online mentors and 3D content expanding the opportunities for networking and support for girls interested in STEM and keeping them interested in STEM."
The Honor Engine
The Honor Engine has created a customizable set of tools built for quest based learning and game development into the virtual world. The Honor Engine Toolset allows educators, content developers and game designers complete control over their content . The goals of The Honor Engine are to explore the potential uses of quest based learning in education for children and for the workforce. Already well established in SL as the HONOR Roleplay System, the Honor Engine is now expanding their toolset into OpenSim virtual worlds.
"Our key focus in moving The Honor Engine into the ScienceSim is to provide a toolset for educators and other creators to scale their interactive content with simple interfaces, quick content creation and adaptation and easy to access metrics to help them define success," said Bill Jobes, owner and creator of The Honor Engine. "Quest-based learning that is teacher planned and driven is what the Honor Engine provides. Teachers will be completely free to set up learning scenarios to suit their students needs. The students play to learn and learn as they play. Classrooms full of students can work together in the virtual world increasing their content knowledge, their literacy skills, and their 21st century skills, all of which will be vital to their success throughout the rest of their lives."
The Oregon L5 Society
Oregon L5 Society ( ORL5) is using some of their 25 years of research into using planetary caves as centers of human activity on the other worlds of the Solar System as models in virtual worlds. These concepts can be explored in ScienceSim, where ORL5 is creating VW lunar lavatube cave bases and settlements, and similar asteroidal and Mars bases.
These are conceptual models of how such human activity can settle the Solar System in real life.
"We use these virtual world projects to contact other researchers, educate the public about how human spaceflight can become more widely affordable, and model specific projects we can then promote to the Space Research community more effectively," said Tom Billings, an Oregon L5 Society spokesperson.
Meta-Institute for Computational Astrophysics
The Meta-Institute for Computational Astrophysics (MICA) is the first professional scientific organization based in virtual worlds. The goals of MICA are to explore the potential uses of immersive VR as a scientific and scholarly platform. Already well established in SL, MICA is now expanding their activities into OpenSim worlds.
"Our key research goal is to develop novel techniques and applications for immersive, collaborative data visualization," said MICA Director George Djorgovski, a professor at Caltech. "Scalability is important for massive data sets, and that is one of the main reasons we are in ScienceSim."
He added, "Effective visualization of complex, multi- dimensional data is emerging as one of the key challenges for the data- driven science in the 21st century. As we continue to move our work and collaborations into cyberspace, immersive VR may become a fundamental platform for scientific research."
Preferred Family Healthcare
Preferred Family Healthcare has been delivering counseling services in virtual worldspace for the past three years and it is on the forward edge of organizations using OpenSim and Jibe/Unity for these purposes. PFH will continue to explore the potential for delivering mental health and substance use disorder services to clients who experience accessibility challenges due to distance, time, travel, physical handicap, social phobias and other complications.
"PFH intends to continue to be a leading innovator of technology utilization to make accessible behavioral health interventions available to all who need them," said Dick Dillon, Senior VP at Preferred Family Healthcare. "Challenges which have existed for decades are being resolved by the smart application of global connectivity tools. We believe in the potential of virtual world-based service delivery systems, and several pilot projects are already showing excellent results for client retention and participation, with treatment outcomes as good or better than traditional methods."
Science Circle
The Science Circle is an alliance of scientists from various disciplines dedicated to connect scientist and students worldwide. The group uses digital mediums like Second Life to hold seminars and are starting in 2011 with various courses for its student group.
"The Science Circle wants to offer our members the possibility to discover OpenSim. Like MICA we are convinced that 3d platforms based on OpenSim are a great tool to offer education. The Science Sim Land Grant program is a great initiative that enables us to do that," said Agustin Martin on behalf of the Science Circle.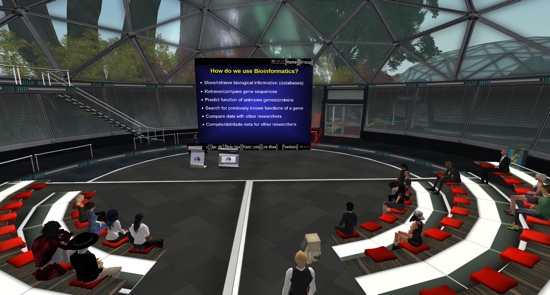 BIO-SE project
The goal of the BIO-SE Project (Biological Interactive Objects for Science Education)Â is to create interactive learning modules targeted to the high school or college freshman biology curriculum. Its primary aim is to have its learning modules be instructive but also designed for first-time users of virtual worlds. Lesson planning and instructor resources will be created as well but do not necessarily require faculty to be conversant with using virtual worlds. The core lessons all come from biologists who have multiple years of experience teaching in Second Life and developing course content there.
About Fashion Research Institute, Inc.
The Fashion Research Institute is at the forefront of developing innovative design & merchandising solutions for the apparel industry. They research and develop products and systems for the fashion industry that sweepingly address wasteful business and production practices.
About ScienceSim
ScienceSim is part of an evolution toward online 3D experiences that look, act and feel real. Sometimes dubbed the "3D internet," Intel Labs refers to this technology trend as immersive connected experiences, or ICE. ScienceSim is differentiated from most virtual world environments by its open source architecture. ScienceSim leverages open source building blocks (installation utilities, management tools, client viewers, etc.) based on OpenSimulator (OpenSim) software.

Latest posts by Press Release
(see all)