The top 40 largest OpenSim grids gained 1,250 regions since mid-September, for a new record high of 25,202 regions.
OSGrid was responsible for most of the growth, with 839 new regions, for a new total of 11,162 regions on that grid alone. OSGrid is a non-profit grid that allows people to connect regions hosted at home for free, as well as regions hosted by low-cost third-party hosting providers. OSGrid is the largest grid running on the OpenSim software.
The second biggest gainer was Brazil's Meet3D grid, which gained 285 regions. Meet3D, a commercial, hypergrid-enabled grid, also gained 900 new active users on the back of marketing campaigns in conjunction with a Brazilian media company, brewery, and a clothing company.
The third largest gainer was Kitely, which rolled out flat-rate region pricing this past month and megaregions the month before. Kitely gained 164 regions, for a new high of 2,657 regions. Kitely is the second-largest grid by land area, and the largest commercial OpenSim grid.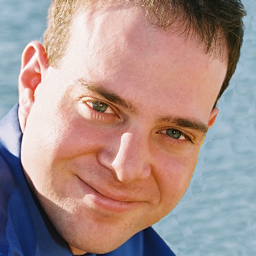 "The $60 a month four-region Advanced Megaregion seems to be a sweet spot for many people, especially educators," Kitely CEO Ilan Tochner told Hypergrid Business.
Some users have begun posting recommendations on Kitely's LinkedIn page, he added, which can be useful for folks looking to get funding for their own virtual world projects.
"The fixed-price options are helping people who were previously cautious of our business model to give Kitely a try and many of those people decide to sign up for premium plans or fixed-price hosting packages as a result," he said. "People are telling us that, even if they prefer the time-based billing options, they feel very reassured that if their worlds become popular enough that they can switch to a fixed-price option any time they want."
In fact, all but three of the top-40 grids either maintained their land area or gained regions. Infinite Grid lost three regions, Lost Paradise lost nine, and GridNirvana lost 38.
A total of 173 grids reported their data this month, and they add up to 27,085 regions, 274,441 registered users, and 19,159 active users. Of the 211 active grids this month, at least 129 are known to be hypergrid-enabled to some degree. Some grids, for example, allow outbound travel, but not inbound teleports.
Popularity contest
For company and school grids, popularity is not an issue — the grids are set up for a specific purpose, and if they meet that purpose, then they are successful. The same is true for grids run by niche communities.
But when it comes to social grids, the rule is: the bigger and busier, the better. People looking to make new friends will go to the grids that already have the most users. Merchants looking to sell content will go to the grids with the most potential customers. Event organizers looking for the biggest audience… you get the idea.
With that in mind, here is our listing for the 10 most popular grids this month.
Top ten most popular grids:
OSGrid, Island Oasis, Meet3D, FrancoGrid, Craft World, and Kitely all gained active users this month. Meet3D, which is on our top-10 list for the first time, gained 900 new active users. OSGrid gained 158 new active users, and Island Oasis gained 116 active users in addition to gaining 45 regions.
Island Oasis is the smallest grid in our top 10 list, with just 135 regions, but it's growing quickly — last month, the grid only had 90 regions, a sign that popularity can translate to land sales. Part of the reason could be land prices — a 20,000-prim region is just $35 a month, with a choice of starter region builds and terrains. The grid also has a strong community outreach program, with a new community information portal, a lively Facebook group, and a growing volunteer mentor team, a grid spokesperson told Hypergrid Business.
InWorldz lost 288 active users, but this barely made a dent in its active user base. Avination lost 173 active users. InWorldz and Avination are the two largest social commercial grids and compete directly for residents and merchants.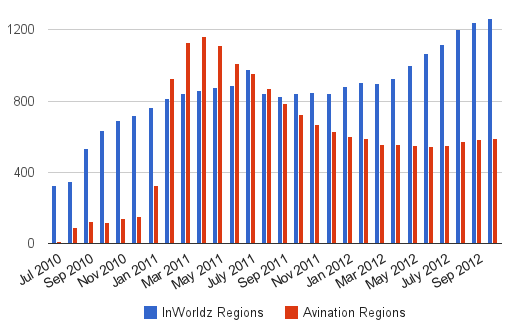 The total number of active users on the top 40 grids rose to 18,124 this month, 821 actives more than in mid-September. The total number of registered users on the top 40 grids is now 258,301, an increase of 7,269.
Transitions
The following 16 grids seemed to be suspended this month: AnSky, Canaria, Cotton Beach, Demokracy, eceCloud, HewittSim, Lets3D, My3dLife, Swondo World, The Hive, vCaltech, Virtual France, World Galileo, Xscape Grid, Yeah Right and You3D.
Several other grids that were marked as suspended last month haven't come back up since, and we have marked them as closed.
Meanwhile, we've added several new grids to our database, including WardsCross, Aneslasleja, Naras Nook, My World, Owl Consult, Tekton Industries, Steele City, Soulgame, MonicaWorld, Mirellas Welt, Mede Empire, Camellians Retreat, Alhandalus, Larry And Nicoles, Nicole's Place, UFPGC Grid, Full Moon, Greater Ireland Grid, Navigators, Stone Grid, Sub Oceania, Open Virtual Worlds, Nova and Yourflix.
If there's a public grid we're not tracking, please email us at editor@hypergridbusiness.com. There's no centralized way to find OpenSim grids, so if you don't tell us about it, and Google doesn't alert us, we won't know about it.
Well, there is one centralized way to find some grids — the New World Studio grid directory. It currently lists 1,174 different worlds, totaling 10,434 regions. There are many duplicates on this list, however, and few worlds were up when we checked.
However, there are also statistics for one popular version of OpenSim, the Diva Distro, a four-region, hypergrid-enabled, pre-configured minigrid.
The Diva Distro has been downloaded 638 times over the past month. The total number of Diva Distro downloads now stands at 17,017. This does not mean that there are seventeen thousand mini-grids out there, however — someone might download the software but never use it, or download it once and use it to set up many grids. And it doesn't include the Diva Distros used as part of the New World Studio distribution of OpenSim.
Diva Distro is also part of Sim-on-a-Stick, a version of OpenSim packaged to run on a USB stick. According to Sim-on-a-Stick creator Ener Hax, the USB-friendly OpenSim package has been downloaded 697 times over the past month, bringing the total of these downloads to 15,492.
Meanwhile, according to data from The Hypergates, the number of hypergates increased by 34, to a new high of 647. Hypergrid jumps decreased from 2,484 to 2,390 this month. The Hypergates did not report the total number of travelers this month.
This data is very limited, however. For example, not all hypergates are part of The Hypergates network — anyone can create their own hypergate by dropping a script on any object, such as our touch or walk-through single-destination hypergate script. In addition, many people do hypergrid jumps without using any gate at all, simply by typing a hypergrid address into Map-Search, or by using a hypergrid landmark created during a previous jump. There is currently no way of tracking that traffic.
Our own Hyperica directory now tracks 107 grids that are accessible via hypergrid, up from 102 last month. (We're running behind on adding grids to the directory.) This past month also saw 70 unique visitors to the Hyperica in-world hypergate terminals, down from 86 the previous month.
Meanwhile, Second Life continued to lose land according to data from GridSurvey, with 264 fewer regions today than the same time last month. The Second Life grid now has 28,638 regions, down 2,294 regions from this time last year, and 3,247 fewer regions than its peak in June of 2010.
October Region Counts on the Top 40 Grids
We are now tracking a total of 384 different publicly-accessible grids, 211 of which were active this month, and 173 of which published their statistics. Many school, company or personal grids do not publish their numbers.
The raw data for this month's report is here. A list of all active grids is here.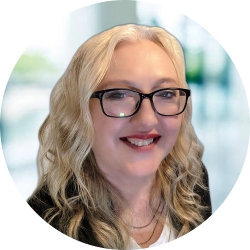 Latest posts by Maria Korolov
(see all)