Update (May 17): Linden Lab launches Authorized Reseller program, five exchanges now live. Linden Lab announcement is here. List of Authorized Resellers is here. The five exchanges currently allowed to sell Linden Dollars to users are  AnsheX, Buildo, VForEx Inc, VirWoX, and Zoha Islands. No third party exchanges are allowed to purchase Linden Dollars from users, however.
Update (May 16): Podex, AnsheX, DXexchange are down. Read full story here.
Update (May 15): VirWoX, Xchange4LS hint at good news. Austria's VirWoX, one of the largest third-party Linden Dollar exchange, is in talks with Linden Lab and promises good news. "Linden Lab has approached us with a potential solution that would allow us to serve our customers within the bounds of the updated Second Life Terms of Service," the company said. "We are in discussions with them and look forward to being able to share more information very soon." Meanwhile, Germany's Xchange4LS also promises to be back up and running soon. "Since the change in the ToS we have made a lot of thought how we can offer our services againwithout violating the ToS of Linden Labs," the company announced today. "We have found a solution and are going to implement it."

Update (May 15): DXexchange back to selling Lindens, Gyndex may follow. Read full story here.
Update (Tuesday, May 14): All Dutch exchanges have closed. The Gyndex, the second largest Dutch Linden dollar exchange, closed on Sunday night. "All other Dutch exchanges followed," Gyndex founder and co-owner Bart Bockhoudt told Hypergrid Business. He added that Gyndex CEO Elzbieta Borowska had emailed Linden Lab for an explanation of what was going on, and got the following statement from the Lindens: "Yes, this applies to all exchanges. Buying or selling Linden dollars outside of the LindeX is now considered a violation of the Terms of Service. We are in the process of stopping these activities over the course of this week and hope to be done by Monday, May 13."  As of today, 16 exchanges have shut down. AnsheX, Podex, and Crossroads are still up.
Update (Tuesday, May 14): Mbkash has closed. MBkash is also now closed. "We considered interpreting the Terms of Service as that we had 30 days to comply with the changes and take advantage of the time to inform our customers," the exchange said in an announcement. "But recent events led us to believe that sanctions would fall. We fear that Linden Lab would penalize our clients, confiscating money purchased on our website… we will keep you informed if there is a change… Noting that 90 percent of our customers do not pay with a credit card, they cannot continue in Second Life… 80 percent of our turnover was achieved through micro-payment SMS, telephone, Internet bill payment, and prepaid cards.
Update (Monday, May 13): 14 exchanges now down. DXexchange shut down on Sunday as planned, as did Virtuatex. In addition, WoozKash shut down instead of risking Linden wrath by staying up for full 30 days. As of today, 14 exchanges have shut down. AnsheX, Podex, MBkash and Crossroads are still up.
Update: DXexchange no longer buying Lindens, will suspend all operations on Sunday. Linden Lab told the exchange to cease all exchange activities by Monday morning, San Francisco time, DXexchange CEO Sjoerd van Essen said in an announcement. "It is still our opinion that the TOS gives us a 30 days period after the first notification of the change to prepare us for the reduction of our right to exchange in Second Life. However we do realize that with blocking our avatars Linden Lab can disable our business within seconds. We also realize that we put our clients at risk to lose their Lindens in case we annoy Linden Lab." Payments to escrow bank accounts will be refunded. In addition, DXexchange has already ceased buying Lindens, and disabled the credit card payment option.
Update: CrossWorlds to cease trading Lindens in 30 days. The Crossworlds virtual currency exchange announced today that they will cease trading in 30 days. "On May 7, 2013 we were sent notification by Linden Lab that they would no longer allow Third Party Exchanges to operate in Second Life," the company said in its announcement. "As per the Second Life ToS we have 30 days to comply. We have contacted Linden Lab to clarify the problem and as of yet had NO reply. Therefore… we will operate until June 5,2013." However, the exchange is wary of new customers — only existing users can sell their Linden dollars or buy Lindens with PayPal. New customers can buy Lindens with Bitcoin, however. It looks like Japan's Exchange 24 has also ceased trading Lindens. The AnsheX exchange is still buying and selling Lindens, and has not posted any updates about future plans.
Update: Lindens delete list of third-party exchanges from Second Life Wiki. Late yesterday, a Linden Lab representative removed the contents of a page titled "Third Party Linden Dollar Exchanges" from the Second Life Wiki. A cached version of the page is currently available on Google. The article was already marked "obsolete but kept as a historical record" and some links were out of date.
Update: VirtualMind, vForEx, Virtuateq exchanges cease trading Lindens. "At the moment, we are not allowed to sell or buy Linden Dollars," VirtualMind said in an announcement on its website. "We will give more information as soon as possible." Fantasyland Estates subsidiary vForEX Inc. announced today that its activities have been "suspended until further notice." Dutch exchange Virtuatex announced today that it will cease trading as of next Sunday. This brings total of exchange that stopped trading to eleven.
Update: Podex to continue trading Lindens. The Podex exchange will continue to trade Linden Dollars for the next 30 days until the new Terms of Service go into full effect, exchange spokesman Jacek Shuftan told Hypergrid Business. "We find it not fair to stop our activity in one day without prior notice to our customers," he said. "Podex Exhange has built trust and reputation for many years and we are not going to destroy it in one day."
Update: Mbcash, WoozKash, Cash Services to continue selling Lindens. Both Mbcash, WoozKash and Cash Services will continue selling Linden dollars, Mbcash CEO Johnmacloud Jun told Hypergrid Business, pointing to a clause in the Terms of Service requiring 30 days notice before changes go into effect. "We have written to Linden Lab … to reassure them about the safety of payments," he added. "We have very little fraud and many system controls, plus we have always cooperated with them, and fraudulent payments have always been at our expense. Our customers are mainly French and German, and most do not pay with credit cards." He said that Second Life would see a loss of usage as these customers are no longer able to trade Lindens. "We expect a chain reaction on the businesses in Second Life," he said. "We told Linden Lab that we are ready to deactivate payment by credit card or PayPal," he added, to avoid duplicating LindeX services directly. He added, however, that neither Mbcash nor WoozKash will buy Lindens from users.
Update: DXexchange still trading Lindens. "For now we will continue our activities as an exchange office," company CEO Sjoerd Van Essen said in an announcement today. DXexchange has not received an official notice from Linden Lab asking them to cease operations, he said. However, the exchange is making one change because of the risk of unauthorized credit card transactions: there will be no rush sell orders until further notice. "This creates more time for Linden Lab to check sales orders and we can still block an order before we proceed to out-payment."
Update: Total of eight exchanges have now ceased trading Lindens. TeleLinden has just ceased trading Lindens, the company announced today. "We are in contact with Linden Lab in order to find out how long this stop will last and how service providers like us can offer Linden Dollars to our customers in the foreseeable future."
Update: Six more virtual currency exchanges have ceased trading Lindens. "We have asked Linden Lab for clarification," VirWoX announced today. "Until we know what this all means, we have disabled deposits of Linden Dollars (the terminals will send them back), disabled the "Currency Shop" for Linden Dollar purchases, and disabled the withdrawal of Linden Dollars to Second Life."  Moneyslex also announced that they are currently not offering services to Second Life residents, and waiting for more info, as did Bulido, and Moneyservers. ELDEXchange also announced that they're looking for more information and, meanwhile, cannot accept any sell orders. Xchange4ls also announced that they have stopped purchasing Linden dollars, while waiting for clarification, just before their website went down. With First Meta Exchange, that brings the total number of exchanges that shut down trading to seven.
Linden Lab revised the Second Life Terms of Service today, prohibiting the use of third-party exchanges to trade the company's virtual currency.
"To better protect Second Life users against fraud, the updated Terms of Service make it clear that trading of Linden dollars (L$) on exchanges other than the LindeX, Second Life's official L$ exchange, is not authorized," the company announced.
"The majority of Second Life users who purchase L$ do so through the Second Life Viewer by clicking on the "Buy L$" button," the announcement said. "There will be no change to that function, as these orders are placed directly through the LindeX. Similarly, shopping on Marketplace will not be impacted."
One third-party exchange has already announced that it will cease trading Lindens.
"Due to the recent changes in SecondLife's Terms of Service we must suspend all Linden trading immediately," First Meta Exchange said in an announcement today.
Fortunately, First Meta is a diversified exchange, and also offers trading in IMVU Credits, Toricredits, Frenzoo Gold Coins, FriendsHangout Tokens, and NuVera Notes.
The news may pose a bigger problem to exchanges like VirWoX, which bills itself as the "leading independent exchange for trading Linden Dollars." In 2012, VirWoX reported that it traded 9.6 billion Linden Dollars, the equivalent of about US $38 million.

VirWoX is particularly important to European users of Second Life, since they are able to avoid cross-border fees by using the exchange.
Linden Lab did not say whether they are shutting down their API and taking other technological measures to block third-party currency trading, and, as of this writing, the company has not responded to requests for comment.
If VirWoX is forced to shut down their exchange as well, then it bodes ill for the VirWoX-backed Open Metaverse Currency, currently accepted on about 30 OpenSim grids.
However, VirWoX has done a very poor job marketing and supporting the OMC, and the currency has failed to find traction on the hypergrid. If VirWoX is forced to suspend operations, this may clear the way for other virtual currency providers to enter the market. As of this writing, VirWoX has not responded to requests for comment.
First move to a closed currency?
In a column last month, virtual currency law expert Alex Kadochnikov pointed out that new federal guidelines indicate that the government might be getting ready to treat Linden Dollars as if they were real currency, on the principle that "If it looks like a duck, and quacks like a duck, it is a duck."
In particular, the fact that Linden Dollars have real value outside of the Second Life environment distinguish them from pure "play money" such as the gold you earn by playing Mario Brothers or even the coins you can purchase for real money in FarmVille.
The final step required to make the Linden Dollar completely fictional — and save Linden Lab from having to register as a financial institution — could be if players were not able to redeem their currency at all.
So, for example, if I become a FarmVille millionaire, I can't ask Zynga to send me a check for the entire amount.
If the Linden Dollar was completely fictional, and not redeemable for real money, it would not necessarily destroy in-world businesses — creators, event organizers, and other in-world merchants could switch to PayPal Payments or other online payment methods. It would, however, make purchases less convenient, and increase the cost of doing business, driving marginal companies out of the market.
More importantly, Linden Lab would lose the transaction revenues from these purchases, and, possibly, suffer from knock-on effects of lower land prices and fewer users.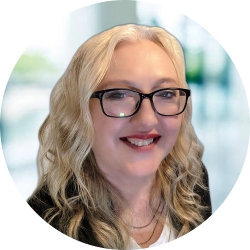 Latest posts by Maria Korolov
(see all)