The past four weeks have been slow for OpenSim, with the top 40 grids gaining only 153 regions. This is the first time the growth has been under 500 regions since last April. OSgrid was the major culprit this month, losing 133 regions — as well as 318 active users — since mid-January. The grid updated its OpenSimulator software, as well as centralized "Robust" grid services, which may have resulted in connection problems for regions running older versions.
The top 40 OpenSim grids by land area reported 31,289 total regions this month, still a new record high. The total number of registered users jumped by 7,180 to another record high — 337,578. Active user numbers grew by 577, to 18,945.
The biggest gainer was the educational grid Open Virtual Worlds, which more than doubled its size with 246 new regions. Â The UK-based grid, managed by the University of St. Andrews, now has 467 regions total.
Another big gainer was A Virtual World, which nearly doubled in size, from 73 to 140 regions. All other grids gained 25 regions or less.
There were 251 public grids active at least some of the time over the past month, 207 of which reported statistics. There were a total of 33,721Â regions, 354,371Â registered users and 21,317Â active users on those 207 grids.This count does not include private grids, such as grids run behind school firewalls, or grids set up to run large corporate simulations, or the more than 2,000 mini-grids running on personal New World Studio installations.
There are now over 7,000 more regions on the public OpenSim grids than in Second Life.
OpenSim has an edge over Second Life when it comes to land because individuals can set up regions for free, or rent regions from a number of vendors competing on both price and service at about a tenth the price of similar Second Life regions.
However, active OpenSim user numbers on the public grids are a tiny fraction of Second Life's active user base.
Popularity
For company and school grids, relative popularity is not an issue — the grids are set up for a specific purpose, and if they meet that purpose, then they are successful. The same is true for grids run by niche communities or that serve a special need not met elsewhere.
But when it comes to general-purpose social grids, the rule of thumb is: the bigger and busier, the better. People looking to make new friends look for grids that already have the most users. Merchants looking to sell content will go to the grids with the most potential customers. Event organizers looking for the biggest audience… you get the idea.
With that in mind, here are the 10 most popular grids this month:
Top ten most popular grids:
The biggest changes on this list this month was that 3rd Rock Grid gained nearly 100 active users and moved up one spot in the rankings and the education-focused, Italian-language EdMondo grid moved into ninth place. EdMondo is a 68-region, 301-active user grid run by INDIRE, Italy's National Institute of Documentation, Innovation and Educational Research.
News from around the grids
Many grids celebrated Valentine's Day this month, or offered special promotions. Read more about it in the activity report that came out at the start of the month.
AviWorlds is back — 4th time the charm?
The Brazilian AviWorlds grid is back after a couple of months in which the OpenSim community considered it gone for ever.
It's not quite as big and popular as it was before — 96 regions, down from 279, and 169 active users. Still a decent turnout, but a far cry from the grid's peak of 505 users last January. Despite a series of problems, the grid tended to draw between 300 and 400 or more active users a month last year, often putting it on the top ten most popular list.
"I'm into this for the long haul," said grid founder Alexsandro Pomposelli — also known as Alex Ferraris in-world.
Issues in Pomposelli's personal life caused him to close the grid in early December, and, also, briefly last summer as well. In November, the grid briefly turned off hypergrid connectivity, then closed and reopened again after "administrative changes."
Last spring, the grid switched hosting providers, from Dreamland Metaverse, to its own servers, and, finally, to Zetamex. Although some grids run all their own technology, many commercial grids prefer to focus on marketing and community building and leave the server management, backups and updates to one of several professional OpenSim hosting companies.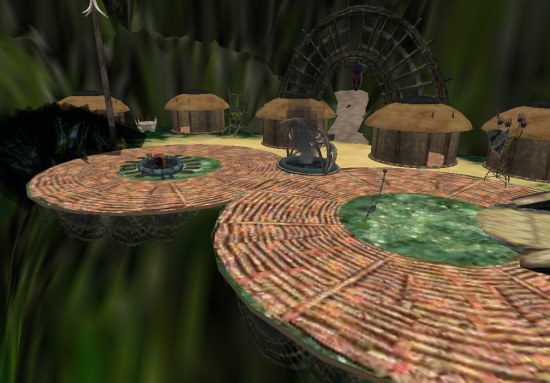 AviWorlds originally launched in the spring 2011, as AvWorlds, with a business strategy of attempting to provide estate owners with value by pricing regions much higher than most competing grids. The high-price strategy was abandoned a couple of months later.
Now the grid has a new business plan, Pomposelli told Hypergrid Business.
"I'm going to structure AvWorlds as a hybrid grid," he said. "Commercial, but also with a great social mind."
This means that the grid will be hypergrid-enabled, and will allow users to connect home-based regions for free. There will also be free 281-prim house lots for residents. A subsidiary, Ferraris Estates, will rent regions and parcels.
"Yes, we will have a different strategy," he said. "Most importantly, one that will give the grid a self-supporting business environment which would preclude the grid's closure in any kind of situation."
Pomposelli said he now has a programmer working for him in addition to Zetamex handling the hosting.
The grid is also merging with World-DC, a very small grid with less than 20 regular users. That grid's owner will now be a partner with AviWorlds.
In addition to extra personnel to run the grid if he's not available, Pomposelli said he's also set aside financial resources to keep the grid operating.
Pomposelli admitted that there might be some trust issues on the part of the OpenSim community, given the grid's troubled history.
"Only time will change this and hopefully, God willing, AviWorlds will be here now for a long time and complete its mission of being one great virtual world for everyone to enjoy," he said. "Some of my friends have asked me why don't I create a different name and hide. I say this to all; I don't like hiding from my mistakes because hiding from them would be me not acknowledging them."
Avination getting ready for Karneval
"There is Carnival in Rio and there is Karneval in Cologne, Germany," said Avination spokesperson Leonie Gartner. "Something almost but not quite, entirely unlike Carnival."
Avination is marketing the occasion with three days of events, starting with a big Carnival Show on Sunday, March 2.
"This event promises lots of fun, with different shows and of course the already famous cologne jester's speech, this year held by Cartier Attenborough, owner and creator of the Neschan sims in Avination," said Gartner. "On Monday, Virtual Cologne is hosting the first carnival procession in Avination. Many people build traditional floats just like one can see them in the real procession in Cologne, Germany and many other cities and towns all over Germany. You probably have not heard about the tradition of burning the scapegoat for all things wrong, an event called 'Nubbelverbrennung.' A straw doll called Nubbel will be burned and afterwards the big celebration of the end of the carnival session will begin."
To attend the event, visit the Virtuelles Koeln region on the Avination grid, free account registration here.
Avination is also holding a number of musical events this month, including Pingout Duffield playing guitar music from the 70s and 80s at the Midnight Lounge on February 20 on the Southern City region. BluesFabrik, a club on the Virtuelles Koeln region, will be home to a live performance by Franz Paine on February 21, and by FabryGore McMillan on February 28.
There's also Ichimomo's Dance and Burlesque Show at Vintner City on the Vintner Point region on February 22.  For more details, check out the Avination grid's events calendar.
Metropolis grid calls for donations
Metropolis founder Lena Vanilli posted a letter this week calling on grid supports to help out with hosting costs.
"This month, we covered just 60 percent of the cost for the servers and the webradio through donations," she said.
In particular, she singled out commercial operators who rent out regions connected to the grid, but do not support the grid financially. Metropolis is an open grid, meaning that anyone can connect their own regions, or connect regions from third-party providers. There is no charge for this, and Metropolis provides all the central grid services for free — including user inventories, asset databases, messages, groups, and other grid-wide functionality.
One such hosting company has already stepped up. Zetamex, which offers region rentals on Metropolis, OSgrid, and other open grids, will be donating 15 percent of revenues from its Metropolis regions.
And, in a surprise move, Kitely has also made a "generous donation," said Vanilli. Kitely's founders think that Metropolis is an important part of the OpenSim community and want to see it succeed.
Kitely is a commercial grid that directly competes with Metropolis. The grid has also recently committed to supporting OpenSim development, with a regular weekly donation to core developer Justin Clark-Casey.
"We encourage other people with an interest in an accessible open metaverse to do the same," Kitely CEO Ilan Tochner told Hypergrid Business.
Kitely expands market
And speaking of Kitely, they're still working on the hypergrid delivery system for the Kitely Market.
"We're spending a lot of time developing automated handling of the many possible edge cases in order to make sure the system is robust and trustworthy," Tochner said.
Their online marketplace now has 4,030 product variations of more than 2,050 unique listings — nearly 1,600 of which are available for export to other grids, once hypergrid delivery is in place.
The company has also made some improvements in megaregions, physics, and scripting.
Another World giving away free region
The Another World grid is holding a building contest where the winner will get a free region for a year. The contest is open to anyone, including residents of other grids, who can teleport in via hypergrid to login.anotherworldvw.com:8002:Welcome Area for more details.
In a previous contest, Another World gave away a region to the person to brought in the most "friends" to Another World's Facebook page.
"I find it a lovely place to create, with some beautiful landscapes," said Debbie Stafford, owner of the recently opened Staffordshire Department Store, in a statement. "Everyone I have met here is really friendly. The owners actually stop and chat with me, resolving any issues I might have."
The grid is also in the process of teaming with Podex, a third-party currency exchange based in Wilmington, Delaware, to run the grid's monetary system.
"They offer a lot more payment options then we can currently offer," grid owner John Vayro told Hypergrid Business. "We currently only offer a manual payment or currency exchange method — the person sends the desired amount to our PayPal account along with a note with their avatar name, and the amount of currency they would like, then I myself log into the world personally and pay them that amount."
Podex, by comparison, offers an automated system and a variety of payment options, including Bitcoin, credit cards, direct bank transfer, and Ukash.
Podex is also trading other OpenSim grid currencies, including Zandramas, Virtual Highway and Avination.
Vayro said that Podex came highly recommended by Zetamex, the hosting company that runs the grid's OpenSim servers. And he added some kind words about Zetamex, as well. "Zetamex has the best customer support that I have seen in ANY company …. period."
Island Oasis celebrates Valentine's Day, launches land referral program
Island Oasis, a commercial grid with communities in many genres, including medieval and science fiction, held two Valentine's Day dances this month and decorated one of the grid-owned regions special for the holiday.
The grid has also set up a land referral program in which residents who bring in paying customers will get a one-time bonus of $1,500P, or US$5.00 for each region. More information about this program here.
Island Oasis also offers a free residential parcel for each residents, and will now feature the image of one such parcel each month on its website.
Great Canadian Grid updates TOS
The Great Canadian Grid launched earlier this year with an outpouring of support from Canadians and other well-wishers. Unfortunately, that supported included donations of questionable provenance. The infringing content created public relations problems for the grid.
"We were very disappointed in our lack of judgement thinking that we could have trusted third party donations and uploads to the grid," said grid founder Roddie Macchi. "We took every precaution into making sure we had the security and know how to prevent any type of griefers and copied creations and found that no matter how much emphasis you put on security, in the cyber world, anyone can find a way."
As a result, the grid has made some changes in its programs, updates and Terms of Service, Macchi told Hypergrid Business.
"I hope this acts as a caution to other new and upcoming grids to just make absolutely sure you know who you are doing business with and to not get caught in a trap of griefers trying to bring you down," he said.
On a more positive note, the grid wound up making the planned improvements earlier than it hoped, with the grid now running on the latest OpenSimulator 0.7.6 release, with groups, offline messages, profiles, search, extra security, and more.
As part of the upgrades, the grid has also deactivated hypergrid connectivity.
InWorldz hosts Art Festival
The Dreamz & Visionz Art Festival began on February 7 on InWorldz on the Dreamz&Visionz region. The festival runs through February 24.
The grid is also getting ready to celebrate its fifth birthday next month.
For more information about InWorldz events, check out the event listings board on the grid's forum, and the grid's events calendar (registration required).
Tropical Paradise Virtual World holds two-for-one sale
Not much more to add — if you rent a 24,000-prim region on the Tropical Paradise Virtual World grid for $60 a month, you get a second one free.
The grid also holds music events every Friday at 2pm on Riders Cove on the Restless City region, Â and every Saturday at 3pm at the Tropical Paradise Club and Mall on the Storm Front region — check the website for details.
Virtual Highway prepares for Bikers and Mardi Gras
While Virtual Highway residents are still enjoying the grid's holiday-themed Valentine's Region with the dance floor, Tunnel of Love and free gifts, the grid is already getting ready for its next big community celebration — Mardi Gras.
"Bourbon Street is in place and the floats are all under construction," said grid owner Gene Call. "Mardi Gras costumes and accessories are pouring into the grid as well. We are so thrilled to announce that more and more of our creators and builders are participating in these community projects. It is amazing to see what they come up with."
The Four Horsemen of The Garage are busy planning Biker Week for Virtual Highway during the second week of March.
"We have top quality bikes here in Virtual Highway, built by Wolven Mistwalker," said Call. "The scripting for the bikes is in the tweaking stage and we have been having a ball racing around the sims. This will include a 'Build Your Own Bike' event with help and instruction from the experts. Special events will be taking place between March 7 and March 15 to coincide with the Daytona Events."
In other news, DGD — Dead Gorgeous Designs — had their Grand Opening on February 11.
"Superior quality clothing for both men and women, and a beautiful build," said Call. "Make sure you check out her store!"
And, as usual, Virtual Highway's monthly calendar is jammed full of music events.
"Our list of live performers continues to grow, along with the collection of outstanding DJ's we have here to entertain us," said Call. "There is something going on in Virtual Highway every single day! Some days as many as four events! So, if you want fun, dancing, and entertainment, this is definitely the place to be."
Transitions
We're listing 20 grids as suspended this month because we haven't been able to get to their grid info pages or websites this month, including: Ardalia, Classified Diabolic, Confederatio, Dankoville, Diva's Office, Easylan Education, Evermore, Fine Grid, Gangster Wars, Greekifour, Heavens Gates, JanesPlace, Mac, Montefiorino, NeuWald, Next Grid, Olimar, Open Island, OpenSim Fuchs, Ruby World, The Hidden Continent of Chaxez, Virtualgoo, and World-DC, which is merging with AviWorlds.
Meanwhile, we've added several new grids to our database, including Greek World, Paralax, Astraliacraft, Dreama, SimB2B, Bongs Without Borders, Mataverse Akademi, Sammers World, OpenMOOC, and SkyLife.
If there's a public grid we're not tracking, please email us at [email protected]. There's no centralized way to find OpenSim grids, so if you don't tell us about it, and Google doesn't alert us, we won't know about it.
The stats page for the standard OpenSimulator distribution reported a record high of 4,203 new downloads this month, for a total of more than 22,800 downloads of OpenSim from the official website since the start of 2013, when they began publishing  the data. Interpolating based on trends from other distributions, the Hypergrid Business estimate of OpenSim downloads from the official website is now a little bit over 116,000.
The stats page for the Diva Distro, a user-friendly distribution of OpenSim, reported 614 downloads this month, for a grand total of over 28,700 downloads since the distribution was first released in May of 2011.
Sim-on-a-Stick, an even more user-friendly, packaged version of the Diva Distro, was downloaded 1,246 times this month, for over 26,000 downloads total since the distribution was first released in May 2011.
The even easier still New World Studio, which allows people to set up private grids in just a few clicks with a fully automated installer, recently began publishing its usage statistics. As of today, it reports 19,293  regions on 2,194 different active mini-grids running on this distribution of OpenSim. That's an increase of 1,703 new regions, and 193 new mini-grids.
Adding in the three other major distributions of OpenSim, we estimate that the OpenSim server software has been downloaded nearly 175,000 times since the start of 2010.
Meanwhile, according to data from The Hypergates, the number of hypergate jumps on their network this month dropped by 287, to 3,007. The system now has 770 registered hypergates, down by 3 compared to month, on 71 different grids.
This data is very limited, however. For example, not all hypergates are part of The Hypergates network — anyone can create their own hypergate by dropping a script on any object, such as our touch or walk-through single-destination hypergate script. In addition, many people do hypergrid jumps without using any gate at all, simply by typing a hypergrid address into Map-Search, or by using a hypergrid landmark created during a previous jump. There is currently no way of tracking that traffic.
Meanwhile, Second Life continued to lose land, according to data from GridSurvey, with 105 fewer regions today than the same time last month. The Second Life grid now has 26,213Â regions total, down 1,736 Â regions from this time last year, and 5,672 fewer regions than its peak in June of 2010. According to GridSurvey, the last time the grid was this small was in May of 2009.
Second Life has lost regions every month since January of 2011, with an average of 195 lost regions a month.
February Region Counts on the Top 40 Grids
The list below is a small subset of existing OpenSim grids. We are now tracking a total of 797 different publicly-accessible grids, 251 of which were active this month, and 207 of which published their statistics.
Many school, company or personal grids do not publish their numbers.
The raw data for this month's report is here. A list of all active grids is here.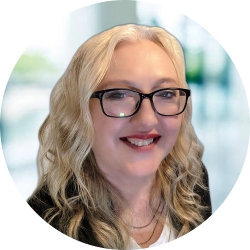 Latest posts by Maria Korolov
(see all)