Technology altering the way companies conduct business is nothing new. From devices like iPads, to the use of social media as a marketing tool, advances in technology have made running businesses more efficient. Now there is another emerging technology that is delivering promising results in every industry that's tested it—virtual reality.
Virtual reality is taking the business world by storm, and innovative companies from different industries are using it to drive results. Creating a virtual reality experience, however, can be difficult. More importantly, it can be challenging to get these experiences in consumers' hands. Luckily for businesses, Google Cardboard is an effective way to scale virtual reality experiences.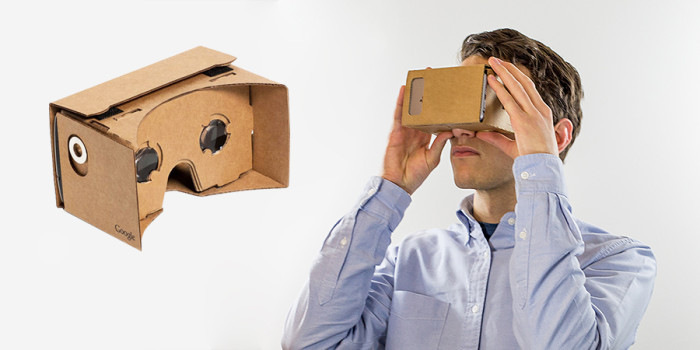 What is Google Cardboard?
To view a virtual reality experience, users need to wear a headset. The majority of these headsets such as the Oculus Rift and Sony's Project Morpheus are expensive, costing hundreds of dollars. Google Cardboard is an inexpensive version of a virtual reality headset designed to work with a user's smartphone. This is important because with Cardboards, organizations can create cost-effective, branded virtual reality headsets in bulk, which they can easily distribute to their audiences.
How does Google Cardboard work? The cardboard headsets are pre-cut and come with simple instructions on how to build the device. Once built, the user launches a virtual reality experience on their smartphone and inserts it into the headset.
How are brands using Google Cardboard?
Several top businesses and institutions have already used Google Cardboards to provide their audience with branded virtual reality experiences.
The Savannah College of Art and Design (SCAD) recently partnered with YouVisit to create a virtual reality experience. The college mailed 5,000 branded Cardboard headsets to prospective students who had been accepted into the school, but had not yet enrolled.
SCAD's virtual reality experience allowed prospective students to remotely explore SCAD's campuses in Savannah, Atlanta, and Hong Kong. The goal of the campaign was to persuade students that SCAD was the right school for them by helping them envision what it would be like to physically attend the school.
Other brands have also mailed Cardboards to specific audiences.
Recently, beauty retailer BirchBox included Google Cardboard headsets in its monthly care package for men. The company included the headsets in an effort to solidify its position as a discovery delivery platform for new products. BirchBox partnered with RiverStudios to create four unique 90 second virtual reality video clips that included surfing inside of a wave, driving a racecar, and a scenic helicopter ride.
Not to be left out, heavy hitters in the travel industry are also turning to virtual reality. Thomas Cook, who is working with Visualise, has been dabbling in virtual reality for some time now. Currently, in 10 brick-and-mortar stores across Europe travelers can strap on a Gear VR headset and experience "excursion" videos.
In June, Thomas Cook announced that it had plans to launch a new initiative with Google Cardboard playing a major role. The company said it would mail 5,000 brochures coupled with Cardboard headsets to select clients, and encourage them to view a virtual reality experience of Egypt.
In a recent article, Marco Ryan, CTO of Thomas Cook said Google Cardboard "is a huge sales tool that's scalable and affordable."
Cardboards are also being used to promote movies and other media. At this year's San Diego Comic Con it was reported that Lionsgate Films, Conan, and SyFy brought a collective 103,000 Cardboards to the pop culture event.
Lionsgate, which partnered with Legendary, used the headsets to promote two films, "Crimson Peak" and "Warcraft." Conan O'Brien's team handed out the headsets to promote the talk show host's 360-segments. Finally, showed off experiences for its new show "The Expanse." Both O'Brien's and SyFy's virtual reality experiences were created by Immersive Media.
Virtual reality is on the verge of becoming the next phase of the digital revolution, and with affordable virtual reality headset options like Google Cardboard, companies can begin taking advantage of the technology now, which will solidify their place as industry leaders. While some might say virtual reality hasn't hit the point where it's scalable, Google Cardboard shows otherwise.
Latest posts by Abi Mandelbaum
(see all)