Ever since I learned that people watched 350,000 hours of virtual reality videos on YouTube in the last two months of 2015, I've been noticing that there isn't that much content yet in the form of immersive videos. Other than porn, of course.
But there aren't any break-out YouTube VR stars yet.
I could be one of those stars … if I only had a 360-degree camera. (Yes, that's the ONLY thing that's missing!)
Based on what I've read, though, these cameras cost tens of thousands of dollars, and require complicated software to stitch all the video captured from multiple cameras into a single view.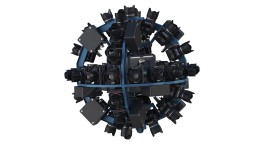 For example, the 360 Eye Professional camera rig from 360 Designs starts at $135,000.
The Odyssey Jump from Google and GoPro is expected to cost around $15,000.
Of course, I don't need a super-professional camera to shoot YouTube videos. Plenty of folks on YouTube shoot themselves on their phones and still have millions of followers.
But how do you do it? Plus, the "stitching" thing — where all the images from all the different cameras are smoothly connected together into one spherical view — is supposed to be really difficult.
So I was cautiously optimistic when the folks at 360fly, Inc. offered to send me their camera for review. But of course I said yes. I haven't written 1,800 articles and edited 600 others here at Hypergrid Business for no pay over the past seven years in order to turn down free gadgets now that virtual reality is finally hitting its stride!
Disclaimer: The 360fly camera I'm testing below was provided to me at no cost by 360fly.
Here is how it works. You unpack everything. You put the camera — which is about the size of a tennis ball — into its charging stand and charge it up. Then you put the camera where you want it to film stuff (an assortment of stands is provided).
You press a button on the side of the camera to turn it on, and a light flashes blue. You press that same one button to start recording, and the light turns red. You press that same button to stop recording, and the light goes back to blue again.
Literally, the single hardest part of the whole process was getting the camera out of its packaging.
If you don't want to stand next to the camera and push the record button, you can do it from your smartphone. The camera has a free iOS app and an Android app.
In addition to the remote control function, the smartphone screen can also show you a real-time view of what the camera sees. In 360 degrees! Creepy! I can totally see ways to use this for evil. Bwa ha ha!
You can also download the videos after the camera has done recording them, or delete them from the camera — it looks like you've got about 31 gigabytes of storage on it. I have about seven and a half minutes of video recorded, and it takes up just under 1 gigabyte.
The camera communicates with the smartphone via Bluetooth or WiFi.
The apps can also be used to edit the video and to post the video to two dozen different services, including email, YouTube, Instagram, Facebook and 360fly's own site.
There is no stitching required. You record. You trim. You upload. It is ridiculously easy.
But then again, putting pencil to paper is also easy, and I can't draw anything except stick figures. It turns out that 360-degree filming with the 360fly is a skill that takes seconds to learn but a lifetime to master. Or, at least, more than one afternoon.
Below is my first attempt to record a 360 video. Playing the guitar is my sister Kate. If you have a virtual reality headset such as a Google Cardboard, you can see the video in immersive view, as if you were sitting on the table in the middle of the room. Otherwise, you can use your mouse — or your finger, on a mobile device — to turn the video to look around the room.
Kate plays and sings professionally, so this video really does not do her justice.
I had to wonder — what did the 360fly guys do to make their videos look so good?
Like this video of giraffes in Africa:
Or this video, shot from the cockpit of a Super Hornet being launched from a carrier:
You can see a bunch more 360fly videos here.
So I got on the phone with Andy Peacock, head of content at 360fly, to find out why my videos weren't coming out as good as the demo videos.
First, he said, the videos on the 360fly website were shot by actual users and were not retouched in any way — no Photoshop, no Final Cut.
However, a video might come out better, he suggested, if the lighting was even and the subject of the video wasn't sitting in front of a giant window.
Other tips include keeping the camera flat, so that its little lens points directly up at the sky, and the base toward the ground.
Outdoor videos come out better, he added, on a bright day with just enough cloud cover to diffuse the sunlight.
Sometimes, though, it's inevitable that there's going to be more light on one side of the camera than another.
"Auto dashboards are one example," he said. "It's dark inside the car, and bright outside."
He suggested that, in that case, you first decide which part of the picture is more important. If you care most about the external scenery, then adjust the exposure settings so that they look good. If you care most about the people inside the car, adjust them the other way.
There's an exposure setting? That was new to me. But yes, in the two weeks between the time I got the camera and the time I stopped futzing around with it and sat down to write this article, they released a firmware update. Now  when you're recording a video, there's a settings gear that lets you change the brightness, contrast, saturation, exposure and ISO setting.
There is also a desktop app, the 360fly Director, that is available for both Windows and Mac, but it only offers only the most minimal cropping ability. But that will change in the future, Peacock said.
One of the most asked-for features is to be able to add a second audio track, for example, he said. The company is working on it.
The 360fly camera has only one opening for audio, with a little rubber stopper that goes inside it when it's wet outside. The idea is to have as few openings into the camera as possible, so that water and dust can't get in. This means that if audio is important, you will need to record it separately, and, for now, use a program like Final Cut to add it in.
And I, too, have some advice to add: when holding the camera in your hand to film, try to keep your fingers down. Even when you think they're safely out of camera view — they're not!
360 degrees versus 3D
One thing I have to add is that the camera does not shoot three-dimensional videos. It shoots 360 degree videos.
So if, for example, you want to shoot a video of a chair, you only get to see one side of the chair — the side that the camera is facing. You can turn your head and see what's to the left or the right of their chair, but only from the viewpoint of the camera. You can't walk around inside the video and see what the back of the chair is like. To do that, you would have to have multiple cameras and somehow convert all the different images into a 3D environment, or scan the chair and create a 3D model of it.
When you play immersive video games such as Call of Duty, you are inside a virtual environment and can move around in all directions.
But if you attach a 360-degree camera to a dog's head and let the dog run loose, you will be able to see the full view that the dog sees — plus extra, since you can look to the sides and to the back — but your point of view is still stuck on that dog's head.
Most concert and sports footage today is filmed with one or more 360-degree cameras. You sit on the stage and watch everything around you, or you sit in the audience, or you get to choose from a few different camera positions.
Another use of 360-degree videos and photos is real estate walk-throughs. For example, you could put a camera in the middle of the room and video the real estate agent walking around and describing everything, then do the same thing in the next room.
And when you put the video into virtual reality mode and put on the headset, it does feel like you are standing in the middle of that room as the real estate agent talks directly to you. But you can't walk over to the window and look out — unless that's one of the spots that the video was originally filmed from.
Now, the 360fly does not shoot super high-resolution movie-quality video. But it does shoot nice phone-quality videos, perfect for family gatherings or YouTube clips. Like the mice playing basketball, above.
I would definitely recommend this for home use, for travel videos, for people renting out apartments, and for would-be YouTube VR video moguls.
Competitive landscape
The 360fly is the first reasonably-priced 360-degree camera that I've tried.
Other competitors include the $800 Bublcam, the $400 Ricoh Theta, the $600 ALLie Cam, the $500 Giroptic 360cam, the $400 Kodak SP360, and the $450 V.360. You can also pre-order the $350 Luna on IndieGoGo, the $1,100 VRtake also on IndieGoGo or the $2,500 Sphericam 2. Preorders for the $1,000 Vuze Camera are expected to start this spring.
If you don't need a full 360 degrees — say, you're filming a talk show and don't really care if the viewers can turn around and see behind them — the 180-degree LucidCam is available for pre-order for $430.
Samsung is also getting into the game with the Gear 360, a two-lens camera that can shoot in either 180 degrees or full 360 degrees. No price has yet been announced.
Bottom line
Great price, super easy to use, and lots of fun. If you are an early adopter, or want to get in early and learn how to do 360-degree videos, this is a great camera to start with.
The camera is available at BestBuy for $400. The site also offers a variety of accessories.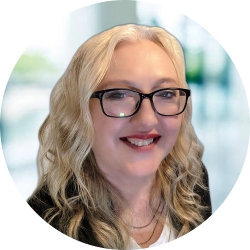 Latest posts by Maria Korolov
(see all)