Press release: Greenlight VR survey reveals U.S. consumers are most interested in using virtual reality for travel, entertainment, events, home design and education.
San Francisco –Â The latest consumer research from Greenlight VR reveals non-gaming categories, including travel, home design and virtual education, top of the list for virtual reality use cases currently capturing consumer interest.
The 2016 Virtual Reality Consumer Report offers detailed findings from Greenlight VR's recent survey of mainstream U.S. consumers on topics relating to experiences, attitudes and purchase intentions for virtual reality hardware and content.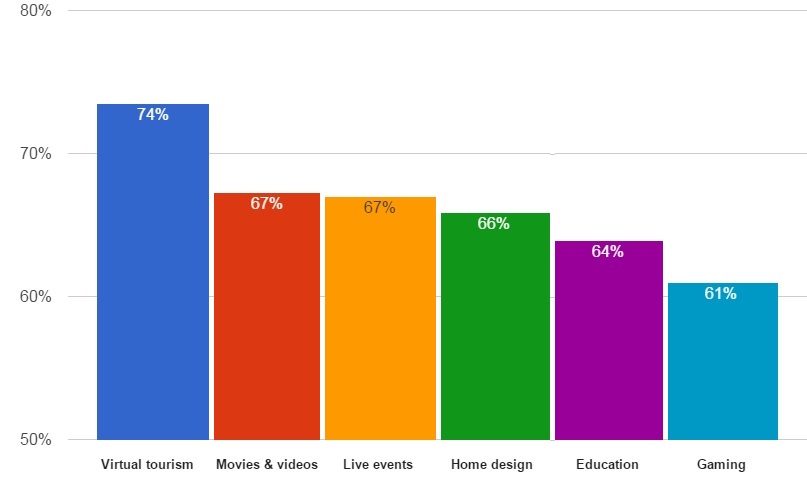 More than 1,200 survey respondents were asked about their level of personal interest in a number of virtual reality use case categories.
Surprisingly, gaming ranked sixth among these categories, with 61 percent of respondents stating they were "interested" or "very interested" in virtual gaming. The top six use case categories identified by consumers were travel, tourism or adventure (73.5Â percent), movies and recorded videos (67.3 percent), live events (67 percent), home design (65.9 percent), education (63.9 percent), and gaming (61 percent).
According to the report, these same interest patterns are present for important segments of the sample, such as "high-tech spenders," 76.3 percent of whom are interested or very interested in virtual travel and adventure experiences. This is well above the 68.9 percent of high-tech spenders who are interested or very interested in gaming. High-tech spenders also rated four other use cases as more personally interesting than gaming: movies and recorded videos (71.4 percent), live events – other than sports (71.2 percent), home design, remodeling or decorating (70.3 percent), and virtual education (68.2 percent).
"Virtual reality has always been more than a medium for gaming experiences and consumers understand that," said Clifton Dawson, CEO of Greenlight VR. "Our findings from multiple studies suggest that some players in the VR ecosystem may be overly focused on gaming. The reality is that consumers have a wide variety of interests for using virtual reality. Platform and content providers would be wise to consider these bigger, richer findings as they develop their content portfolio and marketing strategies."
Current users report favorable experiences
The report also reveals that among survey respondents who have used virtual reality, 86 percent rate their virtual reality experience as positive, and they are highly likely to seek out another virtual reality experience.
"Overall, we were struck by the strongly positive and broad interest in virtual reality in general, and in specific uses in particular," said Steve Marshall, senior vice president of research and consulting for Greenlight VR. "Given all the attention in the press, we expected to find gaming as the primary consumer interest in VR. The reality is consumers have a variety of interests in VR — starting with travel and adventure."
The report includes key findings from Greenlight VR's survey, conducted in June 2016, of over 1,200 U.S. consumers, ages 18-60, and includes users and non-users of virtual reality.
About Greenlight VR
Greenlight VR is the industry leader in business intelligence for the virtual reality global market. By maintaining the most comprehensive dataset of information on companies and consumer behavior for the Virtual Realitiesâ"¢, Greenlight VR provides global technology companies, Fortune 500 brands, and innovative startups proprietary research and advice to make better strategic decisions. Visit http://www.greenlightvr.com for more information and follow @GreenlightVR on Twitter.

Latest posts by Press Release
(see all)