Scroll to the bottom of this article for the infographic.
Virtual reality is a rapidly evolving market, which provides unlimited opportunities, and attracts a lot of newcomers. While the fastest growth in the industry is fed by the demand for video games and entertainment, the second biggest share belongs to healthcare applications.
Virtual and augmented technology has been already employed for diagnostics and treatment planning, training of future surgeons and dentists, treatment of severe conditions such as phobias, PTSD, autism, depression, addictions, and rehabilitation after life threatening diseases.
Here are some recent use cases.
1. Live streaming surgeries
Medical students often watch actual surgeries in order to learn how to do the procedures, and even experienced doctors benefit from learning new techniques and getting a refresher on old ones. But when the surgeries are filmed using virtual reality or 360-degree cameras, the viewers can actually feel as though they are right there in the operating room.
Dr. Shafi Ahmed, a cancer surgeon at the Royal London Hospital, recently broadcast an operation conducted upon a 70-year colon cancer patient using the software developed at his virtual reality startup, Medical Realities. More than 50,000 people around the globe watched the process on their smartphone and computer screens or virtual reality headsets such as the Samsung Gear, Oculus Rift or Google Cardboard.
Viewers were able to zoom in on Dr. Ahmed's movements and see the operation from different angles.
"I believe that virtual reality and augmented reality can revolutionize surgical education and training, particularly for developing countries that don't have the resources and facilities of NHS hospitals," Dr. Ahmed told The Guardian newspaper.
And last month, Amsterdam-based VR developer WeMakeVR and MDLinking.com, a Dutch startup with a secure communication platform for doctors, announced a service last week that creates picture-in-picture virtual reality videos of surgeries.
"This way of capturing surgeries can help students get a much better understanding of the roles and interactions within the medical team," Avinash Changa, CEO and founder of WeMakeVR, told Hypergrid Business. Read full story here.
Watch a 360-degree video of a hernia repair below, either with or without a virtual reality headset:
They were quickly followed by another surgery video platform, GIBLIB, which serves medical students and doctors. The videos are not available to the general public, but only for registered surgeons, residents and medical students. Read full story here.
2. Surgery planning
Virtual reality can also be used to explore three-dimensional scans of patients' organs in a way not possible with traditional methods.
For example, late last year, Dr. Redmond Burke, the chief of cardiovascular surgery at Nicklaus Children's Hospital in Miami, used a low-cost Google Cardboard headset to plan a surgery on a baby who was born with half a heart and only one lung.
The headset helped him see the 3D images of the baby's heart to figure out how to save her life. Read full story here.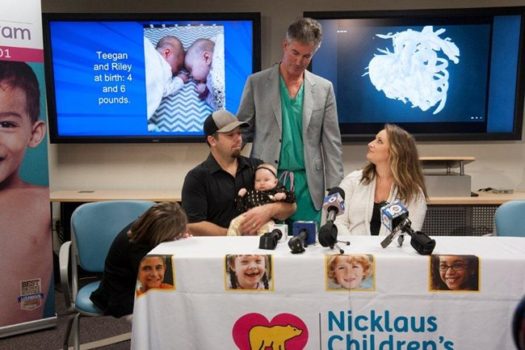 3. Pain relief
Numerous studies have shown that virtual reality experiences don't just distract patients from their pain, they can actually reduce the pain signals that reach the brain. Now, with the availability of low-cost, mobile-based virtual reality headsets such as Samsung's Gear VR and Google Cardboard, the technology is leaving the research labs and getting real-world applications.
Last week, for example, the Cedars-Sinai Medical Center rolled out the Pain RelieVR products from AppliedVR, which are virtual reality applications that help reduce the pain and stress of medical procedures. The hospital plans to use the apps in its Spine Center, its Department of Surgery and its Orthopaedic Center. Read full story here.
Watch a video about AppliedVR's anxiety-relieving relaxation experience below:
4. Treating mental conditions
In May, researchers from the University of Oxford reported that a virtual reality simulation of crowded trains and elevators could reduce paranoia in those who struggle to function in similar real-world situations. The patients were gradually introduced to the object of their fear, ramping up the exposure until they were able to cope without stress. Even a 30-minute session showed major reductions in paranoia.
Watch a video about the project below:
In fact, some phobia sufferers are already being treated with virtual reality. Michigan's VR Therapy and Counseling Center, for example, has found success treating patients that suffer from PTSD, social anxiety, and phobias using virtual reality, and won a $30,000 prize for their work. Read full story here.
There are even apps that you can download and try yourself. For those with a fear of heights, there's the BeFearless app on Gear VR, and the VR Heights Phobia app for Android users with Cardboard-compatible headsets. Those who are scared of spiders can try the VR – Spider Arachnophobia for Android.
Click on image below for full-sized infographic about how virtual reality is transforming health care:
Latest posts by Scott Kim
(see all)