Press release: More than 50 percent of consumers likely to purchase from brands that sponsor virtual reality, according to Greenlight VR
Greenlight VR's latest consumer survey reveals positive feelings for VR among users and nonusers alike, suggesting a powerful opportunity for marketers and other content creators.
SAN FRANCISCO — Greenlight VR's latest virtual reality consumer research suggests a powerful opportunity for marketers and other content creators, as users and nonusers alike express high interest and affinity for virtual reality.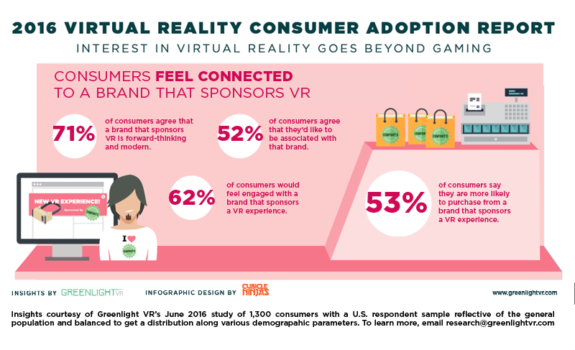 Among respondents, 71 percent agree that a brand that sponsors virtual reality is forward-thinking and modern, while 52 percent would like to be associated with that brand. Additionally, 62 percent would feel engaged with a brand that sponsors a VR experience, and 53 percent say they are more likely to purchase from a brand that sponsors a virtual reality experience.
"Greenlight VR has been researching consumer sentiment toward virtual reality since 2014, and this is our most conclusive study yet, tying together attitudes and intended action with branded experience exposure," said Clifton Dawson, CEO of Greenlight VR. "If the recent success of Pokemon Go isn't enough, this data provides concrete evidence to experience marketers who are currently designing for the new experience economy."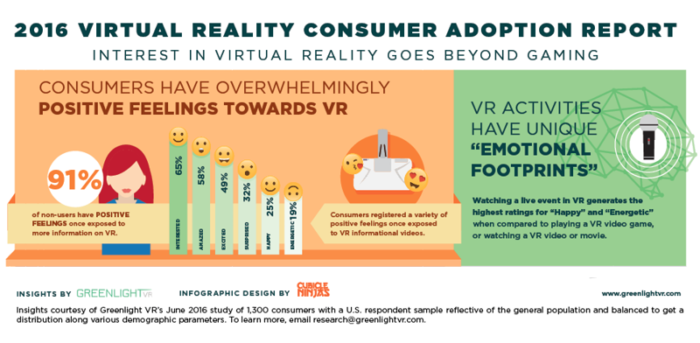 An overwhelming majority—91 percent—of respondents who had not used virtual reality previously had positive feelings about virtual reality when exposed to informational videos about virtual reality in the survey. Among these respondents, 65 percent said they were interested in virtual reality, 58 percent were amazed, 49 percent felt excited, 32 percent were surprised, 25 percent felt happy, and 19 percent felt energetic.
"We're seeing specific VR activities have unique emotional footprints, offering fascinating insights for those who are considering their VR strategies," said Steve Marshall, senior vice president of research and consulting for Greenlight VR. "For example, among our sample, watching a live broadcast event in virtual reality generates significantly higher ratings of positive emotions such as 'happy' and 'energetic' when compared with playing a VR video game."
Findings from Greenlight VR's consumer survey of almost 1,300 U.S. consumers, ages 18 to 60, are detailed in the new 2016 Virtual Reality Consumer Adoption Report, which provides a comprehensive, data-driven view of consumer opinions and expectations for major VR products, applications, content, prices and more. The survey was conducted in June 2016.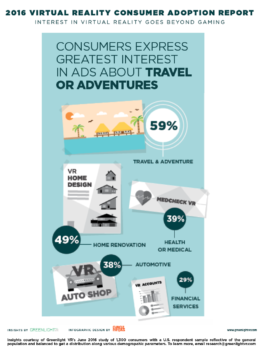 About Greenlight VR
Greenlight VR provides market insights for virtual reality to help global technology companies, Fortune 500 brands, and innovative startups make better strategic decisions. Visit www.greenlightvr.com for more information and follow GreenlightVR on Twitter.

Latest posts by Press Release
(see all)