Active user numbers on the OpenSim hypergrid  crossed the 80 percent share mark this month, reaching a new record high, while the hypergrid share of land area reached 95 percent, another new record high.
The hypergrid gained 1,781 new active users to reach a new high of 30,655, or 81 percent of all  37,703 actives. Closed grids actually lost 454 active users this month, with slight gains on Islands of Enlightenment, Virtual Highway and the Adult Grid not able to make up for InWorldz' loss of 612 actives.
However, InWorldz continued to bring in new users. The grid reported 1,737 new registrations this month, second only to Kitely's 1,978 registrations. These two commercial grids have been responsible for the largest share of new registrations for the past couple of years.
The total number of hypergrid-enabled regions rose by 4,747 to reach an all-time high of 71,019, while the number of regions on closed grids actually fell slightly.
OpenSim as a whole added 4,375 standard region equivalents this month to reach a new high of 74,727 Â regions.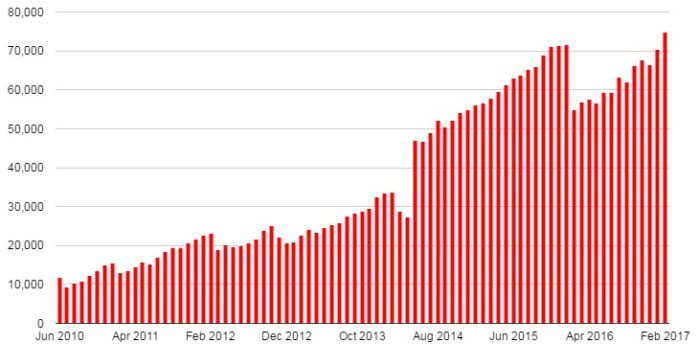 The number of closed active OpenSim regions went down by a huge 11 percent or 809 regions this month.
The largest grid in terms of regions remains OSgrid with 21,541 regions, followed by Kitely with 14,606 regions and Metropolis with 5,905 regions.
OpenSim is a free, open source virtual world platform that's compatible with the Oculus Rift. It allows people with no technical skills to quickly and cheaply create virtual worlds, and then teleport to other virtual worlds. Those with technical skills can run OpenSim worlds on their own servers for free, while commercial hosting starts at less than $5 a region — compared to $300 a region for the same land in Second Life.
A list of hosting providers is here. Download the recommended Firestorm viewer here. And find out where to get content for your OpenSim world or region here.
Popularity
When it comes to general-purpose social grids, especially closed grids, the rule of thumb is: the busier, the better. People looking to make new friends look for grids that already have the most users. Merchants looking to sell content will go to the grids with the most potential customers. Event organizers looking for the biggest audience… you get the idea.
The biggest gainer for active users this month was Genesis Metaverse, which switched its hosting provider last month. Its back end is now run by DigiWorldz, and the change seems to have paid off. The active user increase this month was the largest the grid has seen since it launched last September.
Top 25 most popular grids this month:
The hypergrid continues to function more like one large grid, with an increasing number of multi-grid events, communities, and groups. In fact, all the closed non-InWorldz grids put together only had 1,425 active users this month.
It's getting harder than ever for a closed grid to attract users. Most general-purpose social grids have already switched to the hypergrid in order to allow their users to visit other grids to attend events, go shopping, and hang out with friends. Some grids, however, do benefit from remaining closed, including school grids and those with proprietary gaming content.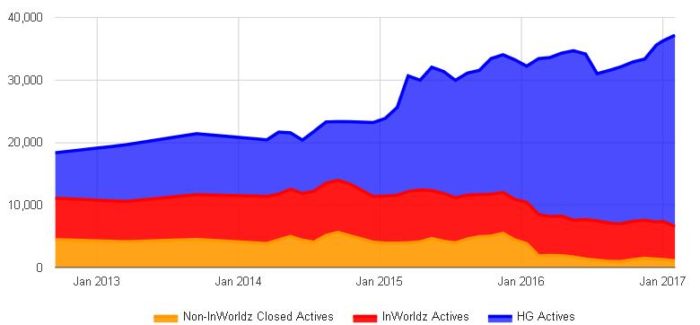 InWorldz retained its spot as the most popular grid despite reporting a net loss of 612 active users this month. That grid's share of all active OpenSim users has fallen from a high of 40 percent in the summer of 2012 to its current low of just 15 percent. But the next-most-popular grid, OSgrid, still has a long ways to go before it catches up.
When InWorldz first launched, it offered a premium experience with the largest variety of commercial content available in OpenSim. Since then, the Kitely Market has begun offering a large and very fast-growing collection of products that can be delivered to most other OpenSim grids.
The hypergrid also offers more renting options for users, with average prices lower than on InWorldz, and some grids allow users to connect their own home-based regions for free. In fact, several grids offer free parcels or even entire regions to users. As a result, hypergrid-enabled grids currently account for 95 percent of all OpenSim land area.
The full list of all hypergrid-enabled grids, ranked by traffic numbers, can be found here.
Help OpenSim by shopping on Amazon
You can now support OpenSim testing and development when you shop at Amazon — at no extra cost to you.
OSgrid, a non-profit, has created an Amazon Smile account. Just visit the link, make this your default shopping option, and from then on, whenever you make a purchase, Amazon will make a donation to OSgrid.
It's the oldest grid. The grid with the most user-connected regions. And the grid that's the official testing ground for OpenSim development. By running cutting edge versions of OpenSim, the grid is able to subject the software to large-scale, real-world testing.
Due to its size, OSgrid is able to push OpenSim to its boundaries, and beyond. Lessons learned are then incorporated into core code, and benefit all grid owners.
OSgrid is an open grid, allowing anyone to connect regions, both home-based and professionally hosted. That means a lot of stress on centralized grid services, which are run on servers paid for by donations. Supporting this grid helps home users, schools, non-profits and others have unlimited free regions on a major grid. Plus, many third-party hosting companies offer regions on OSgrid and the competition helps improve service and drive down prices.
Because of its size, popularity and low prices, OSgrid has become an incubator — for communities that start out here then go on to launch their own grids, and also for OpenSim hosting companies, some of which have started out by offering regions on OSgrid and then expanded to offer complete hosting services.
So sign up for Amazon Smile for OSgrid, or make a donation directly on OSgrid's donation page.
Logicamp recovers after malware attack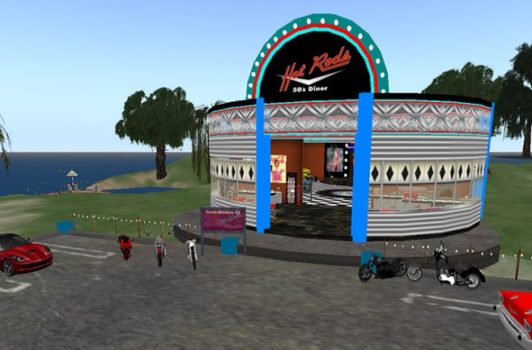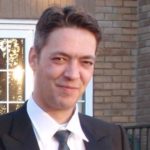 Unfortunately, it was not possible to recover user accounts created last year, Logicamp grid owner Didier Preud'homme told Hypergrid Business.
"Those who created an avatar on Logicamp last year must therefore recreate an avatar," he said.
The grid is now much more stable following the installation of an external router, he added.
"I have some free regions to distribute so those interested can contact me by internal messaging or by mail to the address
[email protected]
indicating 'FREELAND' as object of the message," he said.
Second World up after upgrade, with new currency
Second World grid, which went off the air for 15 days since January 26 for an upgrade, has reopened.
Updates include a new currency system, where Podex will now be providing the system for managing currencies, sale and purchase, redemption and merchant payment processing, grid owner Logan Hunter told Hypergrid Business.
Existing users have not lost any money due to the upgrade, he added, since the previous currency was distributed for free to members.
New airplane on Neverworld Grid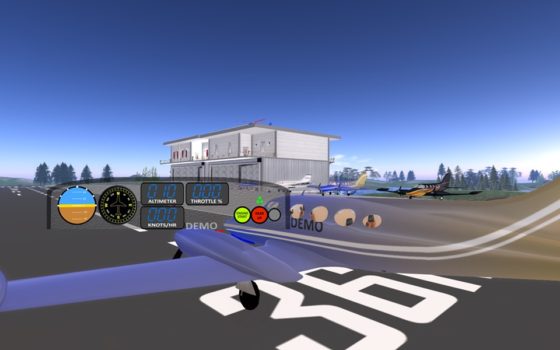 Neverworld Grid now has a new airplane at the Banning International Airport. It is a HUD with realistic indicator controls.
"We have gotten really good reviews from people around the hypergrid on the plane," Neverworld grid owner Govega Sachertorte told Hypergrid Business. "In my opinion, it is the best one in OpenSim."
All set for the Cornflakes Week  and other events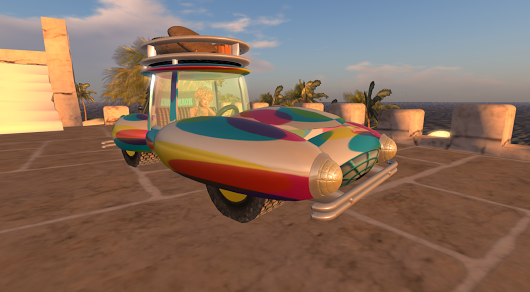 OpenSim community is celebrating Cornflakes Week the last week of this month to celebrate silliness, and a number of grids are participating in this year's event, including OSgrid, Craft, FrancoGrid, 3rd Rock Grid, Lighthouse Point Grid, Kitely, Radiola and Metropolis with safaris, a big hypergrid-wide party and other parties, dances and concerts from February 21 to 28.
You can also collect event items from hypergrid.org:8002:Cornflakes Tribute region and watch everything unfold on the Cornflakes Week Community Google Plus page.
Tangle Grid's Mesh Expo now open
Tangle Grid is revamping its hypergrid expos with a number of events this year.
This month, it's hosting the Mesh Expo, which started on Sunday, February 5 and runs until Sunday, March 5 where participants will build using mesh and display their builds for others to see.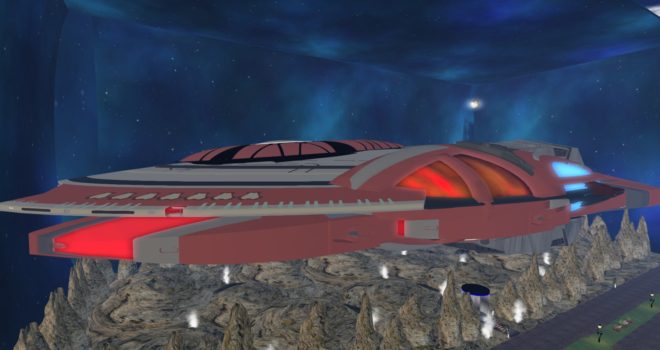 The grid will also host the Arts and Pictures Expo scheduled for April 2 to April 30, Sci-Fi Expo from May 7 to June 4, the Halloween Expo starting on Sunday, October 15 and the Winter Expo starting on Friday, December 1.
"We have made a two-by-two var region with a new expo center," Tangle Grid co-founder Leslie Kling told Hypergrid Business. "The grounds will hold almost anything you want to show off at the expo."
The hypergrid address is tanglegrid.net:8002:Expo Isle.
Konk Combat Grid opens with new role play system
The Konk Combat grid has just opened to the public and features a multi-grid role play and combat system. In addition to role play features, it also offers the ability to create games and and combat sims. Users can practice crafting, fishing, picking lock and many other skills.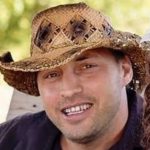 The grid currently has three regions running the system.
The Konk Combat Role Play and Game Builder is also available on the Kitely Market, as are other related products.
Konk grid owner Mica Breen told Hypergrid Business that he decided to expand from the Kitely Market to his own grid in order to make the products more affordable.
The basic system costs US $10, and the full system, with all its add-ons, costs $50 on the Kitely Market.
"Now we allow anyone who rents a sim from us to use this system at no extra charge," he said. "Our sims are 15,000 prims for $15 a month including an easy-to-use hud to set up the combat and role playing."
The hypergrid address is konk-grid.net:8002:Konk Grid Welcome Area
Infinite Metaverse Alliance launches to help share code and tools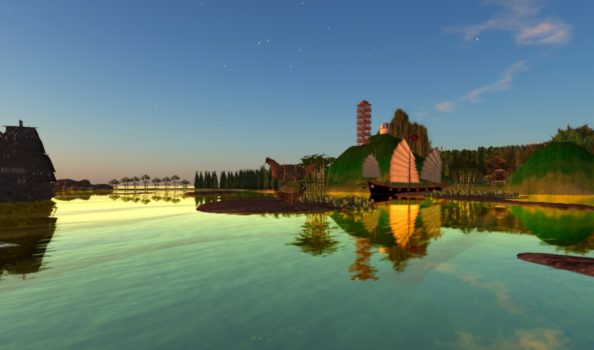 Infinite Metaverse Alliance, a research and development philanthropic foundation, has launched with the goal of advancing virtual worlds and virtual reality technology. According to its announcement, it will offer source code, easily understood and accessible software, grid hosting, grid research, private online meeting tools, chat room tools, shared presentation tools, voting tools, and desktop sharing tools among other things.
Community, professionals, academia, non-profits, and businesses are all open to join as members.
The community now has an Infinite Metaverse Alliance test grid running on the Halcyon version of OpenSim. Â Halcyon, which is currently being developed by the US Army's Moses project, does not support hypergrid teleports yet.
VirTec Vend network
InWorldz was the busiest grid last month on the VirTec vending network, with 14 merchants and a total of 276 transactions. Genesis Metaverse was in second place, with 205 transactions divided between six merchants.
Total revenues on the top 15 grids on the network was $569, when converted to US dollars.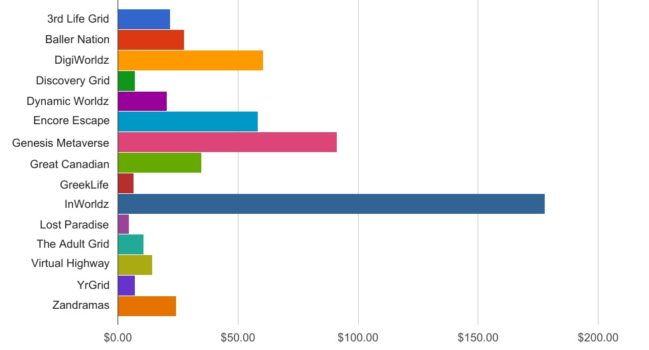 VirTec is an in-world shopping platform that works with local grid currencies or Gloebits.
For more information, visit the VirTec region on the DigiWorldz grid at login.digiworldz.com:8002:VirTec, or buy the machines from the VirTec store on the Kitely Market.
Transitions
In addition to the Konk Combat Grid and the Infinite Metaverse Alliance another new grid added to our database this month was Vibel.
The following 10 grids were suspended this month:Â Bess Research, Montefiorino, Open Dream, Osirus, Revo Grid, Sunlight, Tellus, Twilight Grid, Virtual Final World, Watcher's World
Grids that have been suspended for more than two months will be marked as closed. If your grid isn't on the active grids list, and not on the suspended list, it may have been marked closed when it shouldn't be. Please let us know.
And if there's a public grid we're not tracking, please email us at [email protected]. There's no centralized way to find OpenSim grids, so if you don't tell us about it, and Google doesn't alert us, we won't know about it.
By "public," we mean grids that allow hypergrid visitors, or have a website where people can register for or request accounts.
In addition, if a grid wants to be included in the monthly stats report and the most active and largest grid lists, it needs to have a stats page that shows the number of unique 30-day logins, and the total number of regions on the grid. In order for the grid not to be undercounted, 30-day active users stat should include hypergrid visitors, and the land area should be in the form of standard region equivalents, square meters, or square kilometers.
February Region Counts on the Top 40 Grids
The list below is a small subset of existing OpenSim grids. We are now tracking a total of 1,204 different publicly-accessible grids, 259 of which were active this month, and 185 of which published their statistics.
All region counts on this list are, whenever available, in terms of standard region equivalents. Active user counts include hypergrid visitors whenever possible.
Many school, company or personal grids do not publish their numbers.
The raw data for this month's report is here. A list of all active grids is here. And here is a list of all the hypergrid-enabled grids and their hypergrid addresses, sorted by popularity. This is very useful if you are creating a hyperport.
You can see all the historical OpenSim statistics here — dating all the way back to 2009. Including polls and surveys.
Below are the 40 largest grids by total land area, in terms of standard region equivalents.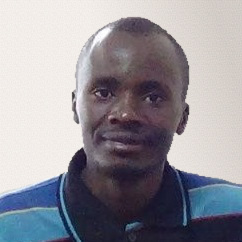 Latest posts by David Kariuki
(see all)