OpenSim grids reported a net fall in both regions and active users this month, but the regions drop was due to one grid with server issues, and the active users drop was due to a couple of grids that had problems with their stats.
Overall, OpenSim lost 975 active users this month, with DreamNation, which had 559 actives last month, not reporting its active user numbers and Sinful moving to a new hosting provider. The Public World also suffered some server issues, resulting in a drop of more than 400 actives on that grid alone.
And the number of regions went down by 839 standard region equivalents, as Virtual Worlds Grid turned off the less-used servers to allow for a greater than usual load on its welcome regions. That led to a net drop of 2,380 regions on that grid alone.
Without these issues, both land area and active user numbers would have shown an increase this month.
Meanwhile, registered user numbers went up by 13,228, the highest gain in the last two years.
There are now 272 active grids, which represents a six percent increase or an additional 16 grids this month.
Party Destination Grid gained the highest number of registered users — 3661, but that's only because they just made their grid public and we added their data to our list this month. They still had the registered users or most of them before becoming public. Kitely gained 2028 and InWorldz gained 1551 new registered users. All the rest had less than 500 new registered users with OSgrid closest at 452 and Island Oasis 328.
The number of hypergrid enabled regions, which reached a record high in January, fell by 700 regions this month.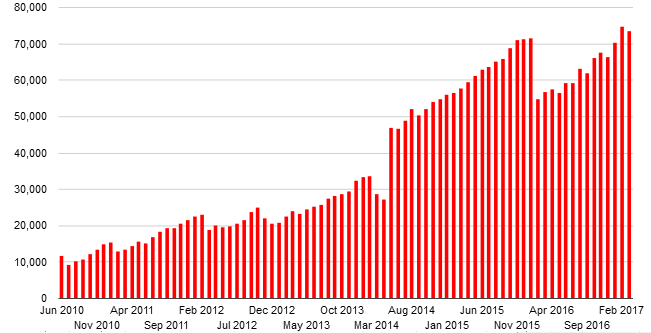 OpenSim is a free, open source virtual world platform that's compatible with the Oculus Rift. It allows people with no technical skills to quickly and cheaply create virtual worlds, and then teleport to other virtual worlds. Those with technical skills can run OpenSim worlds on their own servers for free, while commercial hosting starts at less than $5 a region — compared to $300 a region for the same land in Second Life.
A list of hosting providers is here. Download the recommended Firestorm viewer here. And find out where to get content for your OpenSim world or region here.
Popularity
When it comes to general-purpose social grids, especially closed grids, the rule of thumb is: the busier, the better. People looking to make new friends look for grids that already have the most users. Merchants looking to sell content will go to the grids with the most potential customers. Event organizers looking for the biggest audience… you get the idea.
Top 25 most popular grids this month:
The Party Destination Grid is on the most popular list for the first time. The grid, which had previously run in private mode, opened up to the public this month and we began tracking its stats.
As mentioned before, Sinful Grid and The Public World both saw a drop in active user numbers. The other biggest change on this list was that InWorldz lost 210 active users, though it retained its spot as the most popular grid.
InWorldz' share of all active OpenSim users has fallen from a high of 40 percent in the summer of 2012 to its current low of just 15 percent. But the next-most-popular grid, OSgrid, still has a long ways to go before it catches up.
InWorldz also has the highest number of registered users of any grid, at 164,806, with OSgrid in second place at 115,300. InWorldz is also a grid that brings in a lot of new users. This month, it reported 1,551 new registrations, second only to Kitely with its 2,018 new users.
InWorldz is a closed commercial grid, meaning that users cannot teleport to other grids, go shopping on other grids, attend events there, join hypergrid groups, or send messages to friends on other grids. OSgrid and Kitely both allow their users to teleport to other grids.
In fact, many closed grids have either been moving to the hypergrid, losing users, or shutting down over the past few years. Today, non-InWorldz closed grids total just 1,526 active users, or about 4 percent of OpenSim's active user base.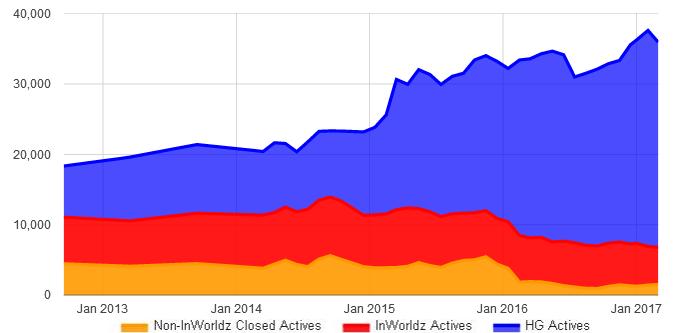 The hypergrid also offers more renting options for users, with average prices lower than on InWorldz, and some grids allow users to connect their own home-based regions for free. In fact, several grids offer free parcels or even entire regions to users. As a result, hypergrid-enabled grids currently account for more than 95 percent of all OpenSim land area.
The full list of all hypergrid-enabled grids, ranked by traffic numbers, can be found here.
Kitely Market now reaches 185 grids
Kitely's online shopping platform, the Kitely Market, now exports to a total of 185 OpenSim grids. There are currently 9,104 products listed in Kitely Market containing 17,429 product variations, of which 12,502 are exportable.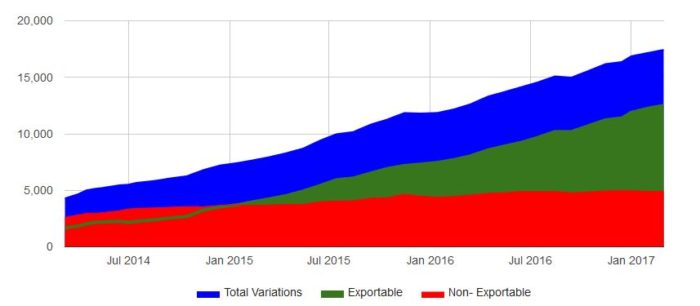 Ever since Kitely turned on the hypergrid export functionality, exportable content has been growing at a much faster rate than non-exportables, as merchants increasingly become comfortable to selling to the hypergrid.
VirTec Network sales down slightly
The total revenue for the 72 merchants using the VirTec vending network for the month was $475, a drop of 17 percent from last month.
InWorldz still had the highest number of merchants with 14 merchants, followed by DigiWorldz with 10 merchants, although Genesis Metaverse had the highest number of  transactions with 195 transactions. InWorldz had 179 transactions while DigiWorldz had 90 transactions.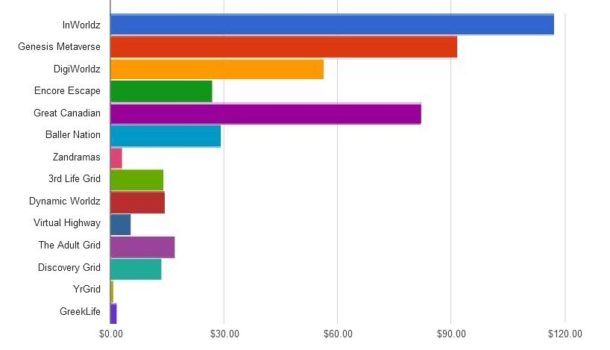 Twelve more grids adopt Gloebits multi-grid currency
The number of grids that use the Gloebits currency on one or more regions has grown from three to 15 over the past month, Gloebits CEO Christopher Colosi told Hypergrid Business, and the list now includes OSgrid and DigiWorldz.
Some of the grids accepting Gloebits are listed on the Gloebits app discovery page.
"I expect to see a couple more pop up on the discovery page by the end of the week," Colosi said.
For example, one grid which has recently deployed the currency is 3rd Life Grid, which now has two Gloebits shopping regions. Both local and hypergrid merchants can sell products on these regions. Creators from other grids can contact DJTommy Seetan to set them up with the shop, grid spokesman Gary Justus told Hypergrid Business.
The hypergrid address is 3rdlifegrid.com:8002:3rdlife Stores 3.
Sinful Grid has also added a shopping region named Sinful Grid Gloebit Mall just for Gloebit purchases. The grid is offering free stores, each with up to 400 prims.
The hypergrid address for the Gloebits Mall is login.sinfulgrid.com:8002:Sinful Grid Gloebit Mall.
Grids can opt to have the entire grid use the Gloebits currency, or enable individual regions. Other regions can have no currency at all, or a grid's own currency. More info about Gloebits and how they work is here.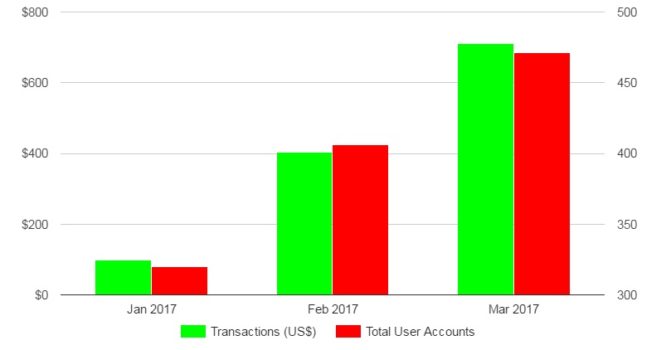 Gloebits processed about 100,000 Gloebits, the equivalent of about US $400, between January 28 and February 28, and this month is on track to process about 180,000 Gloebits, or $720, said Colosi.
The currency first launched last summer, on Mobius Grid, but really took off last month when the platform began allowing merchant cash-outs.
In addition to more grids signing up, more users did as well. Gloebits had 200 people using the currency as of the end of 2016, and has more than doubled since then to 471.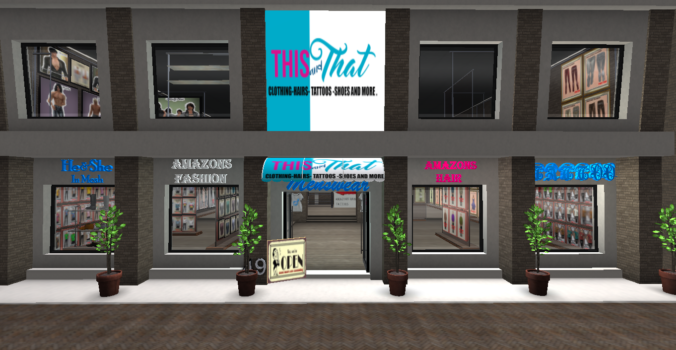 AviWorlds is back online, and back in the garage
After a short-lived experiment with getting hosting from a solid, reputable provider, AviWorlds is back in its garage after the owner failed to pay for their servers on time.
The grid has also changed its loginURI, to login.aviworlds.com:8002.  A few regions are back online and the grid is open to visitors. There's no website yet, but the Facebook page is back up.
The rest of the functionality will be built by this summer, grid owner Alexsandro Pomposelli told Hypergrid Business.
"Its not full power yet," he said. "It has a few regions online until June, when I will go full power with ads, bill boards on the beach in Brazil and also building structure for the grid."
And he still plans to give away 1,000 free regions.
"Only the ones that can build an entire region, knows how to build or can pay someone to build it for them will qualify for the free region," he said. "The ones that cant build yet will get a plot 4,096 square meters with 937 prims already built for them with a home and all."
The grid shut down earlier this month with no warning to residents. At first, because the social media accounts were also closed and Pomposelli could not be reached by anyone, we counted the grid as closed. But since it was up relatively quickly, and there was no official announcement of closing, we're going to count it as a temporary outage instead of a full shutdown. That means that AviWorlds has closed up shot nine times, and is now in its tenth incarnation.
Public Grid is back online, has a new server
Public Grid, which had some server issues for a few days, is now back online and running, and most of the regions are back as well, according to a Saturday post. Owners of affected avatars may need to re-register. The loginURI has not changed and is still thepublicworld.de:8002 but users may need to double-check that their viewer settings are correct.
The grid has put in place a second server to avoid future problems but is testing everything on it before bringing it online, said the announcement.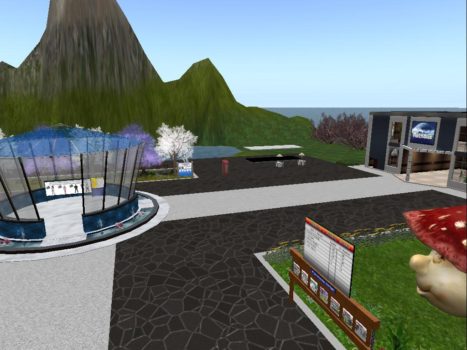 Party Destination, PMGrid offering free land
Party Destination Grid, a closed grid that has been in testing for two years and opened to the public this year, is offering its first 100 regions for free to content creators, of which 50 regions are still left. Communities or schools can also claim free land for learning and teaching purposes.
Those who claim the free land  are required to create content for the free region within four months. But users can also opt for a plot measuring 7400 sqm or a store if a region is too big for you to create and fill content, grid owner Aleš Moškon told Hypergrid Business.
"We allow users to upload OAR or IAR files but first we all check with our own mechanism if everything is legal," he said.
Once testing is done, the team will charge US $27 for a full region.
The grid is not hypergrid-enabled, but is currently working on setting up Kitely Market deliveries.
The lack of hypergrid access is due to security concerns, he said.
"As we all know hypergrid is not so great if it's in the wrong hands," he said. However, they have users from all over the world, he said.
Another grid which has recently announced a new free land offer is PM Grid, one of the oldest grids in OpenSim. The grid celebrated its ninth anniversary last month and is hypergrid-enabled.
The grid is offering free regions to builders and the land is given according to what the user wants to use it for, grid owner Bob Wellman told Hypergrid Business.
"I talk to them to see what they want build and try to, as far as I can, allocate enough land for that," he said. "That could be a parcel a standard region or a large var region. The only proviso is use it or lose it."
More free land options are listed on our Free Land in OpenSim page.
Sinful Grid moves to DigiWorldz hosting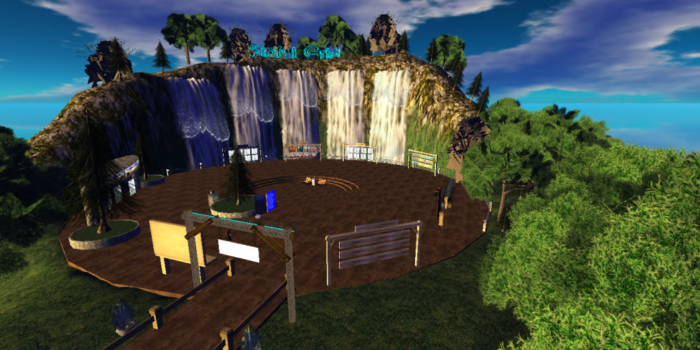 Sinful Grid has moved to DigiWorldz, a change that has come with some upgrades and new functionalities such as search and offline IM to email. Users need to update the viewer URL to loginsinfulgrid.com:8002  and migrate their account to the new service to change to the new control panel, Sinful Grid CEO Tony Moore told Hypergrid Business.
The grid has also posted new land prices, with a 15,000-prim region available for $14 per month.
Users who rented regions under the previous price schedule can keep their existing prices, Moore added.
Transitions
Twelve new grids were added to our list this month, including Party Destination Grid, Gnosis Grid, UpSideDownFriends, Survgrid Otago, OpenSim Pride 2017, WedjLok, MisFitz Grid, Relic, Microgrid Sundance, Ancient Rome and Outworldz.lnk.
The following 11 grids were suspended this month: Bess Research, HyperWild, KoolPheller Estates, Montefiorino, Open Dream, Osirus, Regno Di Camlaan, Second World, Unreal, Virtual Final World, and Watcher's World.
Grids that have been suspended for more than two months will be marked as closed. If your grid isn't on the active grids list, and not on the suspended list, it may have been marked closed when it shouldn't be. Please let us know.
And if there's a public grid we're not tracking, please email us at [email protected]. There's no centralized way to find OpenSim grids, so if you don't tell us about it, and Google doesn't alert us, we won't know about it.
By "public," we mean grids that allow hypergrid visitors, or have a website where people can register for or request accounts.
In addition, if a grid wants to be included in the monthly stats report and the most active and largest grid lists, it needs to have a stats page that shows the number of unique 30-day logins, and the total number of regions on the grid. In order for the grid not to be undercounted, 30-day active users stat should include hypergrid visitors, and the land area should be in the form of standard region equivalents, square meters, or square kilometers.
March Region Counts on the Top 40 Grids
The list below is a small subset of existing OpenSim grids. We are now tracking a total of 1,216 different publicly-accessible grids, 272Â  of which were active this month, and 194 of which published their statistics.
All region counts on this list are, whenever available, in terms of standard region equivalents. Active user counts include hypergrid visitors whenever possible.
Many school, company or personal grids do not publish their numbers.
The raw data for this month's report is here. A list of all active grids is here. And here is a list of all the hypergrid-enabled grids and their hypergrid addresses, sorted by popularity. This is very useful if you are creating a hyperport.
You can see all the historical OpenSim statistics here — dating all the way back to 2009. Including polls and surveys.
Below are the 40 largest grids by total land area, in terms of standard region equivalents.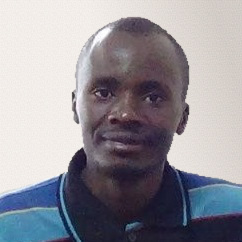 Latest posts by David Kariuki
(see all)