Update: I've added numbers for more than 40 additional grids since this article first run, and now the active user numbers show an increase of more than 2,000.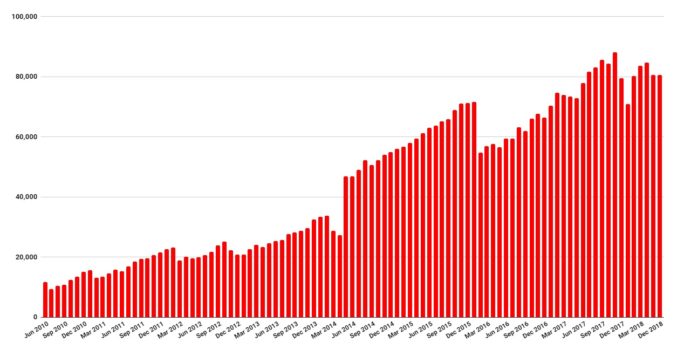 I've run the stats for OpenSim this weekend, and here are the results:
The land area is down by the equivalent of 702 regions compared to last May, registered users are down by 202,509, but active monthly users are up by 2,286.
The big drop in registered users is due to the fact that InWorldz closed this summer. The drop in region stats is most likely due to the fact that I only collected data from 192 grids this month, compared to 217 in May.
A lot of grid stats pages are not accessible by my database because they moved, changed their layout, or have HTML codes that my database can't read. In addition, new grids may have appeared that I missed.
There are also some grids that are down temporarily right now:
In other news, Virtual Highway is shutting down before New Year, the grid announced on its website.
InWorldz successor Islandz is up, and, according to its login screen, more than 600 people have made their way over from InWorldz. You can transfer your account here. I did, and it works, and I was able to log in by pointing my Firestorm viewer to login.islandzvw.com:8002.
There's also another new grid with a similar name, Islandz Life. Unlike Islandz, Islandz Life is accessible via hypergrid, at islandz.life:8002.
If your grid isn't included in any of the above lists, or if you have news updates, email me at [email protected].
Remember that people like to see numbers, even if they aren't as big as those of other grids — many people prefer smaller, more personal grids. Plus, folks do check out the grid reports and the stats lists to look for new grids that they might not have visited yet, and each listing is also an inbound link that helps with your grid's search engine visibility.
Most popular grids
Here is the list of the top 25 most popular grids this month by reported traffic numbers.
We count hypergrid visitors in the active user numbers. For merchants selling items, or event organizers holding events, the fact that there are 100 people on the grid is the important statistic, not whether those people logged in directly or hypergridded in. Yes, that means that some users are counted twice — but they'd still be counted twice if they logged out of the first grid and logged into the second one.
Top 25 most popular grids this month:
Hypergrid-enabled grids accounted for 98 percent of the active users this month, and the only top-25 grid that is not hypergrid enabled was DreamNation, and its active user numbers have been falling over the past year. At the end of 2017, the grid reported 551 active users, so it's lost about a sixth of its active user base.
DreamNation was one of the main three closed grid destinations for InWorldz refugees. In a survey this summer, most former InWorldz residents said that they were moving to hypergrid-enabled grids — the top three were DigiWorldz, Discovery, and Kitely — but some also said that they were planning to relocate to two other closed grids, Virtual Highway and the Tag Grid. Nobody mentioned DreamNation. Virtual Highway didn't seem to benefit from this, and is closing down. Tag, formerly known as The Adult Grid, does not publish its active user numbers.
Top grids by land area
This list only includes the 192 grids that have published usage data this month. Some grids may have been down for maintenance, relocation, or were shut down since our survey last month. 'Regions change,' 'Users change' and 'Actives change' refers to how many more regions, registered users, and active users the grid reported compared to the previous month. This list includes standalones and mini-grids as well as full grids, as long as members of the public can create accounts or teleport in via the hypergrid.
Top 40 grids by land area:
Land area is counted in terms of standard region equivalents. So a grid with a ten-by-ten varregion is the same size as a grid with a ten-by-ten megaregion, and is the same size as a grid with a square of 100 standard regions. It looks different inside the database, but it looks the same to visitors. We use the standard region equivalents numbers whenever available.
Again, hypergrid-enabled grids accounted for 98 percent of the OpenSim land area.
The hypergrid is also responsible for nearly all of the growth on the Kitely Market.
According to Kitely CEO Ilan Tochner, the Kitely Market now delivers to 302 different grids. Hypergrid-enabled grids can accept Kitely Market deliveries by default unless the grid owners decide to turn off the functionality. Closed grids can choose to accept Kitely Market deliveries to their residents by following these steps.
Today, the Kitely Market offers 13,476 products listings, containing 27,221 product variations. Of these, 21,977 — 81 percent — are sold with the export permission, meaning that they can be bought by residents of other grids for direct delivery to their foreign avatars. The exportable products can also be purchased by Kitely residents who wish to wear them on their travels to other grids.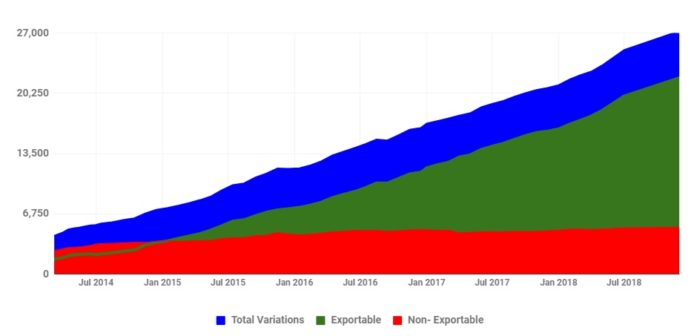 If you have commerce statistics you'd like me to add to this post, or data about your grid, please email me at [email protected].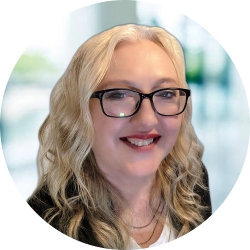 Latest posts by Maria Korolov
(see all)