The number of active users on OpenSim increased by more than 3,000 this past month, and land area grew by over 2,000 regions as people continue to wait out the pandemic.
Meanwhile, if OpenSim users are wary of attending real-world Fourth of July events, OpenSim grids, including Tag Grid and Littlefield, are stepping up with virtual alternatives.
In terms of land area, OSgrid , OpenSim's largest grid, was also the fastest growing, picking up the equivalent of 1,862 standard regions. DigiWorldz and AviWorlds followed, at 373 and 108 regions each respectively.

OSgrid also brought in the most new user registration, at with 754 new avatar accounts, followed by Kitely with 707.
These stats do not include most of the grids running on OutWorldz' DreamGrid distribution of OpenSim, or private company or school grids who used other installers.
As of last month, OutWorldz has counted a total of 1,893 grids so far, out of which 744 are DreamWorlds, meaning they are created with the Dreamworld software owned by OutWorldz. The rest are created with other software. Out of the total of 1,893 grids, 934 were reported as online this month so far. The rest are offline or closed.
Still, out of the 1,893 grids, 1,380 grids cannot be reached via the hypergrid teleport or metaverse because they are either private grids, totally offline, or are operating behind a firewall. Out of the total of the rest 513 grids that are hypergriddable, 259 are online hypergriddable Dreamworlds.
Over 90 percent of all the grids use an OutWorldz subdomain, and the rest have their own website address, or just use an IP address instead of a URL.
OpenSim is a free, open-source virtual world platform that's compatible with the Oculus Rift. It allows people with no technical skills to quickly and cheaply create virtual worlds, and then teleport to other virtual worlds. Those with technical skills can run OpenSim worlds on their own servers for free, while commercial hosting starts at less than $5 a region.
A list of hosting providers is here. Download the recommended Firestorm viewer here. And find out where to get content for your OpenSim world or region here.
You can also add your grid in the stats if it is not being crawled by OutWorldz. OutWorldz also provides OpenSim users with free mesh items, OARs, and free seamless textures that you can download and use on your grids.
Top 25 grids by active users
When it comes to general-purpose social grids, especially closed grids, the rule of thumb is: the busier, the better. People looking to make new friends look for grids that already have the most users. Merchants looking to sell content will go to the grids with the most potential customers. Event organizers looking for the biggest audience… you get the idea.
Top 25 most popular grids this month:
ZetaWorlds was the biggest mover on the list, adding 276 new active users this month. Alex Pomposelli's new venture, Virtual Ville, is also picking up steam, with 214 new active users, followed by Eureka World with an increase of 197 active users. But Pomposelli's old grid, AviWorlds, also increased in traffic with an increase of 192 actives.
The actives list is based on active, unique 30-day user login numbers that grids report on their stats pages. Those grids that don't report their numbers might be just as popular, but we wouldn't know. The active user stats are also used to generate the popular hypergrid destinations list, which is useful if you have a hyperport and want to put up gates to the most popular grids, or include the most popular grids in an in-world directory.
This list is also a good place to start if you want to open up new stores or hold events, or are just looking for places to visit.
Here some information on how and why you should set up a stats page for your grid. Of course, not all grids need a stats page, especially grids that aren't open to the public, like school grids, private company grids, small family grids, and so on. From prior surveys, this "dark metaverse" of OpenSim grids might actually be bigger than the one we know about, because those grids don't need to promote themselves, and we never hear about them.
Kitely Market
There are currently 16,884 product listings in Kitely Market containing 34,108 product variations, 29,000 of which are exportable.
The Kitely Market, which is the largest collection of legal content available, has delivered orders to 435 OpenSim grids to date, both hypergrid-enabled and closed, private grids. (Instructions for how to configure the Kitely Market for closed grids are here.)

Latest Firestorm update now supports Second Life and OpenSim
The latest Firestorm update now allows anyone to use the viewer to browse virtual worlds built on both the Second Life and OpenSim virtual worlds.
The update brings support for Bakes on Mesh in both Second Life and OpenSim. Read more about Bakes on Mesh in OpenSim here.
Tag celebrates Fourth of July with building contest
The Tag Grid is currently hosting a building contest with a Fourth of July theme. It started on June 6 and will run until Sunday, July 5. The winner will receive $10,000 x's – the grid's virtual currency, while the second place will take home $5,000 x's and third place $2,500 x's.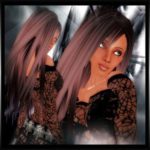 "On Sunday, July 5, we will have fireworks by PyroVR Fireworks and we will announce the winners of the build contest during that event," grid owner Constanza Amsterdam told Hypergrid Business.
Since Tag is not on the hypergrid, those who wish to participate will need to create a new avatar account then visit the EventsCenter region.
For those who want to get a head start on next year's content, Tag will soon be holding building classes, with the first course scheduled to be Basic Prim Building by Kiko Kenichi.
"If people are interested, they can just pop in world and let her know they are, so they get a notice when the course will start," said Amsterdam. "Classes will happen soon, but we do not have a time or date set yet. They will be announced on our event page, in-world notices, and social media channels."
Check out the Tag calendar for other events as well, such as Slingo, Bingo, Devils, Chess, and other games on the Playland, Moonlight, and Satyr Farm regions.
The Bingo game is held several times a week, and includes cash prizes, said Amsterdam. "It is a lot of fun as you play it with lots of people together. Basically it is like going to a real-life Bingo hall."
The Tag grid is also hosting BuzzyBingo, Breedables auctions, and weekly quizzes.
Another popular event is the oYo Breedables auctions, said said. "Breedables are so much fun as you never know what you get, that is rare or not, and the auctions are a thrill as you might just discover that one gem that you do not have yet to breed with your other breedables."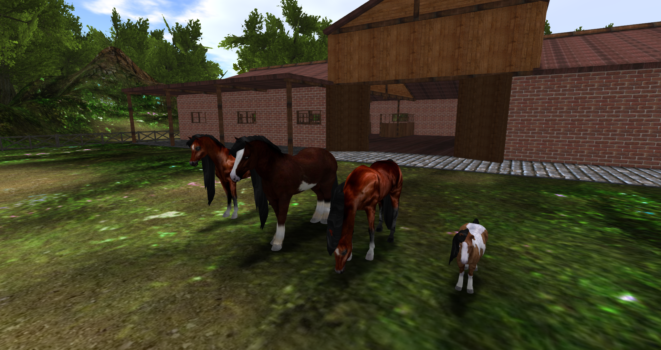 The Tag grid has also added another eight-by-eight variable-sized option to their regions sale options, so they now have a standard, two-by-two, four-by-four, and an eight-by-eight option. They have also increased the prim limit to 60,000 prims.
"We have scenic regions as well for those that have a normal region and would like to add some scenery and we have mainland plots for rent with a size of 2,048 square meters and 940 prims for just under $1 per four weeks.
Finally, the grid also has a new event manager, Kels Foxclaw, who is also the general manager and the driving force behind oYo Breedables.
Tranquility hosts Fourth of July party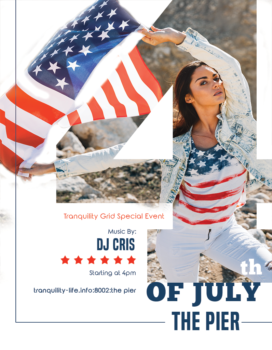 Tranquility grid doesn't usually hold events on Saturdays, said grid owner Steve Stewart, also known in-world as Chris Tranquility.
"But as July 4th is one we are partying from 4 to 6 p.m. with DJ Cris," he told Hypergrid Business.
The hypergrid address is tranqulity-life.info:8002:the pier.
Tranquility Grid is a mid-sized hypergrid-enabled English-language commercial grid that opened its doors in early 2018.
It supports both Gloebits and its own local T$ virtual currency, and land prices start at $7.50 a month for a 10,000-prim starter region.
Check out the grid's feature destinations and upcoming events on its Things To Do page, or join Tranquility Grid's Facebook group.
Discovery Grid celebrates 4th birthday on the 4th
Discovery Grid turns four years old this month, grid owner Rene Vega, also known as Balpien Hammerer in-world, told Hypergrid Business.
The celebration will be held on the Fourth of July and will feature virtual fireworks by PyroVR Fireworks and the metaverse debut of the Blue Angels virtual air show.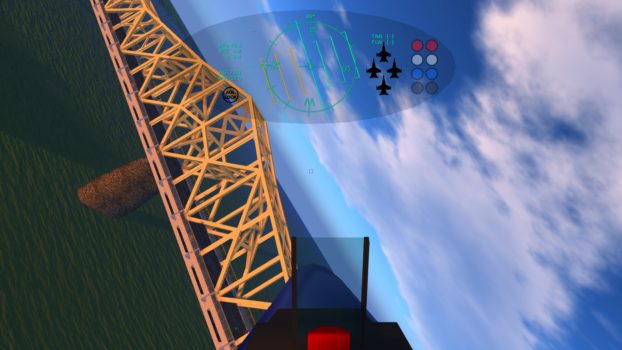 After the fireworks and the air show, DJ Mark Anthoni and Rosa Alekseev will be hosting a party at Club Thunder.
Watch the event at noon Pacific time, and again at 6 p.m. Pacific.
The hypergrid address is discoverygrid.net:8002:Discovery Events 2.
Read more about the event here.
Virtual Ville grid offers free money, free regions

The Big Brother in The Pool region of the Virtual Ville grid is now open and is hosting the daily Big Brother in The Pool show, which is a virtual reality show that will film residents present in the region.
The hypergrid address: vitual-ville.com:8002:Big Brother in The Pool.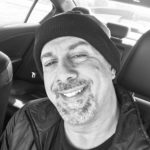 "The events will then be shown on its own Facebook page, website, and YouTube channel. So stay tuned this will be a great place to hang out," grid owner Alex Pomposelli told Hypergrid Business. "Free Goebits will be randomly distributed to the people present in the pool area or region. You must register at gloebit.com and authorize transactions in Virtual Ville Grid in order to receive your Gloebit."
Gloebits are the most popular multi-grid currency in OpenSim, run by Christopher Colosi, who formerly ran Second Life's economy. Read more about how to shop with Gloebits here.
In addition to giving out free money, Pomposelli also plans to give out free regions — 15,000 prims on a standard-sized region for anyone who plans to active build on it.
The full regions are for grid residents only, but both residents and hypergrid visitors can get 4,096-meter-square land parcels, with up to 937 prims.
The free land and free money offers sounds too good to be true. Given Pomposelli's history of not following through with his promises, readers should be careful about investing time and money without taking steps to protect themselves, such as by using off-grid avatars for building and making friends to avoid losing content and connections if the grid goes down. They should also get frequent backups for all builds. Read more about his history here.
Celebrate Canada Day and Fourth of July on Littlefield grid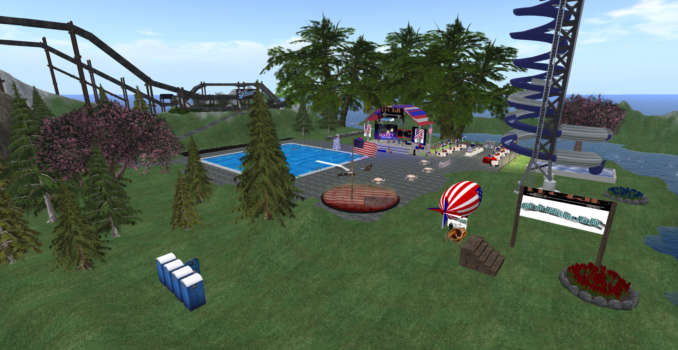 Littlefield will celebrate the big American and Canadian holidays on the Independence Island region. There will be a Canada Day Dance on Saturday, June 27, and Independence Day on Saturday, July 4.
"For Canada Day's Dance, since I'm Canadian, I will be playing a four-hour set of just Canadian artists' music from 4 p.m. to 8 p.m. Pacific Time on Saturday, July 4," organizer McMahon Essentual told Hypergrid Business. "It will be held at the Speakeasy and we will be decorating with flags and red and white balloons."
"Independence Island has a lot of fun and games, fireworks, food and beer," she said. "Relaxing by the pool or dancing to the music. No social distancing or masks required."
The hypergrid address is lfgrid.com:8002:Independence Island.
The grid is also holding dances at the Sweethearts region starting from 1 p.m. Pacific Time every Thursday, featuring deejay McMahon Essentual.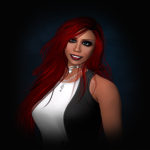 The dress is formal and the grid will give, for free, some dresses for those who don't have one, said Essentual.
The hypergrid address is lfgrid.com:8002:Sweethearts.
DJ Essensual also hosts a BDSM-themed dance starting at 5 p.m. Pacific Time every Sunday at the Latex Lounge.
The hypergrid address is lfgrid.com:8002:Battersea.
The dress is formal and the grid will give, for free, dresses for those who don't have one, said Essentual.
Male Roth mesh avatar for OpenSim now available
The male Roth2 v2 open-source mesh avatar for Opensim and Second Life was also released on May 24.
It is available at OSgrid on login.osgrid.org:RuthAndRoth.
The avatar is provided as a single mesh, therefore not requiring any separate mesh parts and masks although users of it can change to their own shape, skin, eyes, and hair or change the appearance using the HUD. The avatar is built and rigged using Blender software and makes use of the standard Second Life UV maps using a scratch-built open-source mesh by Shin Ingen, Ada Radius, and other contributors.
New grids
The following grids were added to our database this month: Afterworlds, Amber's Grid, CCGrid, Elduir, Freda, Grid Brasil A Sua Vida Virtual, Kedoviel, Little Breath, Nautika, Phillip's Grid, Portucalia, SpartaGrid, The Devil's Grid, The Shirelands, Trebor Vast, Virtuelle Welt, X World, and XUsYou Grid.
Do you know of any other grids that are open to the public but that we don't have in our database?
Email me at [email protected].
Top 40 grids by land area
The list below is a small subset of existing OpenSim grids. We are now tracking a total of 1,570 different publicly-accessible grids, 372 of which were active this month, and 289 of which published their statistics.
All region counts on this list are, whenever available, in terms of standard region equivalents. Active user counts include hypergrid visitors whenever possible.
Many school, company, or personal grids do not publish their numbers.
The raw data for this month's report is here. A list of all active grids is here. And here is a list of all the hypergrid-enabled grids and their hypergrid addresses, sorted by popularity. This is very useful if you are creating a hyperport.
You can see all the historical OpenSim statistics here, including polls and surveys, dating all the way back to 2009.
Below are the 40 largest grids by total land area, in terms of standard region equivalents.
Top 40 by land area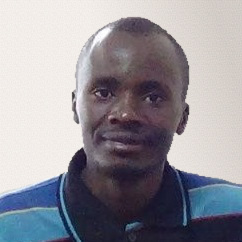 Latest posts by David Kariuki
(see all)