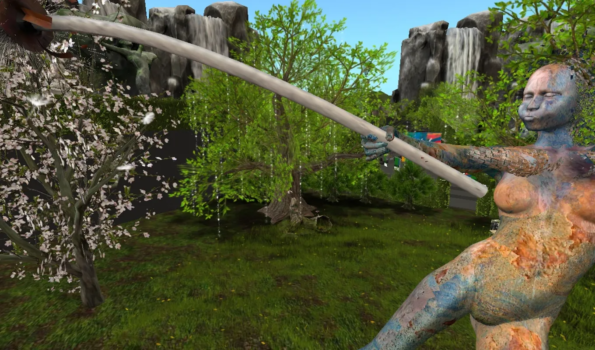 This should come as no surprise to regular readers of Hypergrid Business, but Alexandro Pomposelli is back at it again.
Less than a month ago, he said, "This is it," when he shut down his AviWorlds grid.
Four days ago, after selling it to former partner Josh Boam, he promised that he wouldn't interfere with the running of the new grid, and wished him good luck with it. "It is his baby now."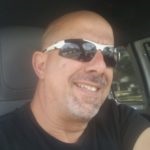 Aaaand…. he's back!
With a new grid! And a series of personal attacks against Boam accusing him of stealing intellectual property.
The new project is called Virtual Ville, and it comes with all the usual grandiose promises. It will be a "huge project," Pomposelli told Hypergrid Business. It will be "advertised globally." It will be a virtual learning campus with students and professors "from the entire Earth" coming together to teach and do research.
The grid will be completely open, with Gloebit currency and hypergrid teleports, and free land, he said.
I'm shocked — shocked! — that he decided to go with an open business model, considering that just last month he said that the hypergrid is the worst, and the only reason he ever turned it on was that his business partners made him.
"My view hasn't changed and I always advocated quality and performance plus being a private grid," he said back then. "The other tryouts were mostly to try to cater to all the other opinions."
He's now also using the free, easy-to-use, DreamGrid distribution of OpenSim to run his new grid. Late last year, he called DreamGrid "a major burden" to grid owners.
I'm shocked — shocked! — that he changed his mind so quickly about DreamGrid.
Please do not rent land on this grid without taking precautions
In case you're Googling "Alex Pomposelli" for the first time, and came across this article, please please please be careful.
Do not expect your content to be safe. Do not expect your user inventories to be safe. Do not expect reliable performance. Do not expect good customer service.
If you want to have an avatar and land on his new grid, protect yourself. Keep local backups of your content. When you make friends, make sure you have some way to reach them outside the grid, in case the grid shuts down and your friends list disappears.
This happens on a regular basis — Pomposelli has a history of shutting down, announcing that he's done for good, and taking down all social media accounts. At my last count, he's done this 13 times over the past ten years.
I recommend that people keep their primary avatar on another grid, such as OSgrid, Kitely, or Digiworldz, and teleport into his grid for events. That way, your inventories, friends lists, and virtual wallets are located somewhere reliable and if his grid goes down, you won't lose everything.
Also, if your group uses Pomposelli's new grid for events or anything else, keep your social media discussions in a separate group, under your own control, so that he can't shut it all down on a whim.
For a history of Pomposelli's ups and downs, check out our archive of related articles.
So what's going to happen to the old AviWorlds?
AviWorlds' new owner, Josh Boam, said that he isn't worried about competition from the new grid or about threats of legal action.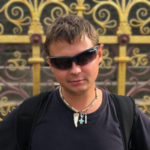 "I know he will go broke in a month or two and let servers expire," he told Hypergrid Business. "He can fight but he has no money. I won't comply to him. Not unless I'm served papers to my door and even then I have proof on logs from online services showing the transfer. I'm not worried. Just upset."
That may well be the case, but, until then, there will be many loud and public attacks.
Pomposelli is already attacking Boam for the fact that his old regions are up on the AviWorlds grid — even though he said that he expected that his regions will stay up.
"All my signature regions will remain in the grid under my name," Pomposelli said.
Four days ago, he wrote in a comment, "Let's give Josh Boam and his team a chance. He has good intentions and is spending lots of money. It is his baby now."
And he continued on in the same vein.

The text of that above comment — in case he deletes it — is: "I want to wish Josh and his partner God Speed and good luck with AviWorlds. I must make a correction. AviWorlds was never sold before. No monetary transaction was ever made last time the ownership changed. I came back because I felt I made a mistake and changed my mind and since there was not money involved; I still owned it. The person gave me back the domain name etc etc. It is a different story now; A monetary transaction was agreed upon. Josh Boam is a good guy. I am sure he will do his best and even more aggressively than I am."
But, a few minutes ago, he posted on the AviWorlds Facebook group that "Josh has banned me so he can take my regions."
It seems that Pomposelli thinks that all he sold to Boam was the domain name, not the grid itself. And Boam thinks that Pomposelli sold him the whole thing.
Of course, the only documentation is emails and text messages — no signed, signed notarized contract that spells out the intellectual property ownership and non-compete agreements.
So, odds are, Pomposelli will start up his new parallel grid and try to hound Boam into submission.
And it already seems to be working. As of today, Boam's AviWorlds reported 104 active users — with 716 registered users. Pomposelli's Virtual Ville reports 172 active users, on 29 registrations.
That means that AviWorld's former user base is leaving that grid, and Pomposelli's new Virtual Ville is seeing a lot of inbound hypergrid teleports from people coming to check it out.
"Many follow me around," said Pomposelli. "Can't help it. They love me."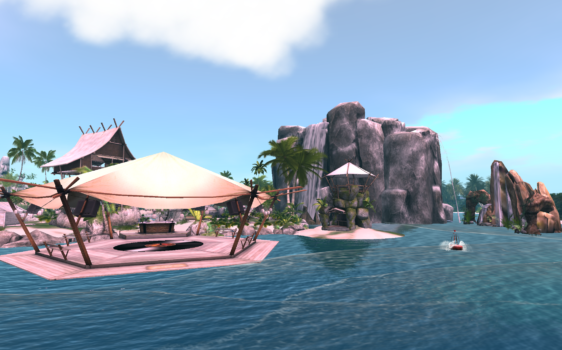 Pomposelli has also put his signature AviWorlds regions up on Virtual Ville — including Beach Bums and Gulliver's Travels.
According to independent hosting providers who've worked with Pomposelli in the past, these are real people — he's got a large and loyal following in Brazil who stick with him no matter what.
Something similar happened before, when Pomposelli turned over AviWorlds to a new owner — then set up a new grid with a similar name, and fought the new owner until he threw in the towel.
Big plans for AviWorlds
That would be a shame if the same thing happened this time because Boam has a decent strategy for AviWorlds, with reasonable prices and new features and services.
For example, regions will start at $10 a month for up to 20,000 prims, which is lower than the OpenSim average price of $15 per month per standard region.
He has also put up an online marketplace for the grid, set up a rental system for the free lands, and has an events calendar and in-world events management tool.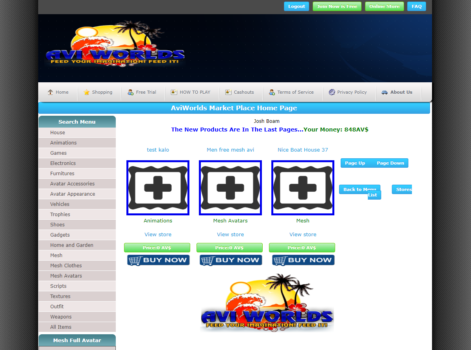 The online marketplace is for both local residents and hypergrid visitors, he said.
"We are allowing everyone in the metaverse to be able to take advantage of our marketplace," he said. "The only drawback is that they must visit one of our regions to be able to receive the item."
This is similar to the way the Kitely Market is set up, where residents of other grids can buy content. With the Kitely Market, however, shoppers don't have to visit the Kitely grid — but they do have to have a Kitely account, which comes with a Kitely avatar. Of course, every online marketplace requires that buyers can create an account to make payments. Meanwhile, Kitely Market has been around since mid-2013 and has tens of thousands of items and customers on more than 400 different grids. So it won't be a head-to-head competition, but still a sign that Boam has ambitious plans to raise the profile of AviWorlds.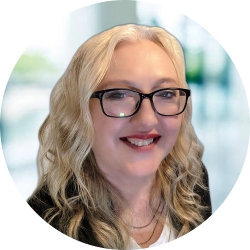 Latest posts by Maria Korolov
(see all)